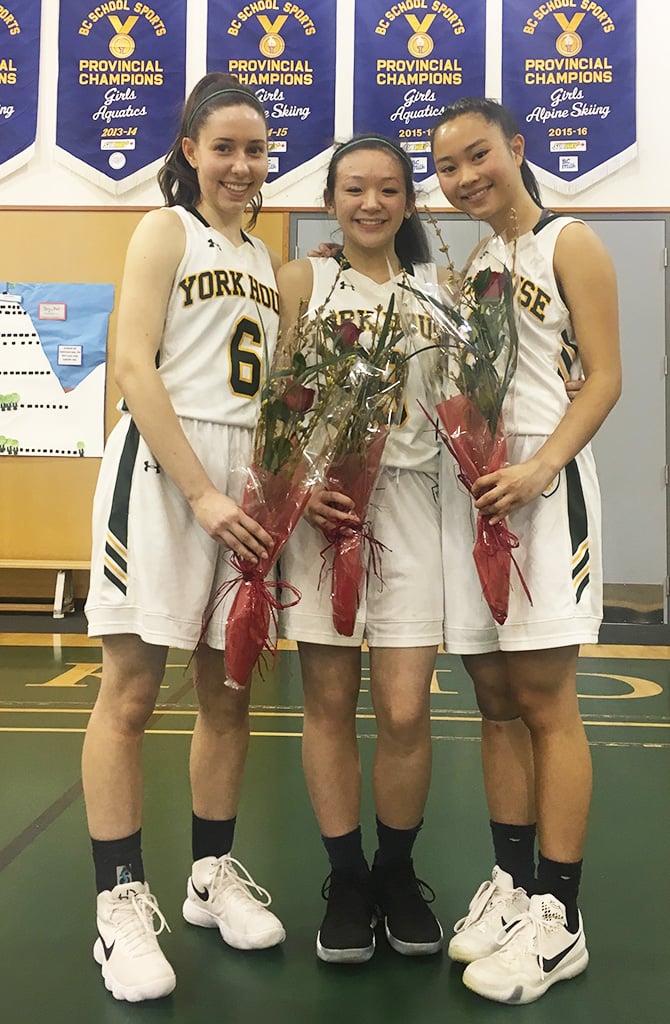 CELEBRATING SENIORS NIGHT
Tuesday, February 6, the YHS Tigers defeated Crofton House (CHS) 74-28 in the first round of playoffs but the night was capped with the honouring of our three graduating senior players: Kristen, Kyra, and Maggie. All three have played through since the Junior School and were a part of the 2014 Grade 8 Tigers that finished a YHS best ever, 4th in BC. Thank you to Maggie, Kyra, and Kristen for your commitment and hard work over the years.
BASKETBALL PLAYOFFS UPDATE
Our Junior Basketball Team's season ended with a playoff loss to Notre Dame. Congrats to the girls on working hard through a tough season. Special congratulations to those girls whose commitment and leadership on the team were exceptional. Our Grade 8 Tigers are undefeated in league play and will host the LMISSGBA Championships next week, February 14 and 15. Our Senior Tigers will be competing in the AA Lower Mainland Championships next week.
Upcoming Events:
Senior AA Lower Mainland Championships
Grade 8 League playoffs: February 14 and 15 at York House, 3:30 pm game times
SKI & SNOWBOARD TEAM TAKE ZONE CHAMPIONSHIP AND PREPARE FOR BCs
Congratulations to our skiers and snowboarders who won the Vancouver Zone title up at Whistler on Monday. The Tigers have qualified for the BC Championships in March.