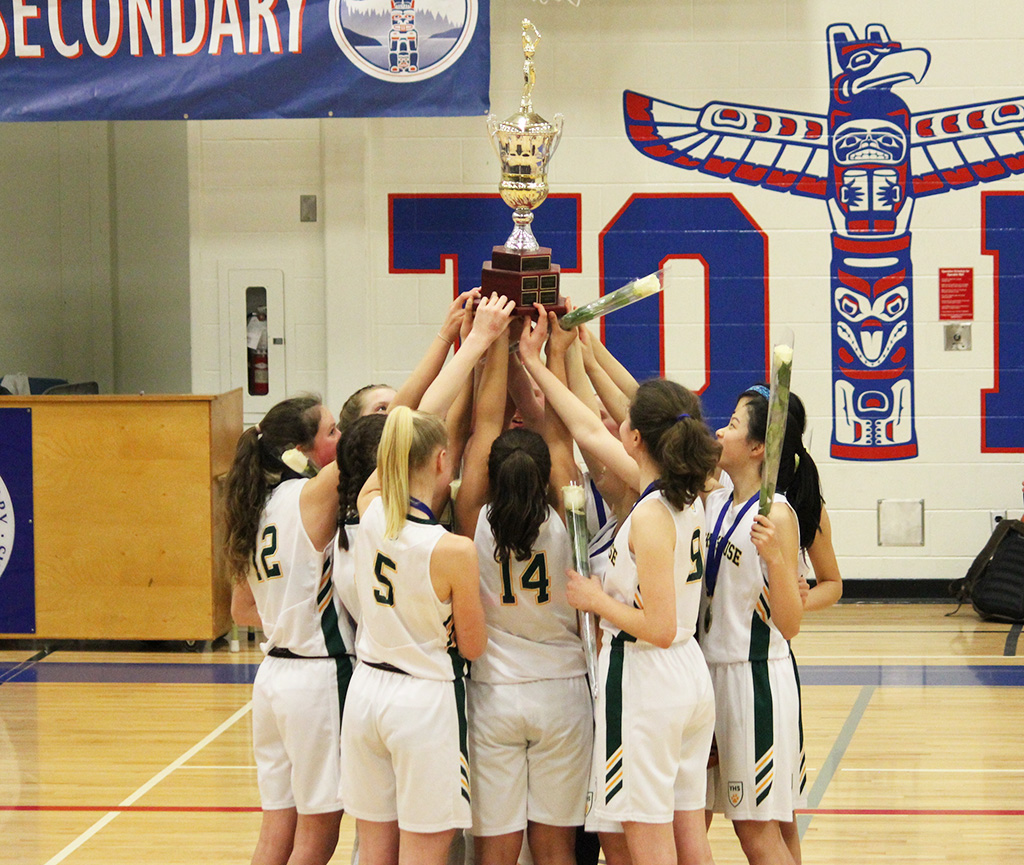 GRADE 8 BASKETBALL: PROVINCIAL CHAMPIONS
The Grade 8 Tigers are the 2018 BC Champions after defeating Seycove Secondary on March 3, at Semiahmoo Secondary in South Surrey. Congratulations to the entire team and their coaches: Adrian Catena, Eric Butler, and Ms. Atkinson. The girls have had a great season already which includes: undefeated league record, winning LMISSGBA Championship, winning ISA Championship, and placing third at the Junior (Gr. 9-10) ISAs.
The Tigers entered the BC Championships as the #4 seed in the field of 16 teams. The easily defeated Vernon's Kalamalka (60-16) and the Vancouver champion, Churchill (62-21). In the semi-final, they won a hard fought 35-33 win over the Richmond champion, McMath. In the final, the Tigers faced the North Shore champions from Seycove. The Tigers lost just three games all season and two of those losses were to Seycove. The Tigers played a great game leading 14-5 early on and never let down. Seycove battled back to take a brief 2 point lead in the 3rd quarter but our Tigers answered right back leading by 5 points going into the 4th quarter. The Tigers held on for a 47-40 win.
Contributions came from the entire team. Tournament Allstars were recognized: Rain, Finley, Mila, and Avery was named BC MVP.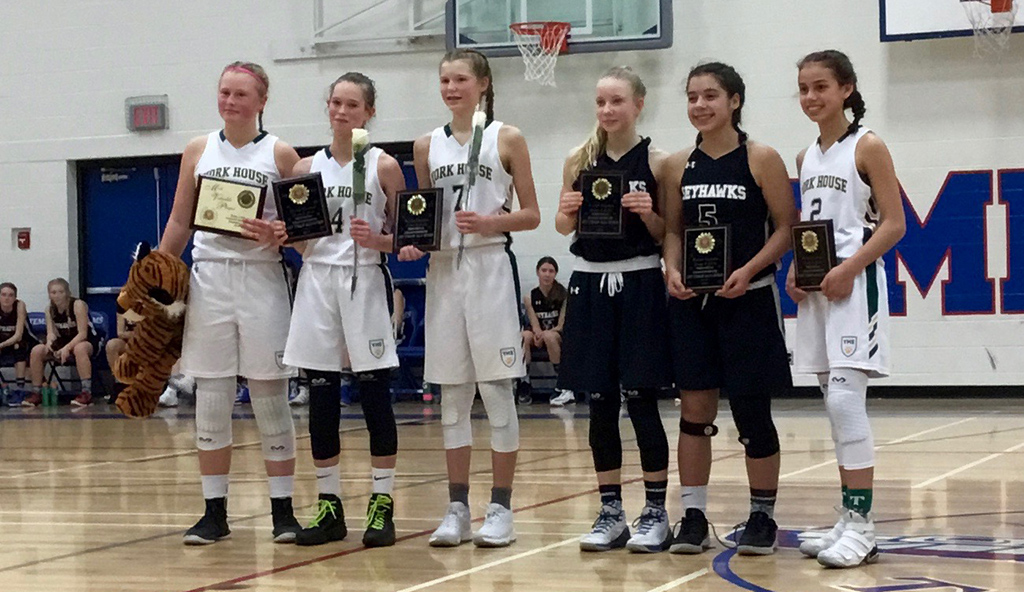 Coach Butler summed up the team's success perfectly, stressing all the key values we hope to instil within our Athletics Program at YHS:
Letter to the champions from Coach Butler:
You won a championship because you worked as a team.
Defense:
You played better team defense than any other team in the tournament by far. Seeing you defend all tournament…but especially in the final 5 minutes of the game when Seycove desperately needed to score and could barely get a shot off.
Offense:
You won a championship because you did a better job of sharing the ball than any other team. Like every team, we have a few players who score the ball more than others. However, unlike other teams, we had everybody contribute this year. We shared the ball and trusted all our teammates. We did this all season and it paid off.
Preparation:
You won a championship because you prepared better than other teams. The time you spent shooting as a team and individuals paid off. It is this type of focus and dedication that is necessary to win championships.
You won a championship because all of you took your game to the next level.
Sacrifice:
You won a championship because of sacrifice. You all accepted and played your roles on the team. A championship team is not made up of five players who all concentrate on scoring. It is made up of 11 players who are willing to do what it takes to win.
Effort:
You won a championship because of your effort. We talked about how winning a championship wasn't supposed to be easy…and you all embraced the challenge. We told you that you would need to rebound even harder on both ends of the floor, and you did it.
Fearless:
You won a championship because you were willing to face your fear/nerves, accept them for what they are and play through them. You showed such maturity and pose. Next time you're really nervous about something I want you to remember this.
We're so proud of all of you.
Eric Butler
SKI TEAM: BC CHAMPIONS
Our Tigers Ski & Snowboard Team were at Sun Peaks Resort for the BC Championships (March 5, 6, and 7). YHS paced second at the 2017 BCs and have won seven BC titles since the sport began at YHS in 2007. YHS Skiers had a great second day on the slopes and overtook Collingwood to win the 2018 BC Championship!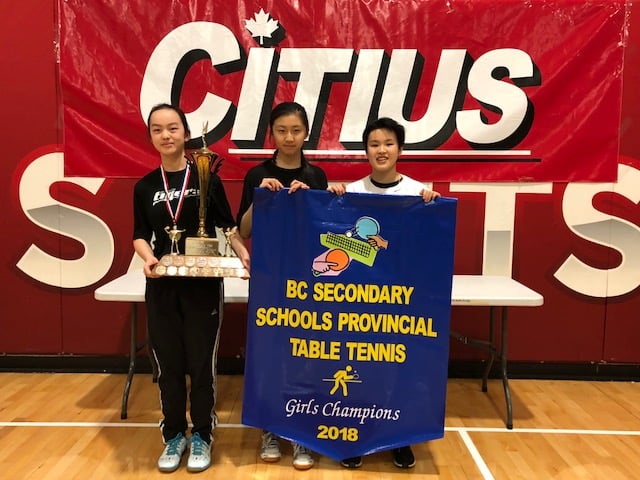 YHS TABLE TENNIS: PROVINCIAL CHAMPIONS
The Table Tennis Team did incredibly well this past weekend at the British Columbia Table Tennis Association Provincial Championships. Isabelle (Gr. 9), Laura (Gr. 10), and Cindy (Gr. 9) played their hardest to defeat last year's winners, Britannia Secondary School, in team play on Friday.
On Saturday, they took home the Gold Medal, the championship trophy, and banner after defeating Burnaby North in the finals. Isabelle and Laura also competed in the doubles play, winning first place by defeating the defending champions, Britannia Secondary once again. Finally, in some well played, back and forth, heart pounding, neck and neck, nail-biting games, Isabelle and Laura placed second and third in singles play.
Altogether, York House was able to bring home two gold medals, one silver, one bronze, as well as the biggest prize, the team trophy and banner.  Well done, ladies. You played amazingly, represented York House with honour and dignity, and should be very proud of yourselves.
SPRING SPORTS AT YHS
Spring is a busy time for YHS Athletics.
Tryouts and organizational meetings starting this week.
Soccer:
Senior (Gr. 10-12) Team
Junior (Gr. 8-10) Team
Ultimate:
Senior A Varsity Team (Gr. 10-12)
Senior B Team (Gr. 11-12)
Junior A Team (Gr. 9-10)
Junior B Team (Gr. 8-10)
Junior C Team (Gr. 8-9)
Grade 7 Team
Grade 6 Team
Grade 5 Team
Track & Field:
Senior Team (Gr. 8-12)
Junior School (Gr. 3-7)
Badminton:
Senior (Gr. 8-12) Team
Other Opportunities:
Water Polo at St. Georges
Tennis Club (if enough student interest)
Golf Club (if enough student interest)
Spring League Basketball (if enough student interest)