STUDENTS WIN "STAFF VS STUDENTS" SERIES
Congratulations to the students who defeated staff in basketball 42-38 to win the 5th and deciding game in the staff vs. students series. Staff won field hockey and soccer while the students took volleyball, ultimate, and basketball to take the series three games to two. Thank you to all the staff who risked their health and pride and came out to compete. Special congratulations to our graduating Yorkies.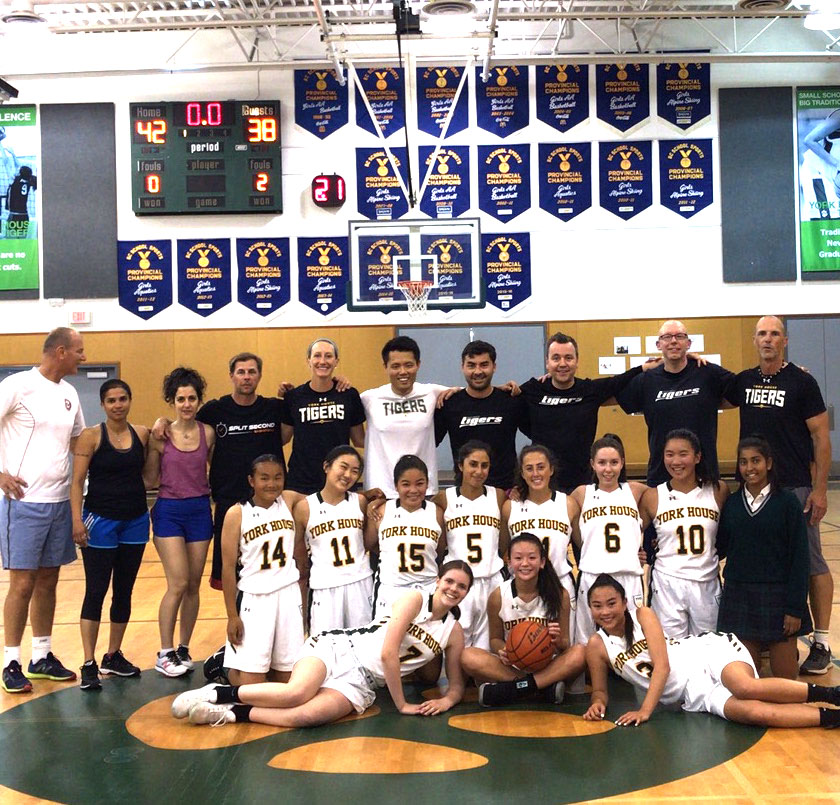 TRACK & FIELD WRAP UP
Congratulations to our track & field athletes who competed at the BC Championships this past weekend in Langley. Several Tigers competed in various events. The girls continue to show improvement under the leadership of our coaching staff.
BC qualifiers included:
Adria, Gr. 8: long jump, triple jump, 80m hurdles

Maddie, Gr. 8: long jump, triple jump

Kaitlin, Gr. 8: 200m

Rain, Gr. 8: high jump

Claire, Gr. 9: high jump, javelin, long jump

Sophie, Gr. 9: high jump, long jump, 80m hurdles

Emily, Gr. 11: 1500m, 3000m

Grade 8 4x100m: Maddie, Sophie, Adria, Kaitlin
Highlights included:
Adria:

Despite a chaotic start on Friday due to the officials, Adria came first in her 80m hurdle heat running into a 2.9 headwind. She achieved a personal best of 13.61s, 0.2s faster than her previous best. Later that day Adria competed in her finals and ran into a headwind of 2.5 and PB'd once again by 0.2s to achieve 13.41 and 4th place narrowly being beaten out of 2nd and 3rd.

Kaitlin:

Ranked ~22 coming into the 200m with a 28.75, Kaitlin spent the last two weeks really focusing on her training. On Saturday, Kaitlin ran a stellar performance to achieve 28.05s beating her personal best by 0.7s while running in lane 8. Kaitlin ended up placing 12th overall.

Sophie:

Despite being injured, Sophie hasn't given up and qualified as a Grade 9 for three events in the junior division. Her most notable performance came in high jump. With a mark that wasn't working on the day, she didn't give up and focused on what mattered. She ended up tying for 2nd place in a competitive field of jumpers with a height of 1.55.

Emily:

On day 1 Emily had her first race, the 1500m. Emily pushed herself hard and ended up achieving a huge personal best of 5:23.46.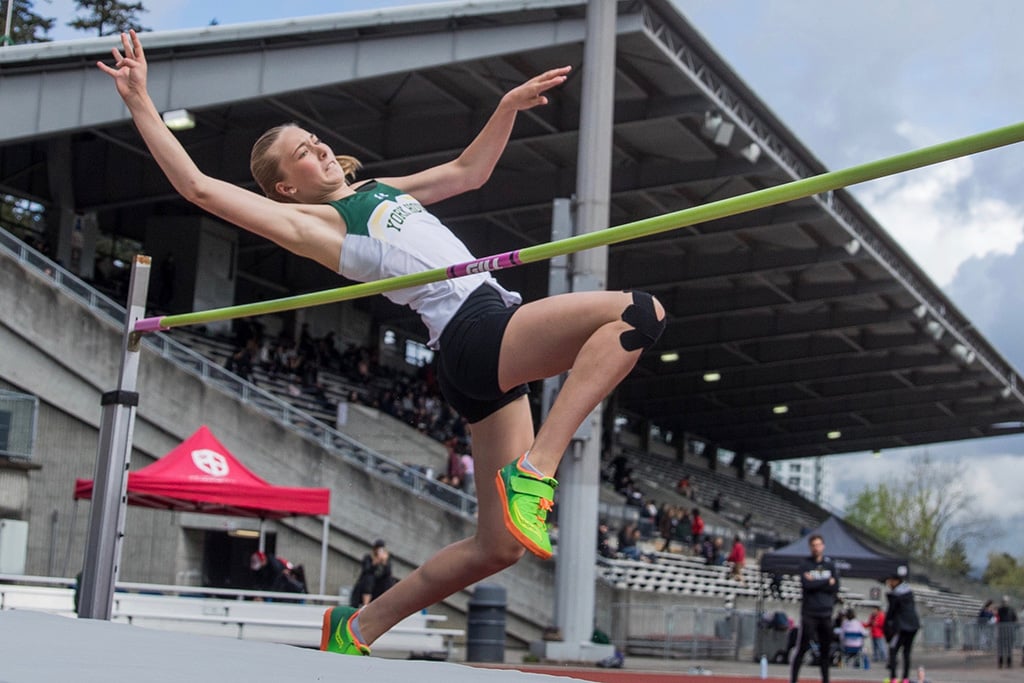 ANNUAL ATHLETIC AWARDS BBQ
On Wednesday, the 2018-19 athletic season officially came to a close with the Tigers Athletics Awards BBQ. It was a chance for student athletes, managers, officials, coaches, and fans to get together and celebrate a very successful season. Thank you to the many student athletes who contribute to our Athletics Program. Approximately 50% of our Senior School student population is involved. Thank you to the staff coaches who generously volunteer their time to coach and support our girls. Thank you to our many non-staff community coaches who give countless hours and help our teams succeed. Many of our non-staff coaches return each year and have become valued members of our community. Finally, thank you to all the parents who support our athletes and teams in many ways.
There were many highlights this season, some of which include:
Gr. 8 Volleyball won gold at ISAs and placed 2nd in their league
Senior Volleyball won the AA Lower Mainland champions, silver at westerns, 5th at AA BCs
Varsity Field Hockey Team placed 3rd at AA BCs

Gr. 8 Basketball Team won the ISA, League, and Provincial Champions

Cross-country Team, Swim Team, and Track Team athletes all qualify for and compete at the BC Championships
Ski team won the Provincial Championship
Table tennis won the Provincial Championship
Medals for badminton and tennis at ISAs
Ultimate teams performed well at BCs including Varsity Ultimate who placed 6th at AAA BCs.
While all athletes received their Tiger pins, some Tigers were recognized for their outstanding performance, participation, and contributions to athletics for this past season.
Grade Athlete of the Year Award
For outstanding participation and achievement in and overall commitment to Athletics.  
Grade 8: Avery
Grade 9: Tash
Grade 10: Maddie
Grade 11: Emily
Grade 12: Kyra & Aley
Junior Athlete of the Year (Grade 8-10): Akash, Grade 10
For outstanding achievement and participation in and commitment to Athletics (Grade 8-10).

Senior Athlete of the Year (Grade 11-12): Meg, Grade 12
For outstanding achievement, participation in and commitment to Athletics (Grade 8-10).
Becky Willis Award (Grade 8-12): Kristen, Grade 12
For demonstrating outstanding commitment, leadership, spirit, sportsmanship and a high level of participation in York House Tigers Athletics.