Standing in Gratitude
As the year comes to a close, I stand in gratitude for many things. It turns out, that being grateful requires a couple of steps. I thought I'd share these with you.
Step 1: Acknowledgement of goodness in one's life. In a state of gratitude, we are open and we say yes to life. We not only recognize that life is good, but that it also has richness, texture, and detail.
Step 2: Gratitude is recognizing that some of the sources of goodness lie outside the self. The object of gratitude is outwardly directed to those who are responsible for it.
This two-step process helps us recognize everything and everyone that makes us who we are in our best moments. Which leads me to reflect on my deep gratitude for our entire York House community and for the resilience and optimism our community has displayed this past year.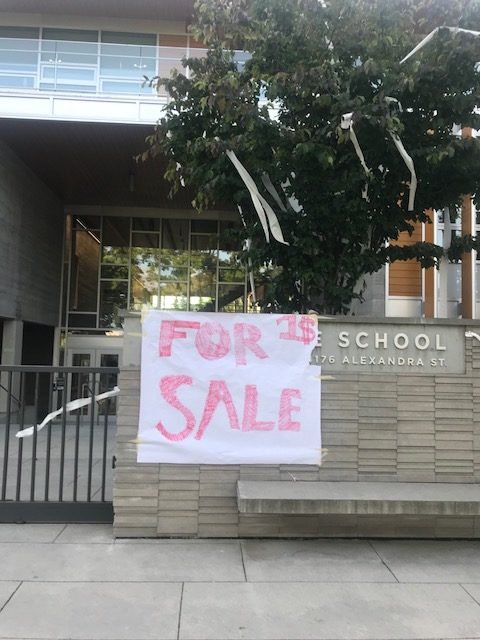 Our incredible Yorkies have once again risen to the occasion by putting forth their best efforts on a daily basis. They have worked hard both in and outside of class, on the court, on stage and in the community. They have also found time to have fun. Whether it was at the Physics trip to Playland or on Grad Prank day, the Yorkie spirit was in full force. Our grads really outdid themselves with some pretty clever pranks on grad prank day. When the "For Sale: $1" sign was put up in front of the school, our first purchase offer came via email from Dianne Little, the Head of School from Little Flower Academy across the street. Needless to say, she jumped at the very affordable opportunity to expand her school campus…but I readily declined the offer. Thanks, Grads! I am grateful for your outstanding accomplishments this year and for your great sense of humour and feisty Yorkie spirit. Speaking of Yorkie spirit, our Grade 1 Yorkies became instant superstars when they presented Ms. Ninan's version of "York House Girl" at both Junior and Senior School assemblies and at our parent volunteer recognition event in June. Our Grade 1 moms even came up with their very own clever version of the song, "York House Mom" and performed it for us at the end of the year. The Grade 1 students squealed with excitement to see and hear their moms perform.
Without a doubt, I stand in gratitude for our outstanding faculty and staff who on a consistent basis demonstrate their professionalism, care and dedication to the development and success of our Yorkies. Beyond the work they do in the classroom, our teachers open minds and touch their students' lives. I want to thank them for their tireless devotion and I know they will be grateful for a well-deserved summer holiday.
To our alumnae, I am grateful for the inspiration you provide to all future generations of Yorkies. We are in awe of the difference you are making in the lives of so many as was displayed in our 85 years special edition of the York Rose. Our York House alumnae form such a strong network of Yorkies whose close bonds last a lifetime. This was particularly evident and heartwarming at Sherry Taylor's celebration of life held at the school on May 5th. I look forward to getting to know our alumnae even more in the years to come.
I am also very appreciative for our caring parent community whose generosity knows no bounds. As I reflected on the expression of gratitude, a movie created by a very talented grade 10 student, Tiffany, came to mind. As I watched Tiffany's movie, I wondered why I was so touched. Upon reflecting, I realized that this movie reminds us that we are part of something bigger than we can imagine. This beautiful montage of over 8000 still images, opened my heart to the fact that nature and the universe reminds us that, much like our York House community, we are one. Another reason I loved this video is that I know that a truly devoted father spent several days camping in the Yukon with his daughter so she could capture many of these images. This video reminded me of the gratitude I have for our dedicated parent community who on a daily basis not only give so much to their children, but also to our York House community.
Finally, I want to express my sincere gratitude for your support in my transition into the official position of Head of School. I am thrilled to be part of such a vibrant and caring community and I look forward to an exciting new year come September. Until then, I wish you all a wonderful summer break with your family and friends. Please ensure that you stay hydrated so this too does not happen to you! Wherever your vacation takes you, may it be filled with love and laughter. Bring on the sunshine, the beach, and the BBQ's!
Gratefully yours,
Julie