These past few weeks have been very busy but the time, work, commitment has paid off in some terrific results for our YHS Tigers. Congratulations to all of our student-athletes and to our coaching staff who have done an amazing job!
Volleyball makes it 3 for 3…Grade 8 Volleyball, Junior Volleyball, and Senior Volleyball are all ISA CHAMPIONS!
This past week highlights …
SENIOR VOLLEYBALL ISA CHAMPIONS
Our Senior Tigers looked like the #1 AA Team in BC this weekend going undefeated at the 16 team Senior ISA Championships hosted by Crofton House (CHS). The Tigers cruised through round robin play and the playoff round and met CHS, BC's #1 AAA team in the championship final. There was a packed house at CHS with a huge Tigers crowd matching CHS in size and volume. Our Tigers played great. We dominated game one and held on for a 25-23 win. Game two started great as well until the CHS coach protested to the referee, delaying the game, and destroying our momentum. CHS bounced back and took game two 25-21. Game three was tight throughout but our Tigers, facing game point at 14-13, bounced back to win 16-14. Here is a video of the final point
JUNIOR TIGERS – 6W – 1L at SENIOR ISAs:
As if our Senior Tigers didn't provide enough excitement at ISAs, our Junior Team was also among the 16 teams at the Senior tournament and were amazing. Our Junior's won Junior ISAs last week. At Senior ISAs they won all their games except for one vs CHS Seniors, but they played them tough. Our Junior Tigers beat the following Senior Teams: Collingwood, Mulgrave, St. Michaels University School, St. Margaret's School, St. John's and CHS Junior's. Had the Junior Tigers not been playing exhibition play, they likely would have placed 5th among 16 teams. Great weekend Juniors!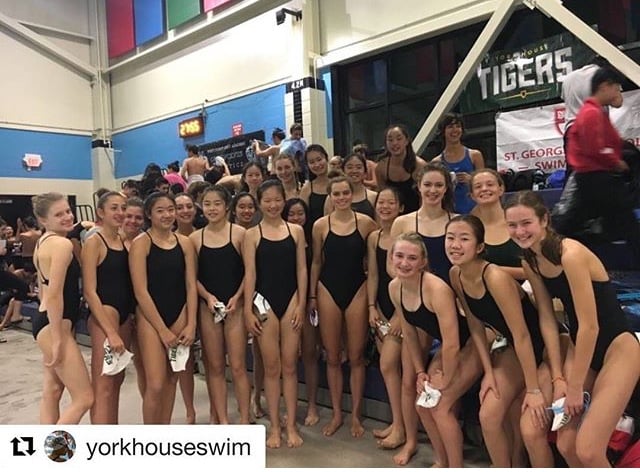 TIGERS SWIM TEAM – VANCOUVER-RICHMOND ZONES WOMEN'S CHAMPIONS
Our 21 swimmers performed great at Watermania Friday placing 1st in the girls division and 3rd overall at Zones. All 21 swimmers qualified for BCs later in November.  
Swim Meet highlights include:
Total points: 179 (3rd overall behind St. George's School & West Point Grey Academy)  
GOLD

Amanda, B 50 free

Alex, Open 50 free

Kaitlin, B 50 breas

Devon, B 100 free
SILVER
200 B medley relay

400 B free relay

400 Open free relay

Alex, Open 100 free

Janice, Open 100 fly

200 B free relay

200 Open free relay
BRONZE
Other events that qualified for Provincials:
B 400 free relay B (5th)

Open 400 free relay B (4th)

All 21 girls who competed were fantastic and achieved many best times. Excited for Provincials!
SENIOR FIELD HOCKEY TEAM WIN the LMISSAA LEAGUE TITLE
Our Senior Tigers Team defeated CHS in a dramatic 1-0 game last week to claim our LMISSAA Sr II League title. A tight 0-0 game turned the Tigers way when Laura K pushed the ball up to Mira G, who beat a defender and scored. CHS pulled their goalie for the final minutes but the Tigers held on for the win. Congratulations to the girls and their coaches. All three of our Tigers field hockey teams did exceptionally well this season. Our Junior and Senior teams wrap up their seasons on November 1 while our Varsity Team will compete in the BCs Nov 7-8-9.
UPCOMING EVENTS:
Junior & Senior Field Hockey League Finals: Nov 1

Cross-Country BC Championships: Nov 3

Volleyball Playoffs for Grade 8, Junior, and Senior teams: Nov 5, 6, 7, 8

Varsity Field Hockey BC Championships: Nov 7-8-9

Swim BC Championships: Nov 16-17