JUNIOR SCHOOL REMEMBRANCE DAY ASSEMBLY
Junior Head Girl Jessica and Vice-Head Sophia opened the Junior School Remembrance Day Assembly by reminding us that we sit in silence and reflection to respect the men and women who have fought in conflicts around the world. Ms. Kealey and Zyra, Grade 5, read the poem "In Gratitude of Silence" by Debbie Holick, and the Grade 7s performed a beautiful rendition of "Sound of Silence" by Simon & Garfunkel.
The wordless book "Why" by Nikolai Popov was displayed on the screen, and Madeleine and Saffy (Grade 7) shared their reflections on the story. In the book, a frog sits peacefully in a meadow. Suddenly, he is attacked by an umbrella-wielding mouse in a confrontation that quickly turns into a full-scale war.
The Grade 3s and 4s sang a rendition of "Nothing More" by The Alternate Routes. Eashaar, Keisha, Nyah, Olivia, Suhana, Chloe, and Isabella from Grade 7 shared their thoughts about what the poppy means to them.

Thank you to Ms. Froese who worked with the Gr. 3/4 Choir, Ms. Ninan, who prepared the Gr. 7s, and to Ms. Haylett for playing the Last Post.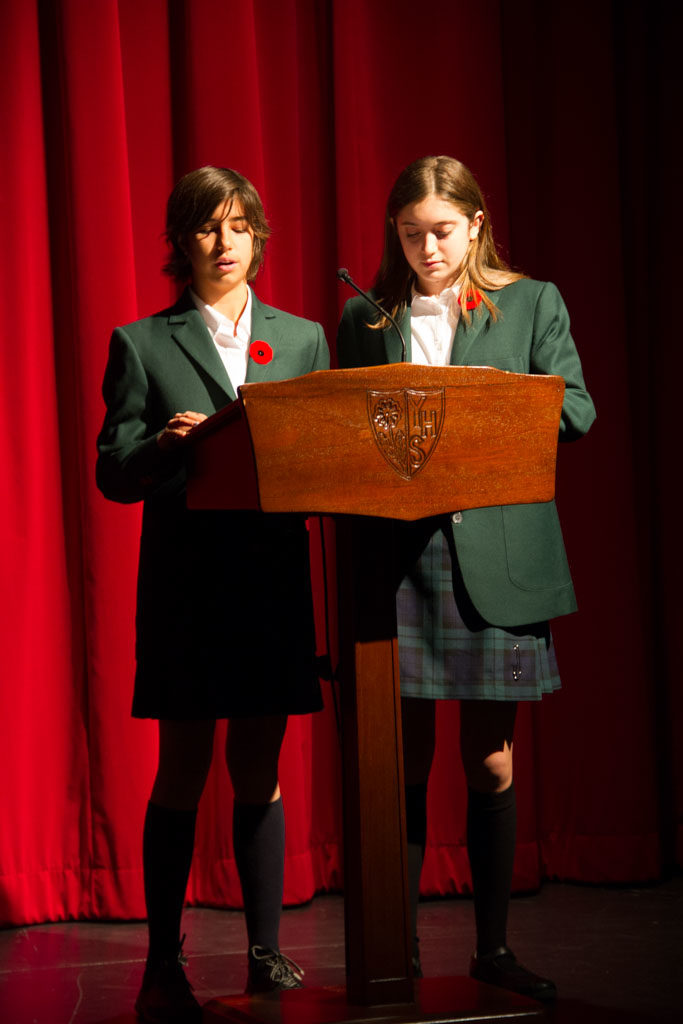 SENIOR SCHOOL REMEMBRANCE DAY ASSEMBLY
On Tuesday, November 6th, Ms. Grant and a group of students led our Senior School Remembrance Day Assembly. Layla and Julia were the emcees for this special assembly, which featured readings, poetry, and music.
Speakers recited poems and fictional and non-fictional accounts written by Canadians who have experienced war and peacekeeping missions. These readings and writings were first-hand accounts that depicted the lives of those affected by the war.
The students paid tribute to our fallen soldiers and we were reminded how important it is to keep those in conflict around the world in our hearts and minds, to feel grateful for the peace we enjoy today, and mindful that we are fortunate to live in Canada.
A special thank you to Ms. Grant for her coordination and work with students on this special assembly.