In February, York House Senior and Junior School students took the initiative to focus on kindness with two major events: Random Acts of Kindness Week and Pink Shirt Day. Both events were thoughtfully and enthusiastically planned out by the students.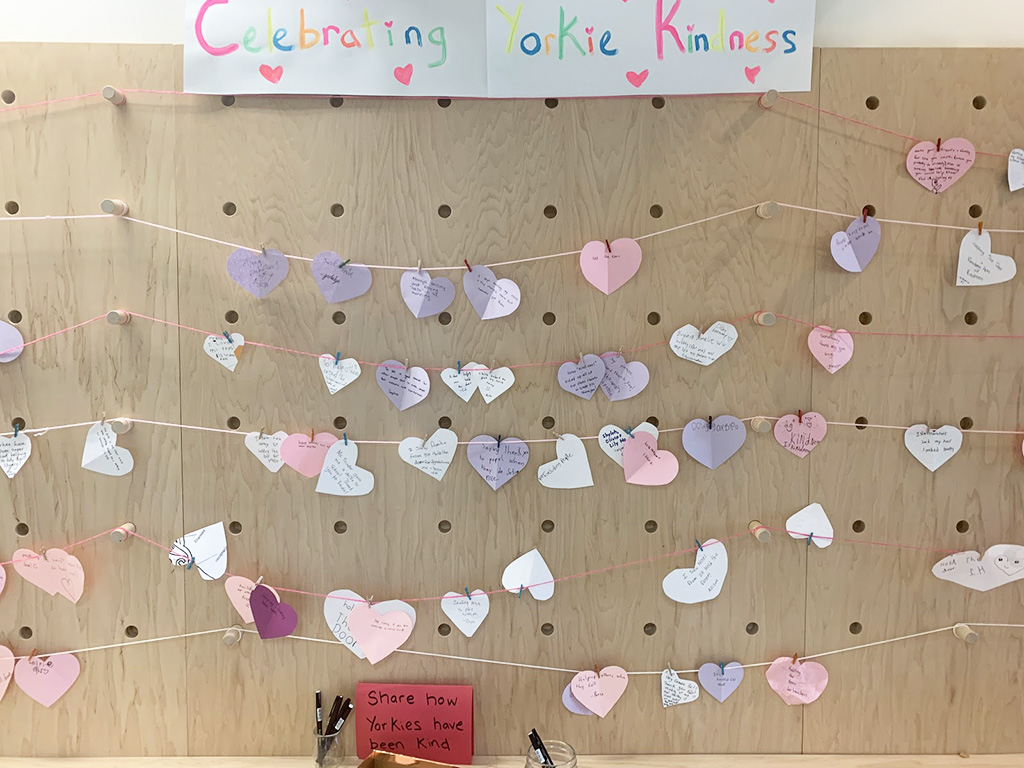 RANDOM ACTS OF KINDNESS (RAK) WEEK
Random Acts of Kindness week is a new school-wide student-led initiative brought to life by Grade 10 students Ava, Shoshana, and Lola. The goal for this initiative was to promote the idea that just one act of kindness can start a chain reaction and positively impact those we may not even meet. We chatted with the three girls to learn more about this initiative.
Q. How would you define kindness?
A. Kindness is simply something that you do to bring light to somebody else's (and your own's) day!
Q. Why are random acts of kindness important?
A. Through the RAK initiative, we want to cultivate qualities of kindness and inclusion that are at the heart of our school community. One act of kindness can go a long way and the opportunities are limitless. It is so important to do random acts of kindness as they make both parties feel better after. Random Acts of Kindness make the world and the YHS community a better and happier space.
Q. How as a school and a community did you acknowledge this week and what activities took place?
A.
We challenged all students to perform one or more acts of kindness during RAK week.
We asked for photos of people doing their random acts of kindness to share with the community.
At the end of the week, there was an opportunity to write your random act of kindness on a sticky note and put it up on a communal board in the Senior School and Junior School.
Teachers had conversations with their students in their classrooms and students will be welcome to share with their class the act of kindness they've done.
Senior School Students decorated and assembled boxes that were given to the YWCA's Crabtree Corner to support women who are in need.
Q. What are some examples of random acts of kindness we can do in our every day lives?
A. RAK can be whatever it means to you, but these are some of our favourite acts to take part in: connecting with a neighbour, delivering cookies to someone's door, sitting with someone who looks lonely, putting a sticky with a positive message on someone's windshield or on someone's locker, holding the door open for the person behind you or even just smiling and saying hi to a stranger.
At the end of the Random Acts of Kindness initiative the students raised around $2000 and used the money to purchase essentials such as sanitary pads, toothpaste, and soap for women to put in the "Bags of Love" and donate to the YMCA.
PINK SHIRT DAY: FEBRUARY 26
Bullying is a big problem in schools, workplaces, homes, and online. Every year, on Pink Shirt Day, students and staff are encouraged to wear a pink shirt to show a stand against bullying. This year, Pink Shirt Day was on February 26th, 2020. Students wore their pink shirts and accessories. Teachers and students spoke about the long-term negative effects of bullying and why we should always choose kindness. The hope is to extend the impact of Pink Shirt Day beyond just one day.
Erika Gomos
Administrative Assistant, Junior School