TRACK & FIELD HEADED TO BC CHAMPIONSHIPS
The Tigers Track & Field Team qualified several student-athletes for the BC Championships which run June 8-10 at MacLeod Stadium in Langley. In order to qualify for the BCs, athletes must place in the top four at the Vancouver Sea to Sky (VS2S) Zone Championship Meet held May 23-24 at UBC. The VS2S Zone includes all schools from Vancouver, North and West Vancouver, Sunshine Coast and Howe Sound to Pemberton. There were several Tigers highlights from this meet which include first-place finishes on the track and in field events such as high jump and triple jump.
The YHS Junior 4 x 100m relay team is one to watch as they go after a Junior medal at BCs. Grade 8 standout Jaime A., will compete in the heptathlon on June 2 as well as several events at BCs. Grade 10 star, Sofia V. is also a multi-event specialist scoring excellent results in sprints, long jump, triple jump and relays. There are far too many talented athletes to mention! The Tigers are primarily a team of Grade 8-10s with just a few Grade 11 athletes this season. Next season, YHS has a serious chance to compete for a 2A title. Good Luck to all at BCs!
ULTIMATE TEAM YEAR END TOURNAMENT:
The combined YHS and St. George's ultimate teams wrapped up their season this past weekend at the BC Invitational tournament in Surrey. Ultimate is a coed sport under BC School Sports (BCSS) therefore, for YHS students to participate, they must combine with St. George's to form a team. Our combined teams are named TIGHT to represent Tigers + Knights. Our Junior and Senior Tight Teams played out their final games this past weekend. The Senior Tight Team had a tough battle with Argyle on Saturday losing on the last point of the game. On Sunday, they went on to win all their games finishing in 9th place. Congratulations to all the teams and special thank you to the coaches and staff who support our Ultimate players. A special thank you to our graduating Grade 12s Sarah G, Kate I, Amanda D-M, and Julia F.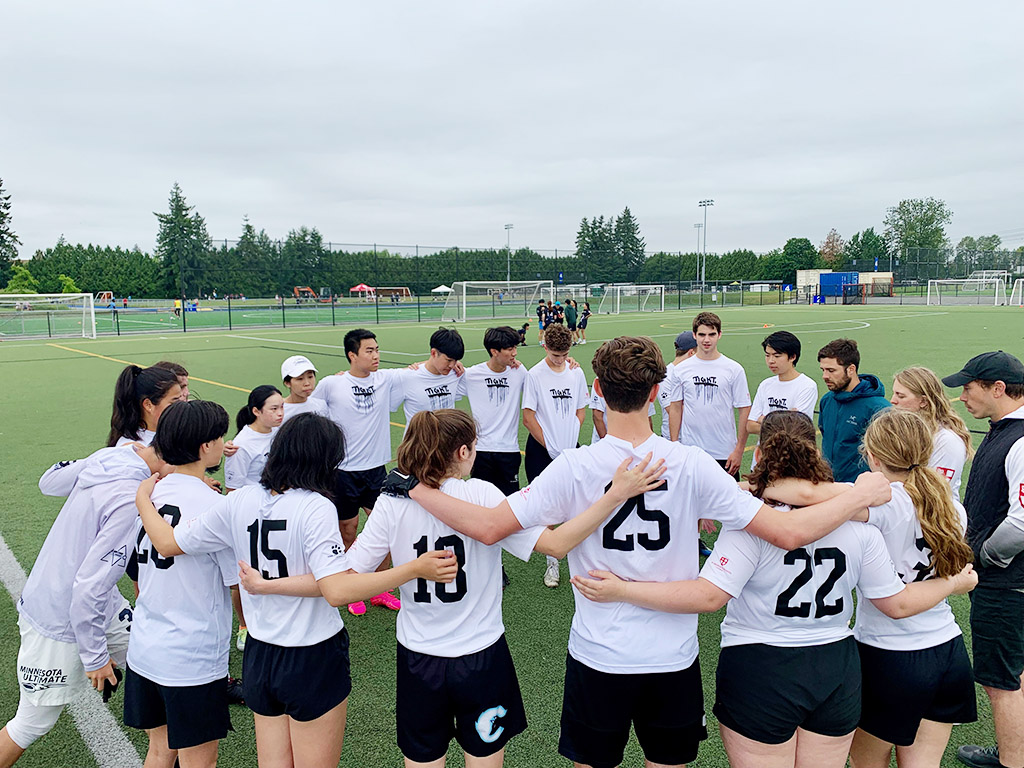 GOLF TEAM HEADED TO 1A BC CHAMPIONSHIPS:
The Tigers Golf Team is travelling to Qualicum June 5-7 to compete in the 1A BC Championships. This is the first year for a competitive golf team at YHS. A school golf team requires a minimum of four golfers and a maximum of five can compete in a tournament. The lowest combined score of four golfers is your team score. YHS has had some excellent golfers in the past, but never four strong golfers to form a school team. Good luck to Lucy L, Martina L, Olivia Z, and Chelsie J next week. The future is bright for YHS golf as three of our team members are Grade 8s and the rumour is, there are some good young golfers in the Junior School.
MOUNTAIN BIKE BCs UPDATE:
The High School Mt. Biking BCs were in the Kootenay region this year which made it difficult for all our Tigers to attend. Nothing seems to stop Maddi W. from participating in everything she can and with the support of her parents, travelled to Rossland, BC to Red Mountain for the championship. Maddi placed 9th in Cross-Country and 8th in the enduro race. Congratulations! Next year, all four of our mountain bikers return and we welcome any new experienced riders to the team.
TIGERS ATHLETICS YEAR-END CELEBRATION: JUNE 7, 3:30 – 4:30 pm at YHS
All student-athletes, managers, and coaches are invited to our afterschool BBQ year-end celebration. Students receive their participation paw pins and some awards are presented. There will be a BBQ and Rain or Shine will be available. Major athletic awards are presented on Thursday, June 8 at our year-end Bravo assembly and at graduation, for our Grade 12s.