We were so privileged to have author Michelle Good speak virtually with Grade 11 and 12 English students about her book Five Little Indians. In spite of the fact that her schedule is now incredibly busy due to the success of this important work, she made time to meet with York House students (at the request of English Teacher Tanya Boteju) as we were one of the first schools she met with when Five Little Indians was first published in 2020.
Michelle Good is of Cree ancestry a descendent of the Battle River Cree and a member of the Red Pheasant Cree Nation. She worked with indigenous organizations since she was a teenager and at forty years of age decided to obtain her law degree from UBC. Since graduating, she has practiced law in the public and private sector, primarily advocating for Residential School Survivors.
In 2014, she graduated from UBC with a Master of Fine Arts degree in Creative Writing. It was at this time that Five Little Indians first started to take shape. A national bestseller, the novel has since won numerous awards including the Globe and Mail Top 100 Book of the Year; CBC Best Book of the Year; an Apple Best Book of the Year; a Kobo Best Book of the Year; and an Indigo Best Book of the Year. The novel was also longlisted for the Giller Prize and shortlisted for the Rogers Writers Fiction Prize. In 2021, the book won the Governor General's Award for English-language fiction at the 2020 Governor General's Awards.
Five Little Indians is the heartwrenching story of five residential school survivors, Kenny, Lucy, Clara, Howie, and Maisie, who are taken from their families when they are very small and sent to a church-run residential school. With compassion and insight, Five Little Indians chronicles the desperate quest of each of these survivors.
Students, teachers, and staff gathered in the theatre while Michelle Good appeared on the big screen before them. Everyone was thoughtfully engaged as Michelle shared her journey in writing this book and answered questions about how each of these characters developed, her writing process, the distinction between the creative process and the publishing process, and her appreciation for the thoughtful questions from our students.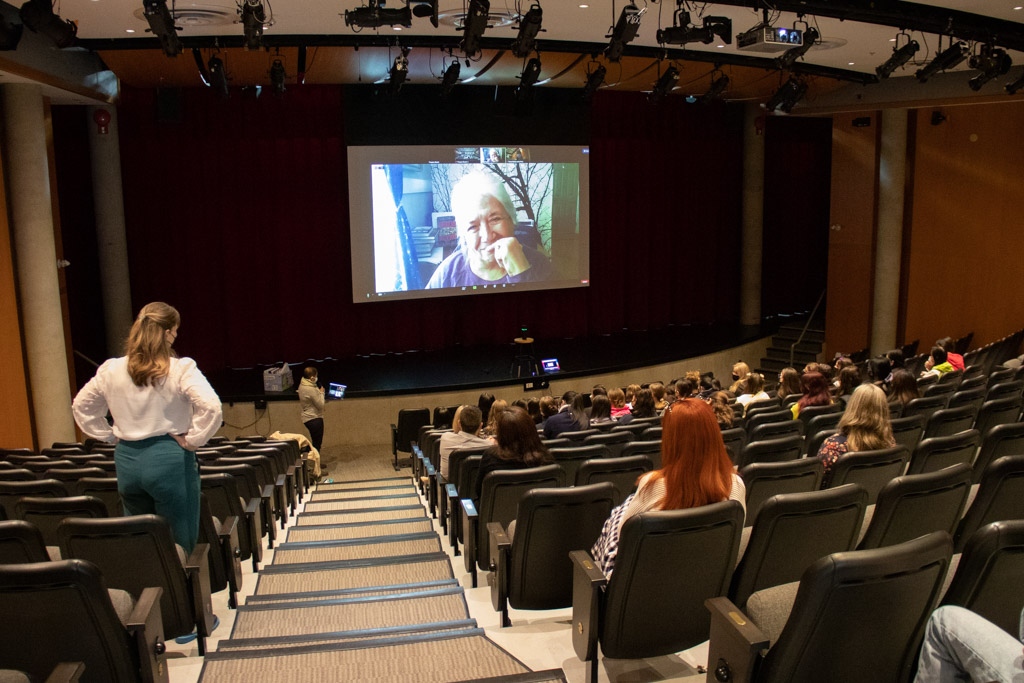 It took Michelle Good a total of nine years to write this hugely important work. A book that all Canadians should read. She took this time to ensure that the tone was just right and that she could really achieve its purpose which is to share what the residential school system was, the deep intentionality of residential schools, and the devastating impact it has had and continues to have on indigenous peoples. She wanted to answer that question that has often been heard: "Why can't they just get over it?". This book clearly answers that question to all who take the time to read it.
Students and staff asked many questions about her writing process, how she was impacted but the intensity of the subject matter (she had to stop writing for months at a time to regroup and begin writing again), and where the inspiration of each of the characters came from (her work with Residential School Survivors and both her mother and grandmother were survivors). When asked whether she thought it is possible to heal from such trauma, she did answer hopefully that yes, she did. "One of the greatest gifts of humanity is adaptability." But she did add that it is possible…with therapeutic intervention. 
At the end of her time with us, she commented that she was hopeful, that the questions that they have asked have shown her that the students are understanding of the book and its purpose and that she is confident that they will go out to the world as leaders. Her hope for them is that they take this understanding out into the world. 
Michelle reminded us that there are over 10,000 unmarked graves throughout Canada as a result of the residential school system. This story is not over. What this book shows us is how essential it is to our healing journey as a country to come together with compassion and understanding of the lasting impacts of residential schools. We are grateful to Michelle Good for sharing her insights and knowledge and for the story of Five Little Indians. 
Thank you to Governor General Award-winning writer, Michelle Good, for visiting with some of our Grade 11s and 12s this morning. These students are reading her novel "Five Little Indians". #myYHS pic.twitter.com/TChZRcHi8x

— York House School (@YorkHouseSchool) March 10, 2022