TIGERS MOUNTAIN BIKERS TAKE ON THE MOUNTAIN
Our Tigers Mountain Biking Team took to Whistler this week for the final season league race. Amelia, Maddie, Nicole, Ruby and Ms. Baldissera represented YHS well in the race. Hundreds of riders from all over the Vancouver Sea to Sky Zone took part. This is a fast-growing sport in BC schools and especially, those of us so close to the incredible trails on the North Shore.
A FIRST FOR TIGERS GOLF TEAM
For the first time ever for YHS, the Tigers Golf Team competed at the ISA Championships Monday and Tuesday. YHS golfers, Lucy (11), Olivia (8), Martina (8) and Chelsie (8) placed fourth overall among the eight teams. On Tuesday, they finished just three strokes behind third-place Shawigan Lake (SLS). 
How does the team scoring work? The score of the top four golfers are added up. YHS scored 327 to SLS' 324. The only teams to beat YHS were SLS, West Point Grey (WPGA), and St. George's.
It was a great two days at Squamish Valley Golf Club as the Tigers also took home three of the six prizes available. Of the 50 total golfers, Lucy tied for 10th overall and took home both women's long drive competitions. Olivia won the "KP" closest to the pin, beating all 50 other golfers on that hole.
Next up: VS2S Zone Championships May 24 at McCleery.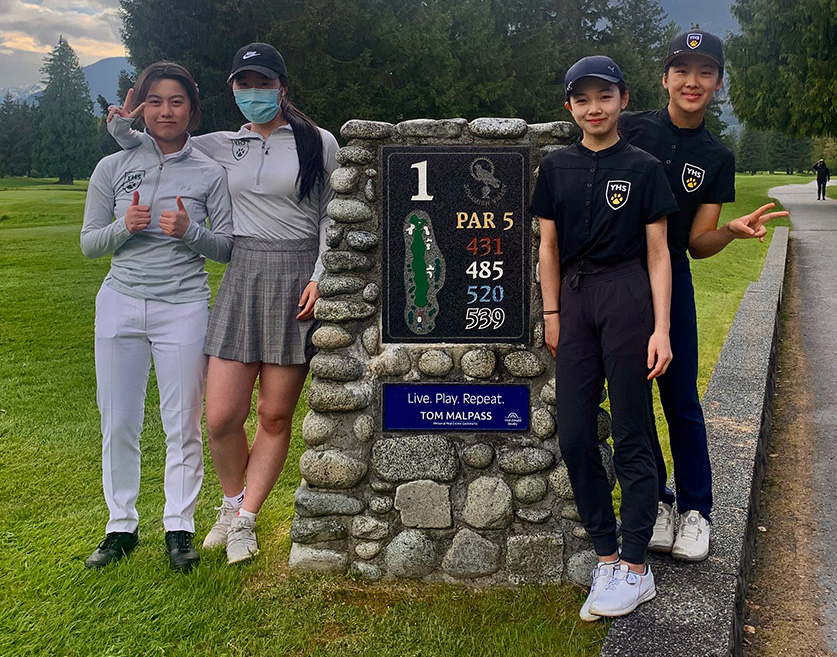 TIGERS TRACK & FIELD ATHLETES AT LMISSAA CHAMPIONSHIPS
YHS Tigers track and Field athletes endured the hot conditions and enjoyed great performances at the LMISSAA (Lower Mainland Independent Secondary Schools Association) Track & Field Finals. Nearly 30 athletes participated and many enjoyed personal bests and medal performances. These past two years, our Tigers Track Team is as strong as any in my memory and the future is bright. Some highlights include:
Tigers took gold medals in all three divisions of High Jump

Grade 8 gold: Jaime A

Junior gold: Nicole W

Senior gold: Maddie W
Our Junior 100m sprinters (Sofia, Liv, Sophia, Kate) athletes swept the podium placing 1, 2, 3 and 6 overall.