Every year, the Greater Vancouver Regional Science Fair (GVRSF) hosts a regional fair for approximately 200 students (Grades 7-12) at UBC campus over the course of four days in April. This is nothing like the "old school" science fairs from the past, it is much more engaging, interactive and inspiring! The purpose of the GVRSF is to showcase student work, give students access to UBC profs and scientists from around the community for feedback on their work, and provide opportunities to compete for prizes—especially the coveted prize of representing Team BC at the national fair. It is an all-expenses-paid trip—although this year it was held virtually. This is an incredible opportunity, and extremely rare to win.
Last year three Grade 7 students from our Science Alliance Club were accepted to the fair, but it was cancelled two weeks beforehand due to COVID. The students were devastated. Luckily, with more time to plan, the GVRSF committee was able to run a virtual fair this year with over 200 students and 250 judges from across the region. It took place over three weeks, and thanks to over 250 judges—students virtually showcased their projects and fielded questions from experts in their field. Our Grade 7s from last year (currently Grade 8) were able to bump up their experiments this year and present their work at the fair. We also had four new student entries from the Junior School. 
At the awards ceremony in April, we had plenty to celebrate! Grade 8 students Bella and Veronica did exceptionally well. Veronica in particular was invited to the national science fair to present her project and represent Team BC, Vancouver Region, and YHS at the national level! Youth Science Canada (YSC) hosts this national competition called the Canada Wide Science Fair for nine days in May, hosted at Canadian universities across the country.
Veronica's project, which she completed in the Grade 7 Science Alliance Club and then continued to work on this year in Grade 8 through one-on-one mentorship, is inspirational toward her goal of environmental sustainability. Veronica walked away with a very impressive set of awards. This is rare and extremely exciting! We are so proud of her as has faced many obstacles throughout her science journey. She truly is an inspiring young girl in STEAM!
We could not be more proud of our young students in STEAM. For more information on our top projects, including the research, click on the links below: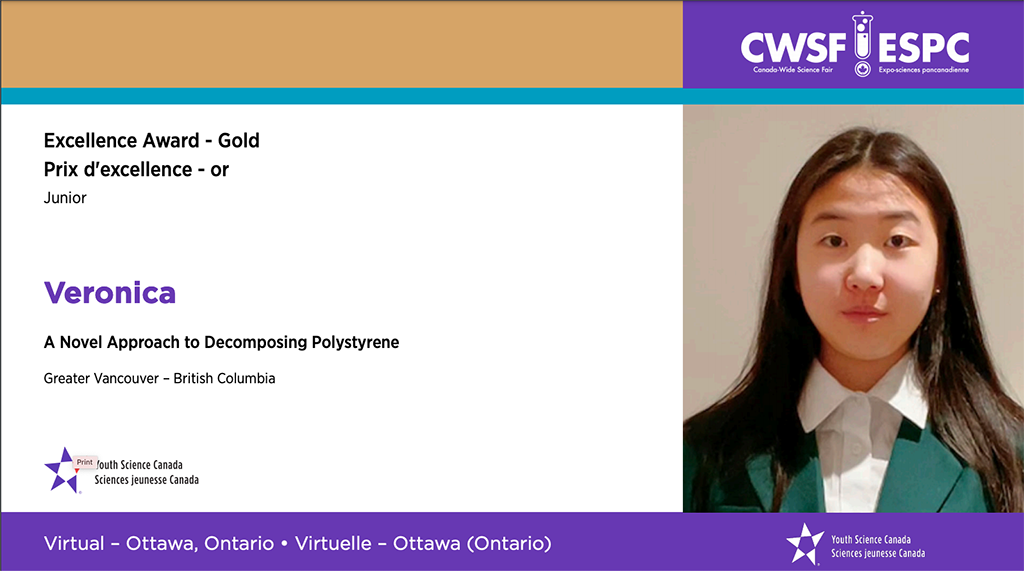 Rikki DaCosta
Grade 6 Teacher