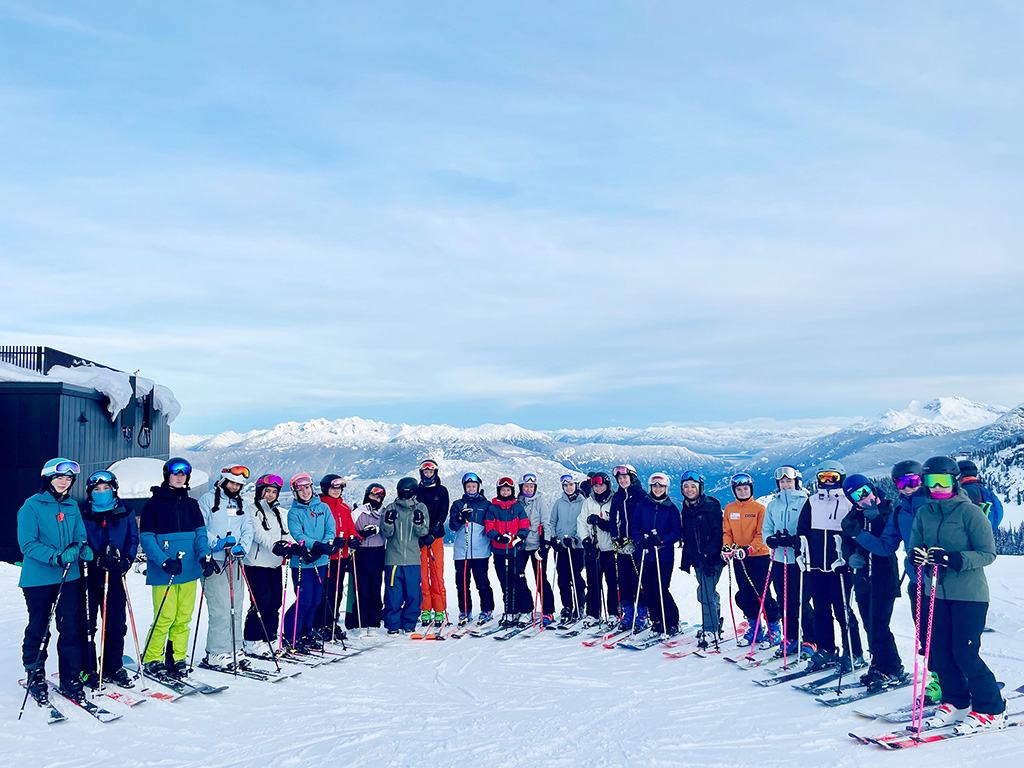 TIGERS SKIERS & SNOWBOARDERS DOMINATE THE PODIUM:
Our Tigers Ski and Snowboarding Team continues to grow in popularity and continues the tradition of success since the start of the program in 2006-07 school year. 
This year, over 35 students are involved on the team attended competitive ski and snowboard races hosted by Blackcomb Mountain. YHS has a tendency to dominate the leaderboard and the podium finishes routinely place multiple racers in the top 10.
During the Jan 25th meet, race times were mixed together with a Fraser Valley league and YHS skiers and boarders still had incredible results. Congratulations to Lyra for placing second overall in snowboard and Macy for placing fourth. Congratulations to Maddie for winning gold in the ski race with Sarah taking silver and Alexa placing fourth. The Tigers placed six in the top 10.
Our Vancouver Sea to Sky Zone Championships take place February 10 at Blackcomb Mountain. The BC Championships run February 27, 28, and March 1 at Sun Peaks Resort in Kamloops. 
A huge thank you goes out to our committed YHS coaching staff, Mr. Lum and Ms. Matthews. Thank you as well to YHS staff who help out with supervision on those days when we have so many students on the mountain: Ms. Brennan, Mr. Cosgrove, and Ms. Baldissera.
TIGERS BASKETBALL UPDATE:
Our Senior Tigers are a young team who have had a great season. The team has been very dependent on several Grade 10s who could be playing Junior basketball rather than Senior. They have been a fun, committed team all season and have improved tremendously. Credit must go to the positive leadership of our one and only Grade 12, Jordan.
The entire team, along with their coaches, recognize that this is a year for growth and improvement and have all been very supportive of one another. The improvement has been very obvious from the first few games in November and December to the past few weeks.
The Tigers defeated Windsor (North Vancouver) and Burnaby Mountain Secondary to reach the final of the Britannia Bruins Tournament. Britannia beat YHS in the final 81-45. This past weekend, our Senior Tigers placed fourth at the annual VGBA Tournament hosted at Langara College. YHS defeated Kitsilano Secondary 62-25, then lost to top 10 ranked AAAA Churchill before facing off against Britannia for third place. Britannia edged the Tigers 56-50 in a game YHS led for most of the second half. That result alone show the steady growth of this team. Congratulations to Jordan for being named a VGBA Tournament All-Star. Thank you to coaching staff Mr. Cosgrove, YHS alum Erin All '02, and Mr. Ben Dove.
Our Junior Tigers have faced several challenges this season with a small roster and seeing so many Grade 10 players promoted to the Senior Team. As a result, the small Junior Team roster has battled throughout the year and has shown tremendous resilience and improvement. This past week, the Junior Tigers lost a close battle with Churchill and then defeated John Oliver to place third at the VGBA tournament at Langara. The Tigers lost a heartbreaking 47-46 game vs Little Flower Academy this week, highlighting how much this young team has improved. Congratulations to these players and thank you to coaches Ms. Virginia Watson and Ms. Denise Busayong.
Our Grade 8 Tigers have had a great season and are currently sitting in third place in our Lower Mainland Independent School league. They are an enthusiastic and athletic group who have improved so much during the year. League playoffs for our Junior and Senior Teams start next week with our Grade 8 playoffs the following week.