A Week of "Firsts" for YHS Tigers….
VARSITY SOCCER TEAM: LMISSAA CHAMPIONS!
For the first time in history, our Tigers Varsity Soccer Team are the Lower Mainland Independent Secondary Schools Athletic Association (LMISSAA) league and playoff champions! YHS defeated Crofton House (CHS) in an exciting final on May 2. With several chances to score throughout the game, YHS led 1-0 in the final minutes. CHS tied the game late to send it to penalty kicks. The Tigers would not be denied and scored on all five penalty kicks and goalie, Terra B., made a key save to secure the win.
Our official LMISSAA soccer league is less than 20 years old and YHS only started running a soccer program during the spring season in the early 2000's. Like so many LMISSAA leagues, our LMISSAA soccer league is one of the strongest in BC. Notre Dame, Little Flower (LFA), CHS, and St. Thomas More are routinely among the top 10 'AA' teams in BC so winning our league championship is an accomplishment to truly celebrate.
Next Up: The Tigers will compete at the 'AA' Vancouver Sea to Sky (VS2S) Zone Championship tournament to play against the top 'AA' teams from the Vancouver public school league and all of North Shore, Sunshine Coast and Howe Sound teams. The top three teams at VS2S Zones qualify for the 'AA' BCs.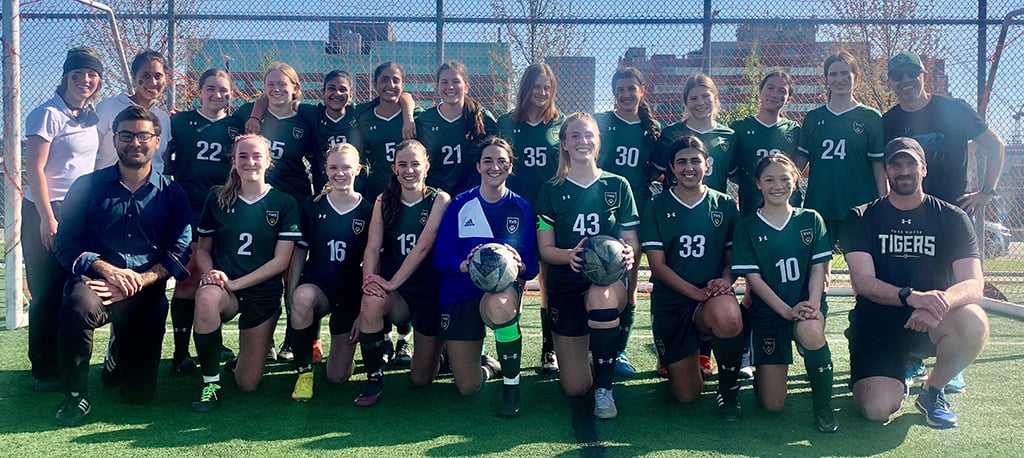 TIGERS GOLF TEAM PREPARES FOR ISAs AND ZONES:
For the first year ever, YHS has a Golf Team. With a talented and committed group of young golfers, the Tigers are competing in our LMISSAA league against schools like St. George's, West Point Grey Academy, Vancouver College, Fraser Academy and more. On May 8-9, the Tigers will compete at the ISA Championships and continue to prepare for our 'A' VS2S Zone Championships on May 24 at McCleery Golf Course.
TIGERS MOUNTAIN BIKING TEAM RACES IN FIRST-EVER VS2S LEAGUE RACE:
Last May, three courageous mountain vikings participated at the BC Mountain Biking Championships in Langford. This year, the Tigers Team includes four riders and on May 3, they took part in their first VS2S League Race hosted by the North Shore athletic association.
BADMINTON UPDATE:
Our Tigers Badminton Team wrapped up their LMISSAA season with their final league match vs Little Flower on May 2. 
Not so fun fact: Badminton, like Tennis, is officially a coed sport in BC. YHS Badminton and Tennis Teams play exhibition schedules and ISA Tournaments but can not participate in playoffs, VS2S Zone Championships or Provincial Championships because we do not have a boys school to partner with. Vancouver College partners with LFA for all sports. St. George's partners with CHS for tennis and badminton. I have been tirelessly working with provincial bodies to make changes to this so all sports are more inclusive for all schools. There is finally some movement at BC School Sports and I am hopeful that this may change for the 2024-25 school year.
ULTIMATE UPDATE:
"TIGHT" our coed YHS Tigers and St. George's Ultimate Teams are competing at the LMISSAA league finals on May 5 at Trillium Turf and Jericho Park Turf.
TRACK & FIELD TEAM UPDATE:
The Tigers Track & Field Team will be competing at the LMISSAA league finals on May 10-11 at UBC track. Track meets are always exciting and this year is no exception. Our YHS Tigers Team is as strong as ever with several athletes who routinely provide outstanding performances in various events. Jaime (Grade 8, below) high jumped 1.55 last week and is always looking to improve on her personal best (PB) of 1.60.