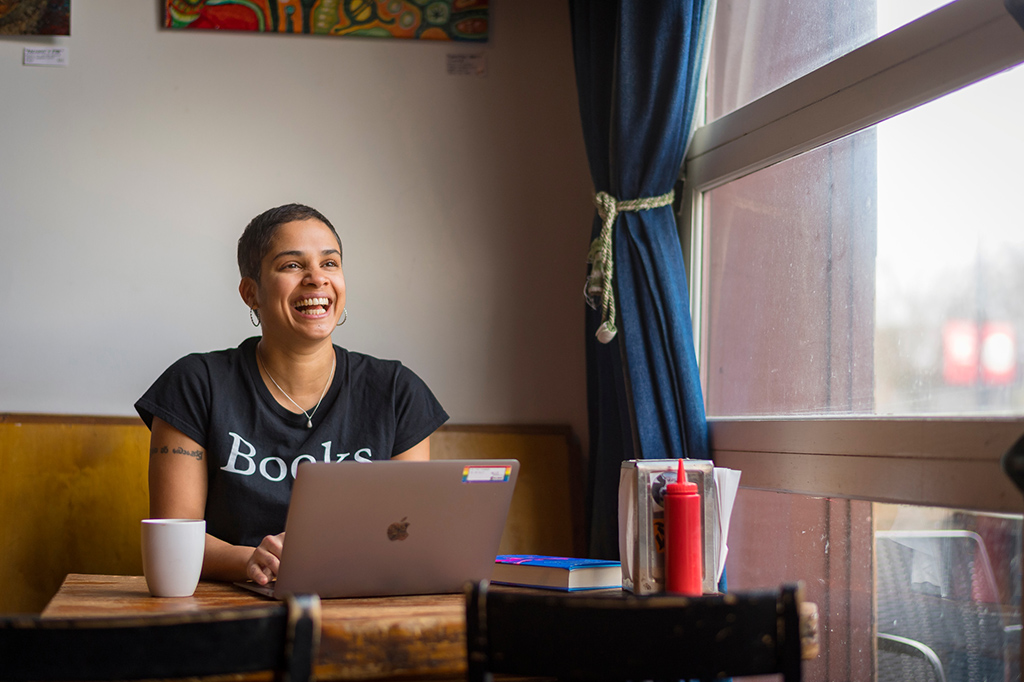 The YHS Alumnae Association launched their inaugural Book Club on March 9 with a virtual event with YHS honorary alumna and YHS English Teacher Tanya Boteju. YHS Grade 7 teacher Zuri Scrivens (Class of 1995), moderated the evening and guided a conversation with Tanya about her journey as an author, her books, and her writing process.
Tanya Boteju published her first novel in 2019, Kings, Queens, and In-Betweens (Simon & Schuster), which was named a Top Ten Indie Next Pick by the American Booksellers Association. Her latest Young Adult novel, Bruised (Simon & Schuster), was published in 2021 and has been selected as a Gold Standard book by the Junior Library Guild. In both teaching and writing, she is committed to complex, diverse representation. 
Kings, Queens, and In-betweens is a feel-good debut novel about a queer teen who navigates questions of identity and self-acceptance while discovering the magical world of drag.
Bruised is a vibrant coming-of-age story about a teen girl navigating first love, identity, and grief when she immerses herself in the colourful, brutal, beautiful world of roller derby. Surprisingly she actually didn't know too much about the roller derby world before she began writing Bruised; it was more about the journey of the characters. Roller derby itself provided an energetic and colourful backdrop for the story of these young people to evolve.
Speaking on the topics she has chosen for these two Young Adult (YA) genre novels, she has been drawn to telling stories for those who haven't necessarily seen themselves before; those who exist on the fringes, or those who don't feel like they fit in. 
When asked what advice she would give to aspiring writers, Tanya emphasized that writing is not a linear process at all. In fact, it is really messy. You have to just be willing to get the words down. It is this process that is reflected throughout her classes at YHS.
As a proponent of free-writing, Tanya believes that you need to trust the process; it is a much better alternative than staring at a blank page. Tanya added, "Something fruitful comes every single time. Even if it is just that I didn't stare at a blank page. Be willing to be messy. Be willing to write garbage to get to the good stuff. Be gentle with yourself."
Tanya currently has two projects on the go at the moment; both of which draw from her own life experiences. The first is allowing her to return to an exploration of drag culture as well as the experience of coming from an immigrant family and the strong push to make good on all of the things that your family has done for you.
The other project explores an underground Gay-Straight Alliance (GSA) between a Catholic High School and a secular school. Tanya does not deny that some of the inspiration from this story is the obvious proximity of Little Flower Academy and YHS and but she also acknowledges how growing up Catholic herself has influenced this story. Of course, a teacher advisor to the GSA and her work with the vibrant and diverse students at York House continues to inspire her work. 
Although it has been more challenging during the pandemic, this evening was a reminder of how fortunate we are to be part of a community that celebrates the accomplishments of our students, our staff, and our alumnae. 
Ms. Boteju's books can be purchased from the following stores in Vancouver:
Massy Books

Western Sky Books

Iron Dog Books

Kidsbooks

Pulp Fiction

Audiobook for

Kings, Queens, and In-Betweens

from

libro.fm