Meet Alek Bester, Senior School P.E. Teacher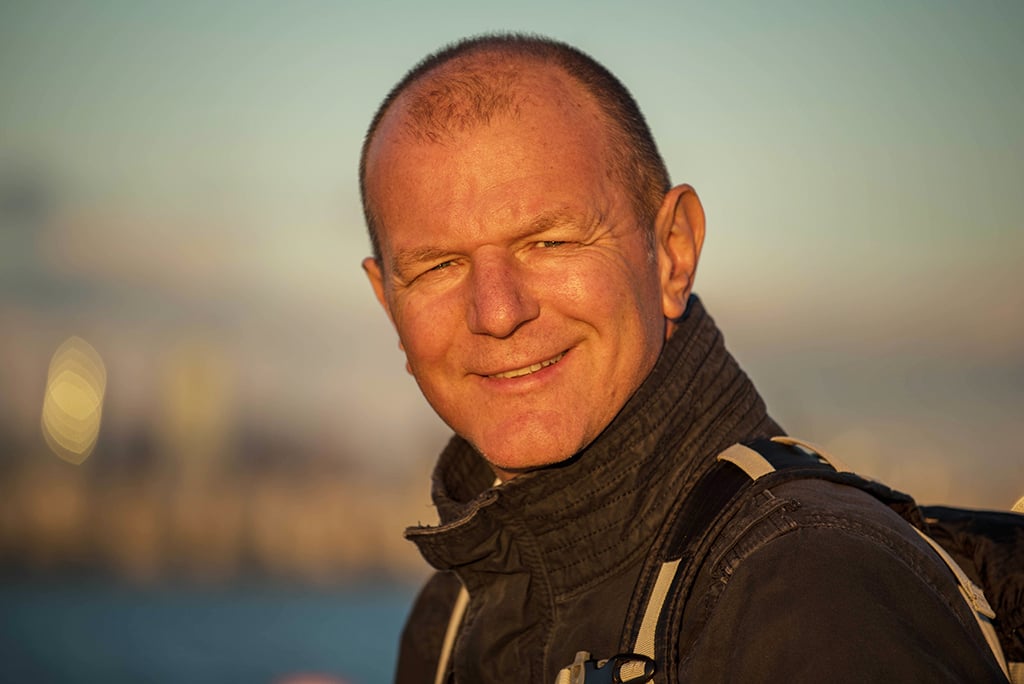 You may not know this about "Mr. B", as he is affectionately known by many students, but he was the first male Physical Education teacher at York House School. Many remember him by another nickname – "Papa Goose" – and as a kind and wise teacher, who is always generous with his time and willing to listen. He has encouraged girls over the years to stay focused, believe in themselves, and remember that they are "smart cookies".
Past students have shared how proud he has been to share his Polish heritage, whether it was through Polish treats or a little dance. Many have come to learn of Mr. B's passion for learning as well as his love of the outdoors, his newest hobby – photography, and York House School.
Whether it is to his students, colleagues, or his family, Mr. B. stresses the importance of "gratitude". Mr. Bester has been teaching at York House for 25 years.
Q & A with Mr. Bester
How did you get started in Education? When did you decide to become a teacher? My teaching instinct came very naturally to me. From an early age, I was engaged in elite sport. Later, when I was in university, I started my first coaching job working with young Polish high-performance sprint kayakers. This is how I discovered my love of teaching. Since the day I landed in Canada, I wanted to be involved in coaching on an international level. My dream was to coach the Canadian National Team. It did not take me much time to become one of coaches for the BC Canoeing Team. Unfortunately, I also discovered that the position was not going to provide sufficient stability and financial support for my young family. Luckily, I got my first teaching opportunity in one of the private schools in Vancouver. A year later, York House School took the risk of hiring this Polish immigrant with broken English, a man from behind the Iron Curtain. I became the first male P.E. teacher in YHS history. I can not express how grateful I was for being given this opportunity. So here I am — 25 years later!
What brought you to Canada?
Once I made the decision to leave Poland and cross the ocean, Canada became a natural choice for me. The images from the Olympic Games in Calgary (beautiful nature and friendly people) and literature (Polish author Arkady Fiedler's book "Canada with Resin Flavour") reinforced this choice. Canada simply sounded good in Europe. It's a country where your life is in your hands, where you can follow your dreams, where the rules are not changed on every whim (opposite to communist Poland at this time), and where an immigrant can truly feel at home.
What was your first year at York House like?
I recall my first year at York House as being extremely 'good' busy. Outside out the regular teaching load (six blocks), I participated in three outdoor education camps and coached the senior volleyball team, bantam basketball team, and track and field, all in one school year and I loved it all! I remember a very welcoming and caring community — students, parents, and colleagues alike.
What major changes have you seen over your career?
Every year is different and leaves unique memories. Our campus has had a major overhaul, and there is new staff, and of course new students every year. The common denominator is a very strong sense of community. What I have seen since my first day is a community of socially aware young women who dedicate themselves to what is going on in the school and outside the school in terms of volunteering, community service, and social awareness. One of the most important themes we have had is 'moral courage', which is the ability to speak up for yourself and others, and take a stand. I have seen this year after year with our students and it has not changed.
What's the best thing about working at York House?
It's such a joy to be in the classroom, to interact with kids and to take advantage of all sorts of teachable situations, more or less serious ones. I believe a healthy classroom climate is about creating a constructive learning environment complemented with joy, fun, and laughter. I also really appreciate the work environment and the support system we have here. I appreciate the freedom I have with the curriculum. I can create a physical and health education program that is really relevant to our students and community. This is where my deep interest in the psychology of well-being and performance comes into play.
What would students be surprised to find out about you?
I don't like running! However, I do it because I know the benefits of it and because I am a "smart (and tough) cookie"!
How do you think alumnae remember you and your class?
I hope they viewed the gym as a "regeneration centre", somewhere where you can come to decompress, and where it's okay to make mistakes. I hope they would remember a teacher that cares, and that they left with a few lifelong takeaways that they found in my class. I hope I am remembered as a teacher that can make unpopular decisions in a friendly constructive way, and as someone that really wants to make a positive difference in students' lives.
After 25 years, what new challenges are you looking forward to?
Today we talk a lot about 21st Century education and the challenges that come with it, such as how to prepare kids for jobs that don't exist yet. I believe that we need to put equal emphasis on students' social and emotional well-being. More and more future employers are going to look at emotional intelligence (e.g. being open-minded, flexible, adaptable) in their hiring practices. The newest challenge for me is how to maximize students' experiences in the gym in terms of social and emotional learning. This is a big part of the current physical and health curriculum.