This year's Founders' Day assembly had a celebratory feel as it was the first time we could all come together for a full assembly since 2019!
The theme of this year's assembly was "tradition" in keeping with the 90th Anniversary of York House School.
Our Head Student, Isabella, Grade 12, and our Junior School Head Student, Jocelyn both spoke eloquently on this theme and what tradition means to them.
Our Class of 2023 graduates were buzzing with excitement as they filed into the Rand Gymnasium to accept their YHS Alumnae pin from our YHS President of the Alumnae Association, Devon Taylor '02. A longstanding tradition, we were also delighted to be able to invite alumnae with a connection to a student in the class to present their pin to them. 
This year's Poet Laureate, Emma (Grade 12), recited her poem "A Journey Through Time" reminding us all that while the world has changed over the past 90 years, the York House values have remained steadfast.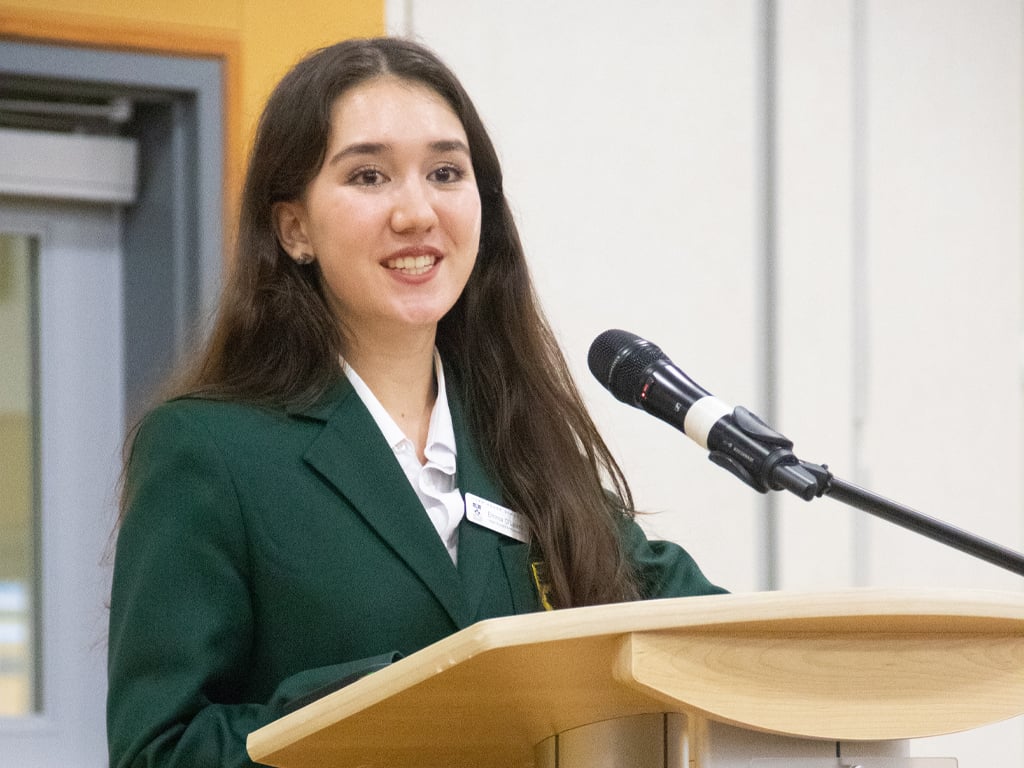 This year, we asked a few of our Grade 3 students to share individual accounts of what life was like for family members who once went to York House. Thank you to Gracie, Lilia, Kara, Roya and Rosie; you were a tough act to follow!
Our Grade 4 students rose to the occasion with a rousing performance of "The York House March" led by Music Teacher, Ms. Jacqueline Mirtic.
Following the presentation of the Alumnae Association pins to the Class of 2023, staff who have been with York House for 10 years were also presented with pins as Honorary Alumnae. Congratulations to Kim Foster, Melissa Kanavos, Jonathan Lee, and Meredith McInnis. 
As we have done for the past 32 years at York House, we honoured the Alumnae Association's Special Achiever recipient. This year's recipient, Heather (Fidgeon) Holmes, Class of 1970, was recognized by the Alumnae Association for the work that she has done throughout her illustrious legal career. Ms. Holmes, the Honourable Associate Chief Justice for BC, shared not only about the trajectory of her career but the impact of the experiences she had at York House and the lifelong friendships that she made.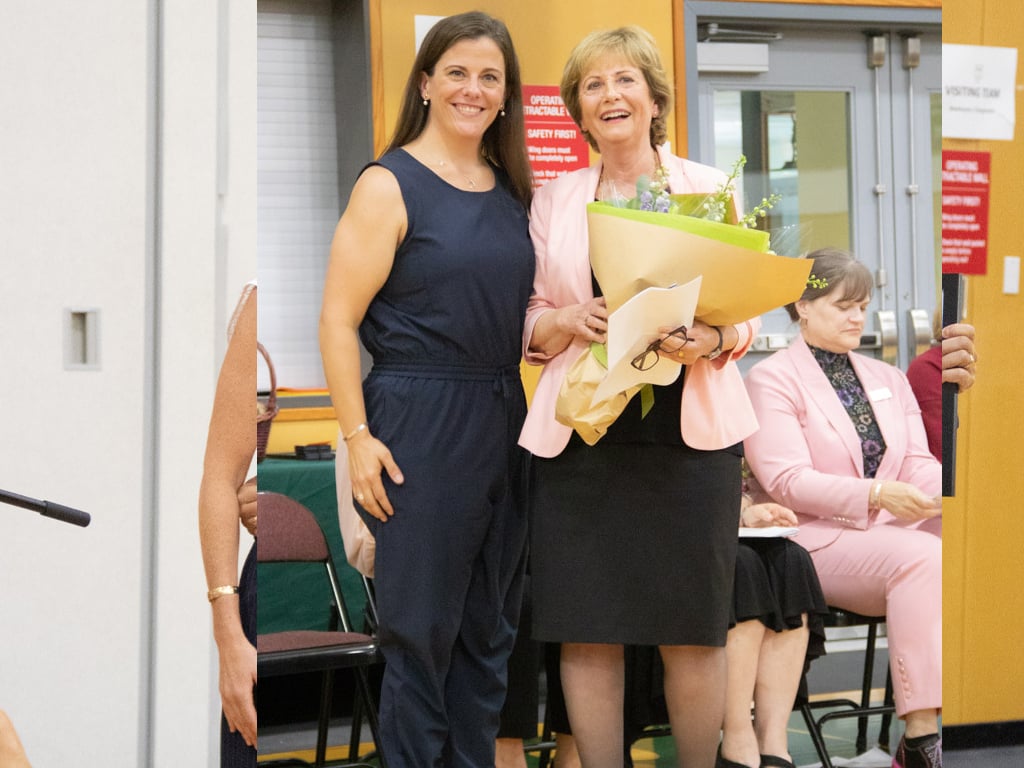 Margot Keate West '93, Chair of the YHS Foundation, also presented two awards in memory of two outstanding York House alumnae.
The Caroline Anne Sexsmith Trausch Award was created by her family in memory of Caroline (Sexsmith) Trausch, from the class of 1984. Known for her Yorkie spirit, Caroline participated in almost every team and club from debating to basketball. Her education, especially her study of French at York House, along with an MBA from Harvard University, allowed her to live and follow a diverse and successful career on three continents and ultimately in Paris, France. This year, the Caroline Anne Sexsmith Trausch Award was awarded to Georgia, Grade 12.
The Katherine Manders Award is in memory of Katie Manders, from the class of 1996. Katie had the life-long challenge with FSHD, a genetic muscle disorder (facioscapulohumeral muscular dystrophy). She navigated her career path with the support of her YHS teachers to reach her cherished goal of becoming a doctor. She met her challenges with awe-inspiring determination, courage, and persistence. This year the Katherine Manders Award was presented to Dylan, Grade 12.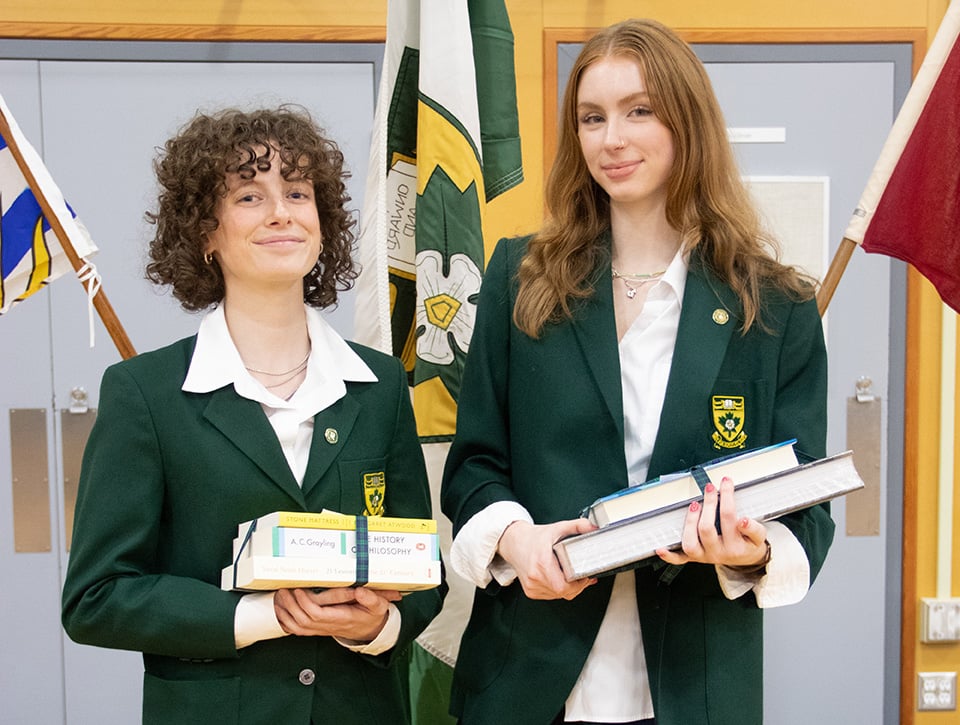 Our Board Chair, Michelle Ostrow, Class of 1989, also presented the Governor General's award for 2021 and 2022 to Amy Guan, currently attending the University of Toronto, and Isabel McDonald, currently attending McGill University. Unfortunately, they could not attend to accept the award in person, but we were able to present the awards to Amy's mother Helen Yang and Isabel's father, Jonathan McDonald.
Thank you to the YHS Chamber Choir for their performance of  Unto the Hills and for leading us in singing Happy Birthday (to YHS) and the school song, Onward & Upward.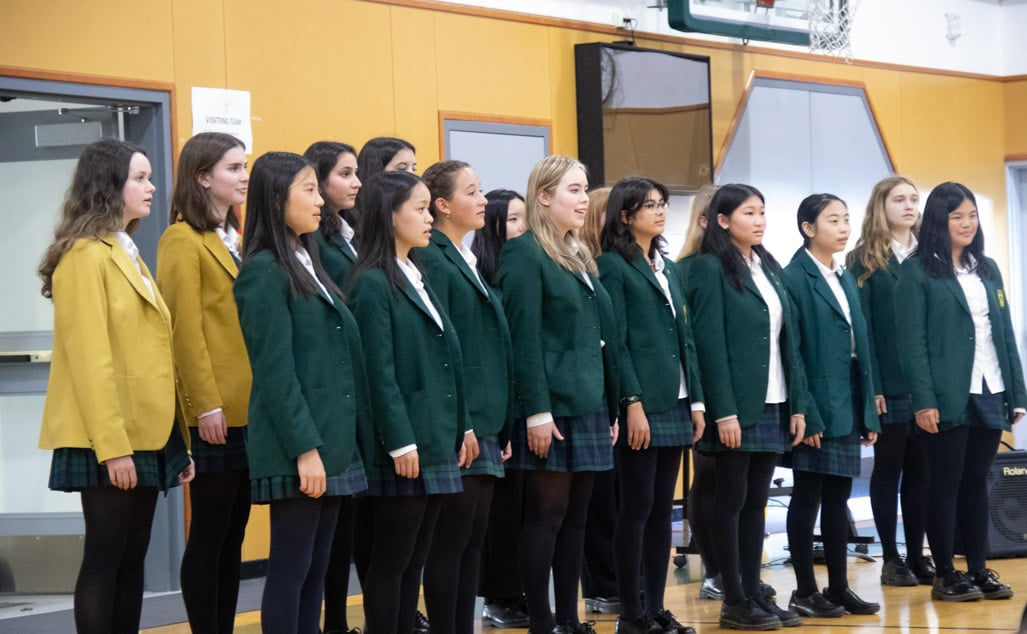 A Journey Through Time
By Poet Laureate, Emma (Grade 12)
From the '30s dusty, dark Depression,
Rose seven women with one vision
For a school that lives "not for itself alone".
And through the night that vision guides us like a beacon. 
The 1940s swept up the nations in WWII,
But gunshots couldn't drown our empathy true.
Yorkies sewed clothing, day and night, so that the Red Cross
Could bind our country's wounds and help assuage the loss. 
Then came the '50s, when a woman held her ground
And wouldn't give her seat to a Southern man who came around.
The values Rosa Parks embodied, our School exemplifies
Integrity and morals we'll hold fast until we die. 
It was one small step for man, one giant leap for mankind
Setting foot on the moon, we left old eras behind
The '60s spirit York House shares, our potential to unleash
Here we have no limits, so to the stars we'll reach.  
In the 1970s, we recognized it was well-past time
To start conserving nature, what we'd done before was a crime.
We respect the land, and acknowledge those who came before us
So we care for the environment, sea, sky, and forest 
The fall of the Berlin wall marked the end of an iron rule,
Overthrowing tyranny, the people refused to play the fool.
Just because that's how its always been, it doesn't mean it's right
We'll challenge the status quo, armed with courage for the fight.  
The '90s brought about a new age of equality
The old system of apartheid, now ceased to be.
To stand up for a just society, in our hearts we know
Is our responsibility until love and peace overflow. 
That fateful day of September 11, 2001
Brought America to its knees, but still not enough to have won.
Even in the face of horror and amidst defeat,
You can always expect us Yorkies to get back on our feet.
The 2010s marked our own arrival at YHS,
Excited faces smiling bright, we're ready for success.
We've all become a part of something bigger than ourselves,
How lucky are we to be so close, connected across realms. 
As this next decade unfolds, we prepare for our departure
Worried that the outside world will be a little harsher.
But armed with our school values, the strength of those who came before,
We're ready to take on the world… so bring on what's in store.