On Founders' Day, Thursday, September 22nd, alumnae from the classes of 1950-1972 were finally welcomed back to school after a three-year hiatus. Greeted enthusiastically by student executives, the day began with a tour of the 3rd floor Alumnae Art Gallery's stunning exhibit of paintings by Marni (McLoughlin) Sheppard '89 and a new Museum & Archives display featuring the evolution of York House's historical buildings over the past 90 years. 
There was a wonderful sense of occasion as alumnae and special guests returned to the Golden Luncheon in the Gail Ruddy Foyer and many classes celebrated special reunions.
In particular, alumnae from the Class of 1970 celebrated their 50th year reunion and enjoyed staying on for the Founders' Day assembly to witness their classmate, the Honorable Associate Chief Justice Heather (Fidgeon) Holmes '70 receive the 2022 YHS Alumnae Special Achiever Award.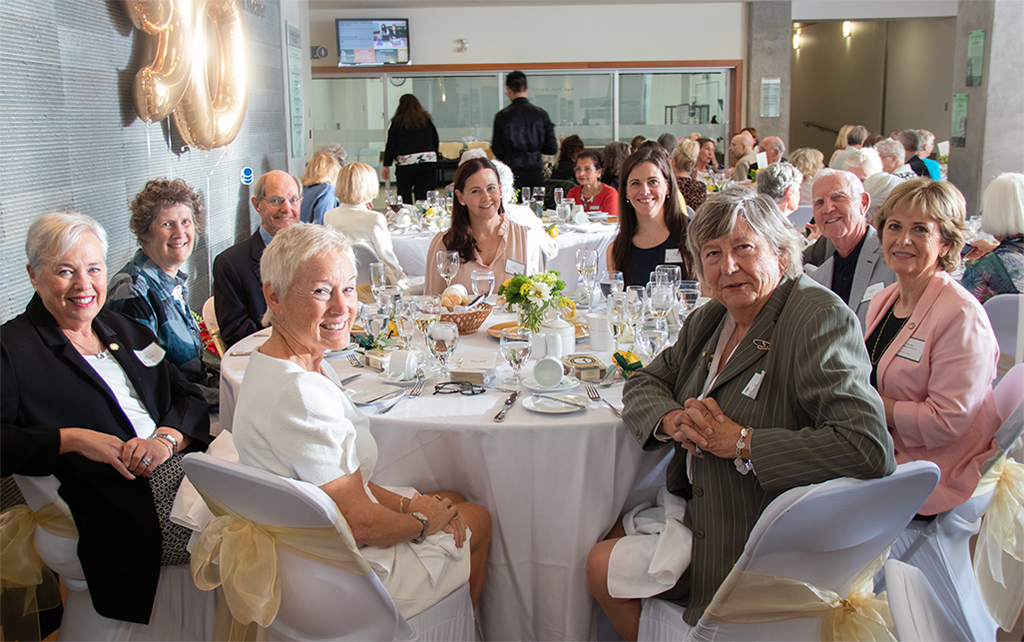 The YHS Chamber Choir, led by Music Teacher, Ms. Benila Ninan, welcomed everyone with a performance of the York House hymn "Unto the Hills', a York House tradition, followed with their version of "My Baby Just Cares for Me", a song made famous by the one and only Nina Simone. 
Other highlights of the luncheon included the Grade 2 students performing "I'm a York House Girl" (parody of Billy Joel's "Uptown Girl") and a special visit from an excited group of Grade 1s who presented Yorkie chocolate to everyone. Thanks in particular to their teachers and the Grade 7 helpers who accompanied them.
This slideshow requires JavaScript.