Keira Louis
Senior Drama Teacher
Despite being in the middle of a global pandemic, York House students have shown me that nothing will get in the way of their passion for theatre—even with strict health and safety protocols in place. When I first decided to put on a play this year, I must admit, I was not fully aware of the different types of issues that would arise along the way—and there were definitely many! 
The play The Curious Incident of the Dog in the Night-Time, which was adapted by playwright, Simon Stephens, from the novel by author, Mark Haddon, is quite the challenge to produce in many ways. It tells the story of 15-year old Christopher, who sees the world in a unique way, through logic and order, and does not like people or being touched. As such, he is often assumed to be on the autism spectrum. After discovering the death of his neighbour's dog, Wellington, however, he decides to uncover the dog's killer which involves investigating, detecting and most importantly, speaking to people, which Christopher does not like to do: "I don't do chatting. I don't like it" (23). With Christopher's natural inclination to be as far away from people as possible to avoid chatting and touching, the staging of the play lent itself well to physical distancing, particularly amongst different learning cohorts. When Christopher's investigation leads him to London, however, the stage transforms into a bustling London train station with passengers, who were made up of actors from different cohorts, everywhere—and this proved to be a lot harder to stage under COVID protocols. In collaboration with the cast members and assistant directors, however, in true York House spirit, problems like this quickly became creative-thinking challenges, which were ultimately executed in a safe and engaging way. We had so many "Oooh!" moments. There was something really exciting about shaping a scene that followed protocols to be physically apart, but still developed the feeling of being physically, and emotionally, connected.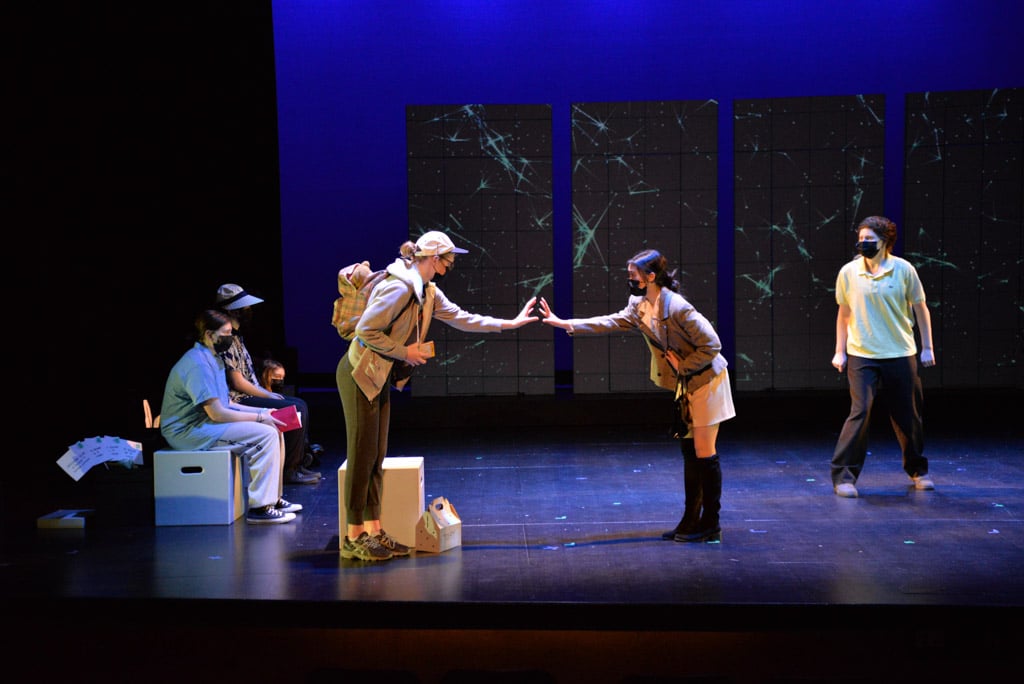 As well, the health and safety restrictions this year prevented us from inviting our brother schools to audition for male parts, which meant all parts, whether male or female, young or old, were to be played by York House students. While it is not unusual for students at York House to play roles of all genders, male characters made up half of the total number of characters in this play, most of which were adult males, adding a significant acting challenge for these students—but one, I am proud to say, that they took in their stride. Furthermore, given the nature of Christopher's character, it was important that we, like any other theatre company, approached Christopher's character from a place of authenticity and care. And, like any other theatre company, the York Rose Players did their research, allowing Grade 9 student, Lucy, to portray Christopher with his unique traits, respectfully and compassionately, despite being very different to Christopher in her everyday life. 
I am extremely grateful for our students' commitment to this play, and for their trust in me that we could execute it professionally and safely during these times. I think I speak on behalf of the entire cast and crew when I say that we created something we are extremely proud of. While the students were not always in agreement with my staging ideas (sitting on the sides of the stage for the entire play was quite a new concept they initially struggled with!), I really appreciated their willingness to try new things and to step out of their comfort zones with regards to both acting and staging. The students worked so hard to bring this moving story of 15-year old Christopher to life, with care, compassion and curiosity, and with hundreds of lighting, video and sound cues, in addition to pages of lines to memorize and safety protocols to abide by, I am proud to say that I believe they succeeded.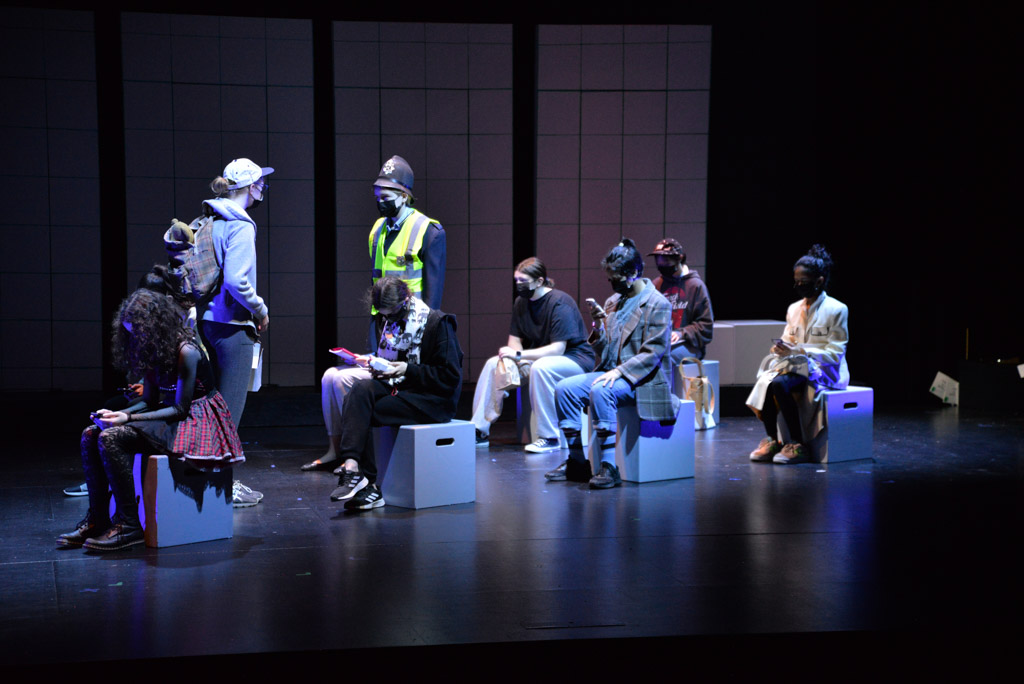 Much thanks and appreciation also goes out to the Vancouver Arts Club Theatre Company for their role in this year's production—especially to Darren Hales, our production designer, and the film crew for the wonderful part they played in bringing this play to life on your screens in your homes so professionally. 
I would also like to thank all the staff, faculty, and students who volunteered their time in one way or another to ensure the success of this production. I could not have done it without you.
Finally, thank you to Julie Rousseau, Head of School, and the administration team, for their endless support of my vision to produce this play under such challenging circumstances. Your guidance was greatly appreciated. 
And to the YHS community, I hope you enjoyed watching this year's production of The Curious Incident of the Dog in the Night-Time as much as we enjoyed producing it for you! 
Read more about the play here: "The Show Must Go On" by Maggie Y. (Grade 9)