by Maggie Y. (Grade 9)
"Real." That is how Ms. Louis, Senior Drama & English Teacher and the director of this year's play, The Curious Incident of the Dog in the Night-Time, would describe it. Although the title is quite a mouthful, the storyline, characters, and play have proved quite a contrast to the eccentric and spooky The Addams Family Musical from last year. The Curious Incident of the Dog in the Night-Time is a mystery novel written by Mark Haddon and was developed into a play (despite the author thinking that it was unstageable) by director Marianne Elliot. 
It follows the seemingly ordinary life of 15-year-old Christopher Boone who has an exceptional brain but is at odds with everyday life and society, until one night, when he discovers Wellington, his neighbour's dog, is dead. He then goes on an investigation to figure out who killed Wellington. Christopher, however, struggles when interacting with those around him, adding an interesting twist to the plot as he must interview people and conduct detective work. Although this plot seems simple at first, reading the novel myself and seeing the world through Christopher's eyes has truly been heartwarming in unexpected ways; I could really connect with him.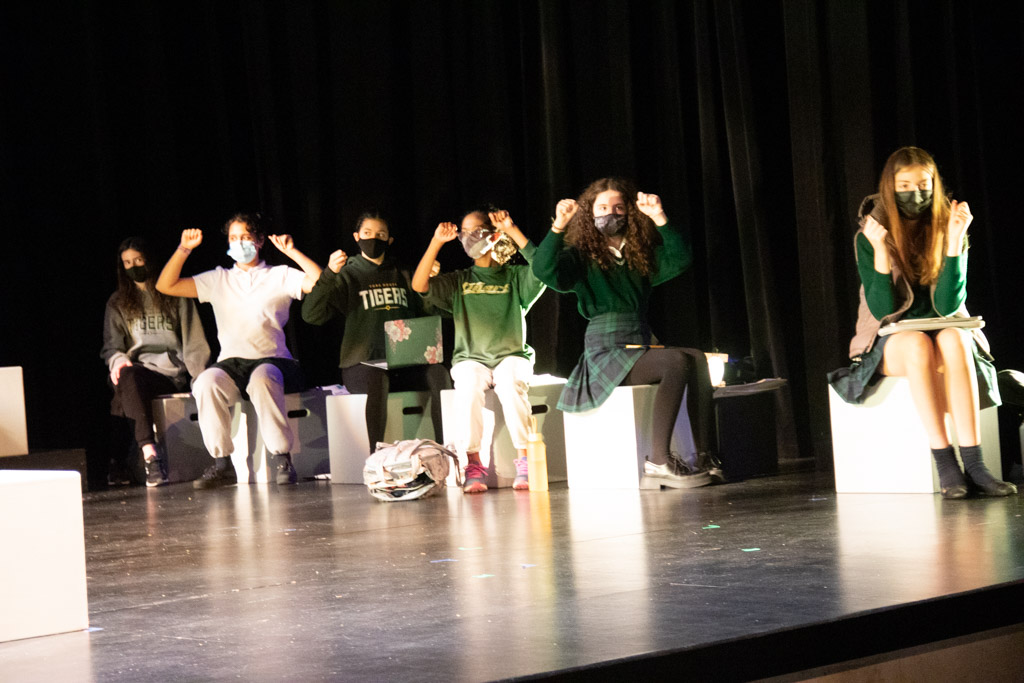 Through an interview with the director, Ms. Louis, I learnt that developing a play during the pandemic has been one of the greatest overall challenges. Although this is only her second year at York House, she thinks that the play was successful because of the talented cast, and the ingenious way the staging incorporates COVID-19 protocols. Her inspiration behind selecting this play was down to one of her Grade 9s when her student was reading it last year for her independent novel study. She decided to take a closer look at the play based on the book and decided that it would be a great choice as it would work as a good contrast to York House's previous plays which were mostly comedies. She thinks that, although there were many setbacks because of COVID-19, this has helped them think creatively about how to follow the protocols and also provide an amazing experience for both the actors and the audience despite the performance ultimately being online. She thinks that it's been a "fun experience for all of [them], and they have learned lots of new ways to creatively stage a play." They have been following protocols of wearing a mask, social distancing, and sanitizing hands at every rehearsal, making sure that they stay safe while still having lots of fun. 
Ms. Louis is extremely proud of the students involved in the play because of how adaptable and understanding they have been throughout the process, despite many changes in protocols. What she loves the most about working with students passionate about theatre is being able to "watch them come alive" and "light up" when they get to act, direct or work behind the scenes. She loves their eagerness, the energy and enthusiasm they bring when they come to rehearsal every week, and hopes that they are just as excited as she is for the production of this play. Although this realistic play tackles many aspects of life that aren't usually seen, what Ms. Louis wants this audience to take away from the play this year is that although everyone is different, we all deserve acceptance, respect, and attention. She reflects on how "there are so many different types of people, and that they all deserve a chance at life." She hopes that through directing this play, and highlighting the life of a person who has challenges interacting with those around him, she can do justice to those whose stories are not heard.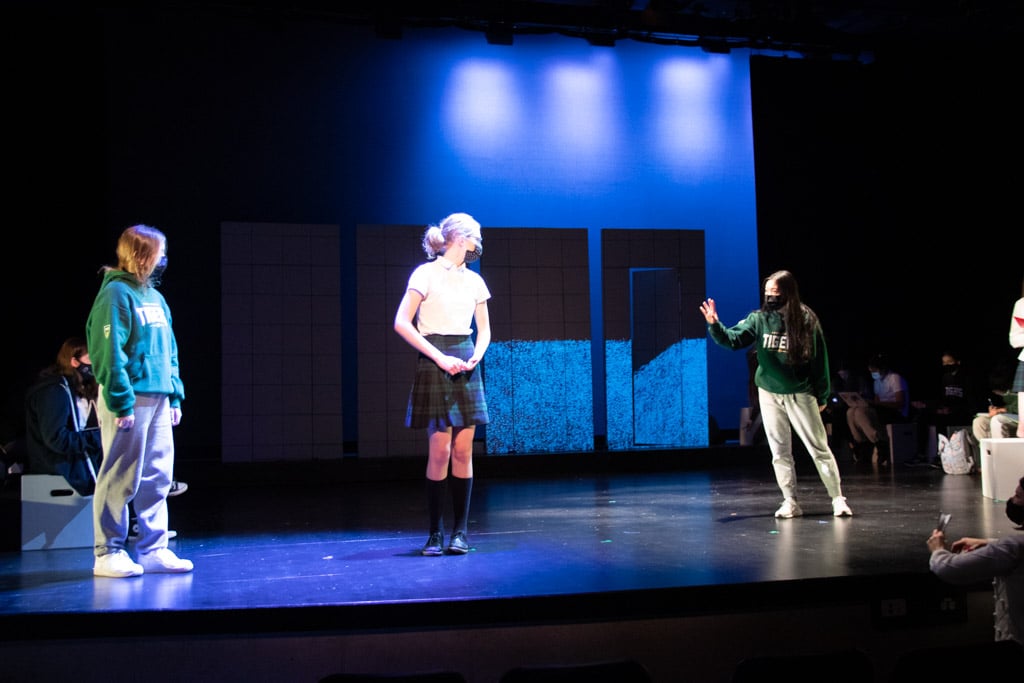 There are some concerns, however, that involve putting on a play with a main character who faces such challenges. Ms. Louis mentions how Lucy, a ninth-grader who plays the protagonist, Christopher, "came at the role sensitively, and with care, compassion and curiosity" and how "much research was carried out in relation to Christopher's unique traits in order to represent his character as thoughtfully as possible." She also mentions how the dialogue was adapted from the novel by playwright Simon Stephens allowing Christopher's personality and struggles to be represented, helping Lucy to understand his mindset and "to an extent, what it might be like to be in his unique world of logic and order, maths, and inability to socialize." She is extremely proud of the work Lucy did in portraying him "sensitively and with compassion."
After interviewing Lucy, I was able to find out more from her perspective on how she portrays Christopher. She thinks that Christopher is an "impactful character and reaches out to so many people, like people who have learning disabilities, or lots of anxiety." Taking on this role has been a difficult challenge for her. She thinks that "everyone portrays characters in a different way, focusing on different aspects of the character." She can relate to Christopher and how challenging it can be when  "things don't go [your] way" and tried to bring emotion or light to that part. Overall she thinks that Christopher is a "cool and versatile character that can be taken on in many different ways" and was really happy and excited to play him.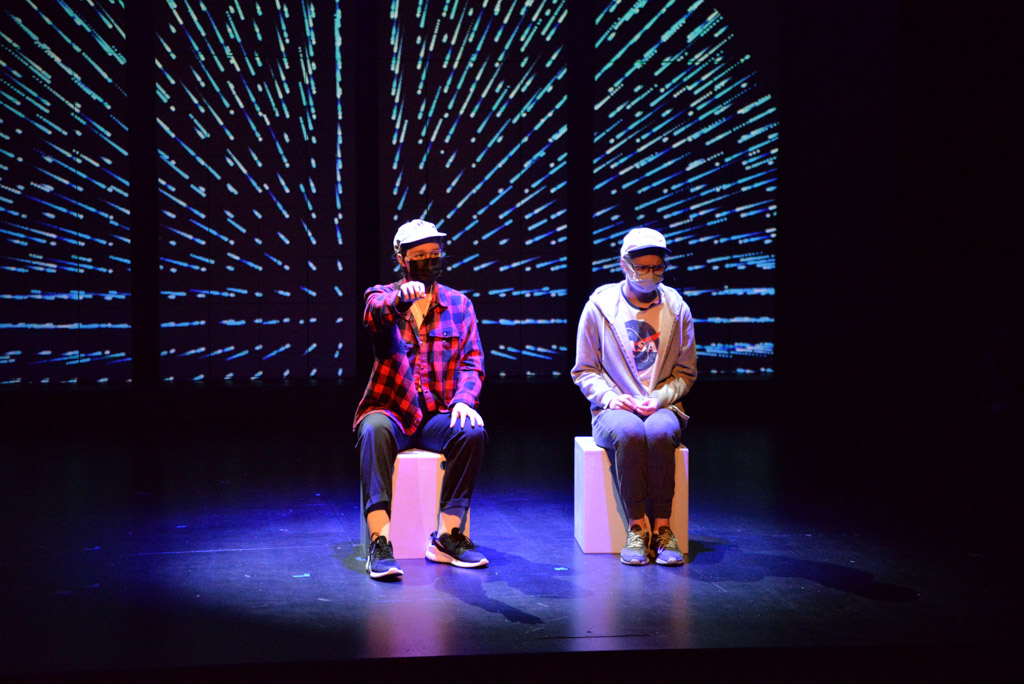 Tiana (Storm), a ninth-grader who plays Ed, Christopher's dad, also experienced something similar to Lucy when stepping into the shoes of an almost completely different character from herself. Both students are playing roles that normally a male would play, and for Storm, she's playing someone who is double her age making it more challenging to really relate to the character and act like him. One thing she's focused on is acting with her eyes instead of her mouth, especially because wearing a mask blocks most of her features, making it hard to tell the emotions she's expressing. There are lots of intense and suspenseful scenes between her and Christopher, and through using her voice and expressions in her eyes, she thinks she represented Ed well. 
What Storm thought Ed struggled with the most when taking care of Christopher, is when he needed someone to lean on. With Christopher not loving physical contact, and the grudge he has against Judy (Christopher's mother), it's a bit sad for him, she thinks, having to raise Christopher by himself, doing his job and paying the mortgage. Storm and Lucy both think that although at the end of the play we don't find out what will happen to their bond, later on, they feel like they will start to regain trust in one another, eventually making up for the rough times they had. Although acting with a mask and social distancing was difficult, they both thought that it was an incredible and different experience.
The jobs that were most impacted by COVID-19, however, may be the backstage crew, who although are behind the scenes, have been working just as hard as actors. There were a limited number of people allowed in the backstage crew because of COVID protocols, resulting in more work to be done by fewer people. Assistant Director Angela (Grade 11) and Stage Manager Alex (Grade 12) were among those who had many responsibilities when it came to organizing the cast, rehearsals, lights and sound, and helping Ms. Louis. A day in the life of being a stage manager for Alex would include keeping the crew on track, managing the stage and set pieces, working with the actors, and overall organizing everybody. She thinks it's more of a leadership role, especially when the play is about to go live.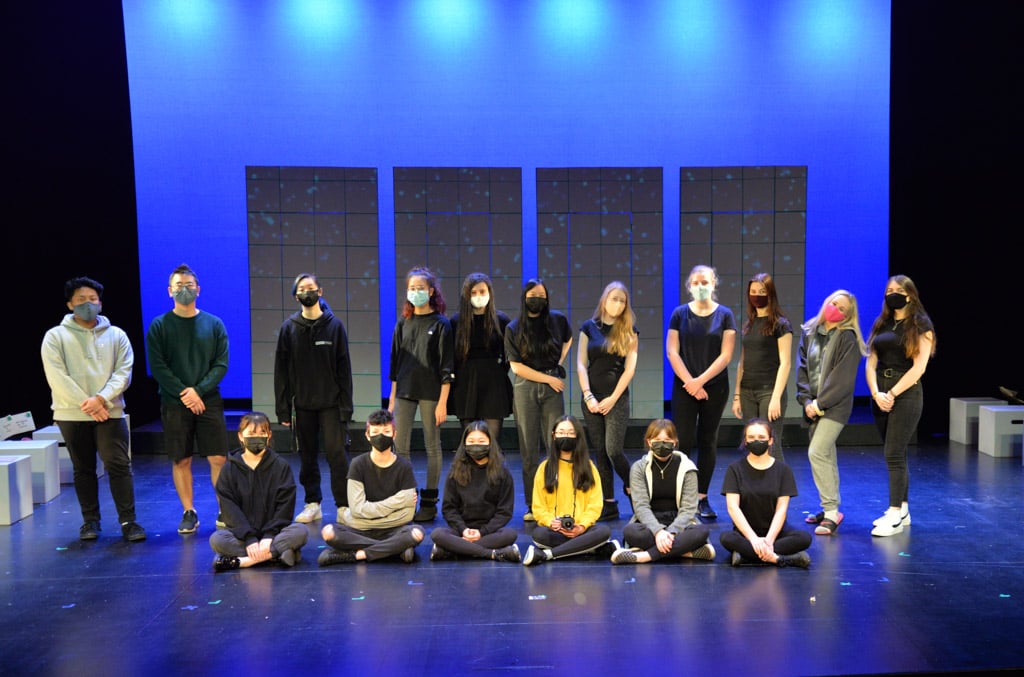 Angela, the Assistant Director, also has a busy schedule when organizing the play. Being a part of the plays and musicals since Grade 8, and now taking on a role as an Assistant Director has been an amazing experience for her. The biggest thing to keep in mind when being an assistant director she says would be looking "at the overall aspect of the play" and being able to be a leader and help organize. A ninth-grader who helped with set-pieces also says how the play looked really different with COVID-19. They weren't able to connect as much or see each other's faces but mentions how she was still able to meet new people. Her favourite job was smearing paint around on boxes "for a good hour and a half", especially because it was fun and soothing. 
Although developing a play during COVID was a really tough challenge, especially not being able to see each other's faces or have any physical contact, there were still many instances where positivity shone through. There were still many positive and funny interactions, jokes exchanged among the crew and cast, and amusing scenes. Overall, although the experiences for the audience, cast, and crew were different for this year's play, The Curious Incident of the Dog in the Night-Time was extremely successful.
For more on the play, including photos from the production, read The Director's Note from Ms. Louis.