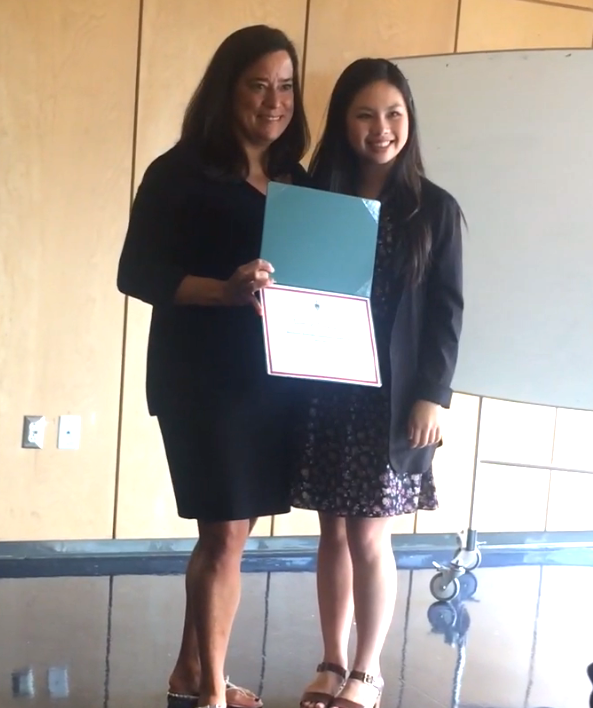 Jasmine (Grade 12) has always had a keen interest in politics. Just this past year, she started looking for a way to give back to her community that would satisfy her political curiosity; a place where the values resonated with her own.
She began researching ways to get involved, when she learned of an opportunity that would allow her to work with one of her political idols, the Honourable Jody Wilson-Raybould, Member of Parliament for Vancouver Granville, Minister of Justice and the Attorney General of Canada. One of the key initiatives she focused on was organizing a volunteer fair where she helped match 50 young people with different community organizations. Following this experience, she sought an internship position that would allow her to continue her work with Minister Wilson-Raybould's Constituency Office.
During her internship, Jasmine was responsible for preparing responses to MP correspondence which would require her to read policy and interpret how it applies to a particular question someone may have. Learning on the job, she was also working on putting together the newsletters, and web posts for the Constituency Office while supporting the Case Manager and the Constituency Office Manager. Putting her research and writing skills into action, she even had the opportunity to write about the current Vancouver housing crisis for a recent Ten Percenter (a mailer sent to 10% of the constituency population), among other issues.
At the end of the summer, Jasmine asked for an opportunity to again continue her work with the office, and was offered the position of "Junior Assistant". Jasmine was well-aware that she didn't have the university degree or experience that some applicants might have but she wanted to take a risk, and put herself out there. She believed that she had proven herself in the role so far and she wanted to keep learning. Now Jasmine attends classes at York House one day where she has six full classes and on the alternate days and weekends she works in the Constituency Office where she manages communications, correspondence, and supports youth outreach.
Commenting on the new role, Jasmine says, "Every day has been a genuine surprise, and there isn't a day that goes by where I haven't learned something new. It has been an incredible experience so far. I've been navigating how to apply my technical knowledge when dealing with everyday Canadians who are affected by proposed policy. It has been especially challenging to learn how to communicate in a respectful and sincere manner, when the issue at hand is emotionally charged. Learning how to respond to someone when the answer you have isn't what they want to hear is most definitely an ongoing process and I am humbled to have the opportunity to continue to grow in this field." Her experience so far has definitely helped her to put political life into perspective. She feels grateful for the opportunity to work with Minister Wilson-Raybould, who she admires for her sincerity, intelligence, and way with people, even those who have a different ideological perspective. The others she works with have been equally supportive.
In terms of what is next for Jasmine, she hasn't chosen which university she will be going to yet, but she plans to stay in Canada and is considering taking a gap year to take a position on the Hill. In fact, she will be going to Ottawa in December for three weeks of combined work and training as part of her role with the Constituency Office.
Once she does get to university, it should be no surprise that she plans to study communications and political science. It may surprise you that she is also considering exploring a minor in neuroscience as she believes that studying connections in the predisposition of our biological functions and how people think about issues is fascinating and can be applied to make for a better political future for all Canadians.  
Speaking on the benefits of the work experience she has gained so far, Jasmine says, "It can often be frustrating to gain technical knowledge but have nowhere to apply it. Having real-world experience is invaluable."
When asked about the negative perceptions that people often have about political life, Jasmine says, "I find that the negativity surrounding politics often and unfortunately surrounds competition created by hyper-partisanship, and the divisiveness this can bring to a country. It is my belief that values must be better emphasized in our political system, as values have a greater capacity for uniting our country. One day, I hope to be in a position to bring people together through clear and effective communications and policy. My experience in politics thus far has shown me that everyone in this field is passionate about what they do, which is working with everyday Canadians so our Government can help individuals and the greater community through positive change."
Jasmine is still figuring it all out as she goes, but it is clear that she has a head start and that she is not afraid to explore exciting opportunities that speak to her passions.