VARSITY FIELD HOCKEY OFF TO THE AA BCs
Our Varsity Field Hockey Team placed 3rd at the first-ever Vancouver Sea to Sky Zone Championships last weekend and earned a berth to the 2019 AA BC Championships.  The Tigers first game was against North Shore's Windsor Dukes. A hard-fought battle ended in a 1-1 draw with YHS winning in a shootout. The Tigers advanced to the semi-final vs Little Flower Academy (LFA). The Tigers again competed to a 2-2 draw but LFA won the shootout to advance to the final. YHS then faced off vs Crofton House for bronze. With yet another tie, 1-1, the Tigers went to another shootout and came out on top claiming bronze. Congratulations to the team, coaches Ms. Atkinson and Matt Sarmento, and special congrats goes to goalie Sasha (Grade 9), who was excellent in dealing with the pressure of three consecutive shootouts.
SENIOR FIELD HOCKEY WINS LMISSAA SENIOR DIVISION TITLE
Our Senior Field Hockey Team defeated Crofton House 3-2 to claim the LMISSAA Senior Division Championship last Thursday. Our Junior and Senior Field Hockey teams wrap up their respective seasons this week. Congratulations on a terrific season!
SENIOR VOLLEYBALL WINS SILVER AT ISAs
Senior Volleyball ISAs are a competitive tournament each year as West Point Grey, York House, and Crofton House have been consistently battling for medals in the field of 16 ISA teams. Last weekend at Crofton House, the Tigers dominated the competition until they reached the final vs WPGA. The Wolves were hungry for a win, having settled for bronze in past seasons. While the Tigers were favoured and likely the stronger team, WPGA got the best of us on Saturday afternoon to take home the gold. While winning silver is a great result, our Tigers were disappointed. However, a loss on Saturday simply provides motivation to work hard over the next two weeks to prepare for the Vancouver Sea to Sky Zone Championships (November 13-14) and hopefully, the AA BC Championships to follow.
VOLLEYBALL LEAGUE STANDINGS
Congratulations to all three Tigers Senior School volleyball teams who have had terrific regular season results! Find information at www.lmissaa.com. All three YHS teams are in second place in our highly competitive LMISSAA league. See the standings below:
SWIM TEAM AT VANCOUVER SEA TO SKY CHAMPIONSHIPS
Congratulations go to our Senior School Swim Team who on Tuesday, took home the banner as the girls Vancouver Sea to Sky Zone Champions! YHS swimmers performed great to claiming a high 219 points, followed by WPGA with 171 and West Vancouver's Sentinel with 94. LFA and Lord Byng round out the top five schools. Several Tigers now qualify for the BC Championships on November 15-16, at Watermania in Richmond.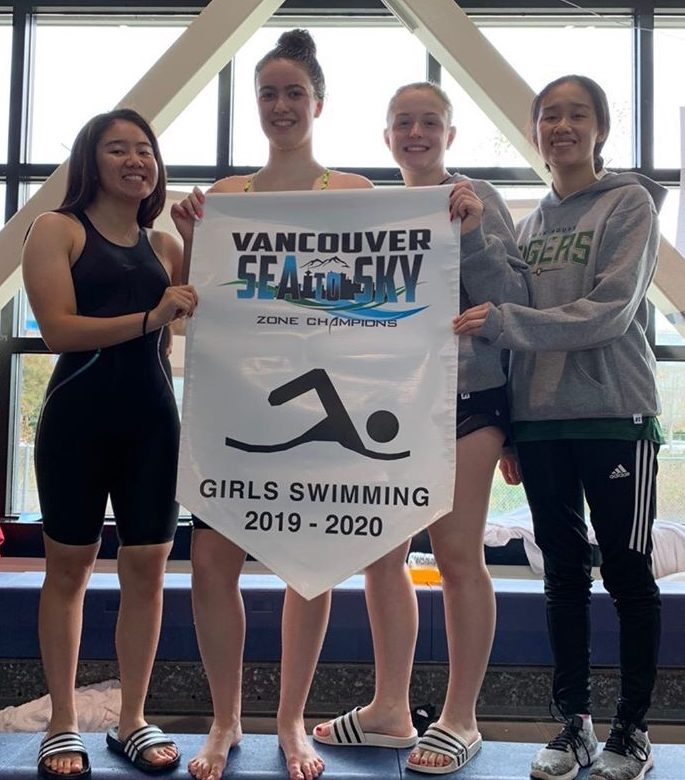 BC CHAMPIONSHIP QUALIFIERS:
B 200 Medley Relay:

Vivian, Kaitlin, Devon, Frances, Madeleine, Tristan, Sophie, Layla
Open 200 Medley Relay

: Victoria, Janice, Sophia, Joyce
B 400 Free Relay:

Devon, Frances, Sophia, Kaitlin, Layla, Yael, Madeleine, Tristan
Open 400 Free Relay:

Alexandra, Janice, Joyce, Victoria, Vivian, Phoebe, Sophie, Lucia
B 50 Breast:

Kaitlin, Tristan
Open 100 Fly:

Alexandra, Janice
B 200 Free Relay:

Devon, Frances, Kaitlin, Tristan, Layla, Phoebe, Sophia, Vivian
Open 200 Free Relay:

Alexandra, Janice, Joyce, Victoria