Erika Gomos
Advancement Events Officer
York House School Cafeteria has changed in a big way and it all began in the spring of 2016 when a group of parents took the initiative to explore healthier food options in our cafeteria. The Healthy Food Committee was born and since then, parent, and student representatives from Junior School and Senior School have been working closely with Kathy Kealey, Director of Junior School, and Sodexo, our food services provider, to discuss a healthier vision for YHS by ensuring that all food and drinks provided in the cafeteria are both nutritious and sustainable. Achieving this goal will help in our students' academic success and improve their wellness: physically, emotionally, and mentally. 
They decided to break down the needs into four different priorities that the cafeteria should focus on: (1) create lunches and snacks using high-quality ingredients. This means to source seasonal and organic produce as frequently as possible, Ocean-wise fish only, and use whole-grain, and organic dairy products; (2) Nutrient-dense snacks, eliminating processed snacks and replacing them with simple and fresh whole foods daily, offering organic fruit, and vegetables as well as fresh fruit and vegetable smoothies, include dairy-free options, and healthier grab and go options; (3) Reduce sugar and boost nutrition, which means eliminating juice boxes and chocolate milk and replacing them with fresh fruit desserts, as well as drinks that have natural flavouring; Lastly, (4) Cafeteria updates and upgrades which include the addition of the bowl bar, new blenders for smoothies, a double fridge for more storage, a floor mixer, a double-stacked oven and more staff to help with the food preparation and making sustainability a priority.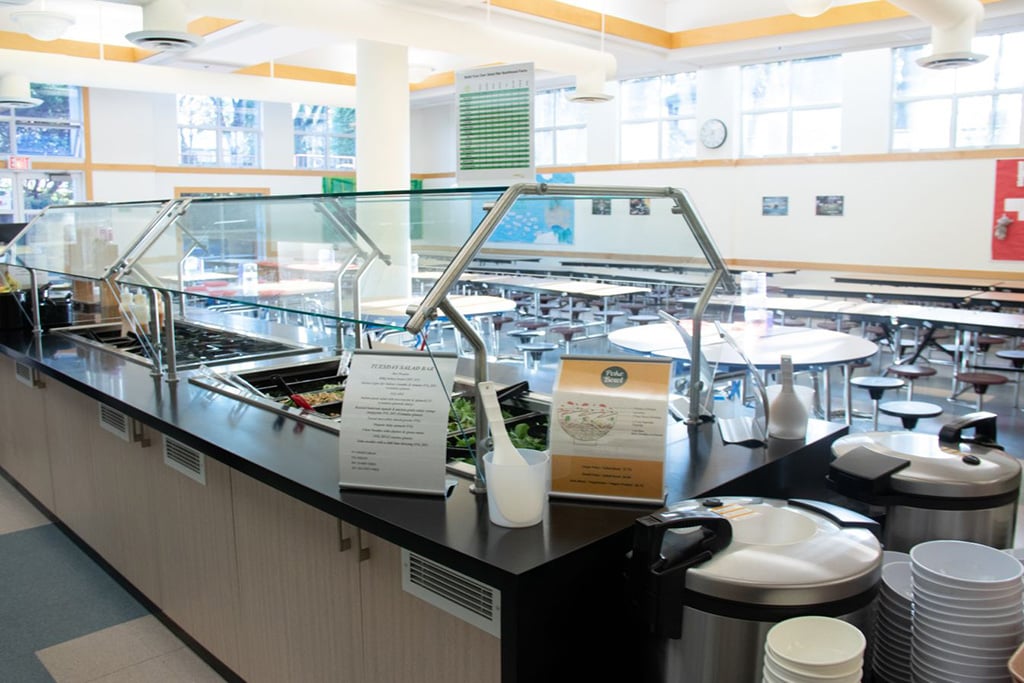 NUTRITION
Creating menu items that are delicious and nutritious is one of the main goals for the cafeteria. The objective is to only serve items that are free of toxic ingredients, high in quality, and are in accordance with the Canada's 2019 Food Guide. To achieve this, our cafeteria switched to simplifying our hot lunches, offering more vegan and gluten-free options, making all the salad dressing fresh in-house, and upgrading the salad bar to the "Bowl Bar."
Future 50 Foods was also introduced in the cafeteria menu. The Future 50 is identified by Sodexo, Unilever, and the World Wildlife Fund as biodiverse ingredients that are high in nutrition and are flavourful such as quinoa, kale, chickpeas, lentils, and red sweet potatoes to make meals more nutritious.
GOING GREEN
Sustainability is one of the main priorities in the cafeteria. There is a focus on serving items that are local, seasonal, and waste-free. There has also been a big shift to only carrying items that are reusable, recyclable, and compostable. The majority of the take-away food ware is made out of PLA Bioplastic which is processed from the starch of plants such as sugar cane, trees, and corn and it is designed to eventually go back into the soil. Sodexo was also part of the 2019 York House School Sustainability Fair recently to further educate our students about the food ware they carry and teach them about how and what to recycle in the cafeteria. Another way to help reduce the school's environmental impact is the introduction of Meatless Mondays and using at Future 50 Foods as an ingredient in the daily meals.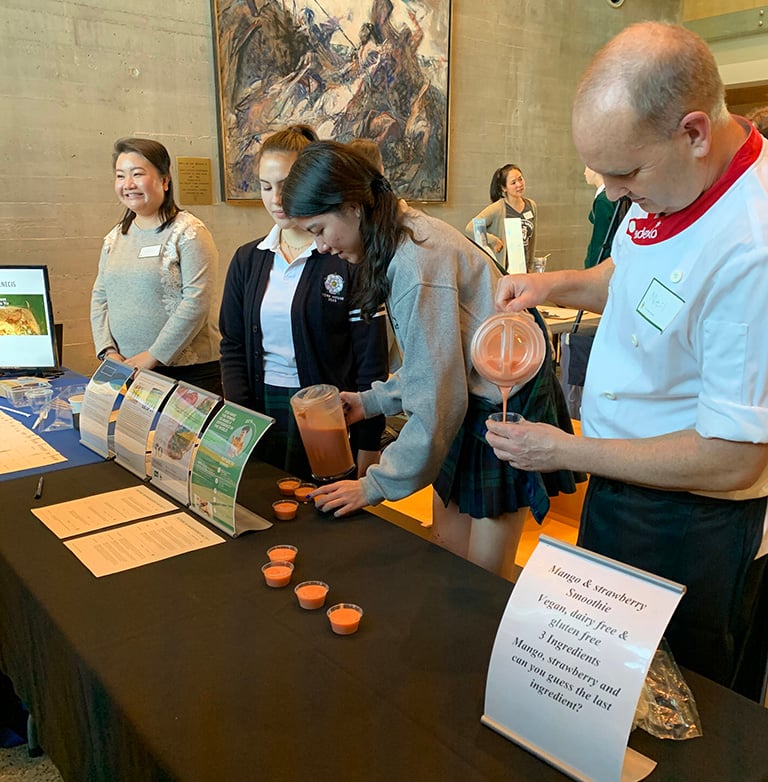 OUR NEW CHEF
York House School cafeteria introduced many new and exciting changes that occurred in the last year and this includes our new chef, Neil Jamieson. Neil has been a chef for 16 years and previously worked in various different restaurants such as Ritz Landis Hotel in Taipei, the Sheraton Guildford Hotel, the Fairmont Waterfront Hotel, and numerous universities and schools such as Little Flower Academy.  
He describes working at York House School as, "energetic, progressive, and positive." Since he started working at York House School chef Neil noticed a big change in the way he eats. He noticed that he was eating less meat and is more conscious about what is going in his body. He even tried to be vegan for five weeks with his wife, "I don't crave meat as much as I did in the past, now my diet consists of 70 to 80 percent vegan." He was also surprised by how much our students cared about what they are eating and where all the ingredients are coming from. Neil sees the future of the YHS cafeteria as healthy and tasty!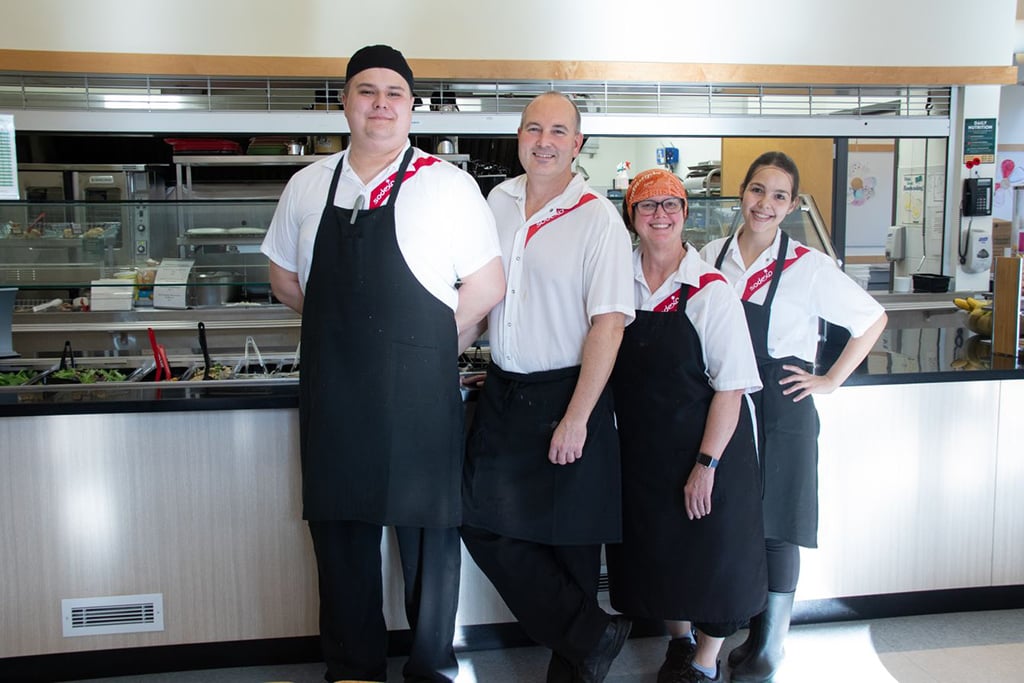 WHATS NEXT?
Many great changes happened in the last few years, but the cafeteria is consistently evolving and making positive changes. Some of the changes to look forward to are: More plant-based options; a QR barcode for staff and students to scan and give instant feedback to the cafeteria; a regular  "Chef's Corner" feature in The Week Ahead parent email where we will share cafeteria features, recipes to try at home, and fun health tips from the Healthy Food Committee; and lastly, Market Day early next year is an event where we will celebrate the cafeteria. The event will have different activities throughout the day like a demonstration on how to build a great bowl and an opportunity to taste new recipes. So, keep your eye out for the invitation. 
Thanks to our Healthy Food Committee, our dedicated cafeteria team, student representatives and staff our cafeteria is able to achieve a healthier and more sustainable York House School for our current and future students. As well as a special thank you to our Parents Association for dedicating all the proceeds from the 2018 Bid Night to go towards our cafeteria.