by Katrina, Grade 11
Good news from the YHS Community! Dustin Dickout, a parent within the YHS community, has been working with York House student volunteers to create a web-based application to inform the public about COVID-19 testing sites.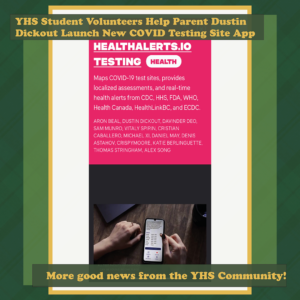 A service under Hot Tomali Communications, Health Alerts, is launching a mobile app that maps COVID testing sites throughout Canada and the US to help users find information about the nearest testing site using their geographic location. Users can access information such as location, hours of operation, and requirements for patients to be tested. Another important feature it has is that it gives patients access to self-assessment tools to
determine their need for visiting a testing-site and real-time COVID-19 updates from their local health centers.

Health Alerts needed to collect a large amount of data on testing sites throughout Canada and the US within a short period of time. A team of YHS Senior School Students — Chloe, Cathy, Sophie, and Emma-Jane in Grade 10; Carol, Katrina, and Kate in Grade 11; Margarita and Maggie in Grade 12 — have worked diligently on this project over Spring Break. Each student was assigned specific regions in the US or Canada and worked independently on profiling those testing sites.
With the help of these YHS Senior School students, Health Alerts can now proudly say that they logged and mapped 1,000 unique COVID-19 testings sites. In addition to that achievement, these Yorkies have contributed to Health Alerts' success of being selected as a category winner in the #BuildforCOVID19 Global Online Hackathon!
"The COVID-19 pandemic is a global problem and has affected all of us. On one hand, Health Alerts will help people towards accessing the medical care they need quickly and clearly. But perhaps more importantly, the students actively participated in fixing a global problem. The idea of taking action and being part of the solution defined the York House group. We were struck by their maturity and focus," said Dustin Dickout.
This amazing volunteer opportunity has shown that even during this time of quarantine and social-distancing, anyone can make a contribution to combatting the pandemic, such as starting projects of their own, and even simpler things like washing your hands, thanking healthcare workers, and giving encouragement to a friend. #YHSInThisTogether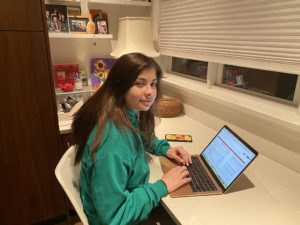 Q & A with Chloe, Grade 10:
Ms. McDonald: What motivated you to participate in this initiative?

Chloe: When my uncle Dustin told me about this project, I dived in because I was curious about the measures being taken in different places to combat COVID-19. Personally, COVID-19 has caused me a lot of anxiety, and I am sure a lot of other people have found that too. Every time I would turn on the news there was something different going on, and the sheer global scale of the pandemic left me feeling helpless. This project has really been great because it has allowed me to expand my knowledge of what is being done to combat the virus beyond what many news outlets are writing about. It has also allowed me to see lots more of the moving parts going on behind what is shown on the news.
Ms. McDonald: What is one thing you're learning through the process? 
Chloe: I have learned many things throughout this process; however, I would say one thing that has really stuck out to me is how complex of a process it really is just to simply locate and log testing sites. I think that it has proved to be difficult because of the many different regional health authorities in both Canada and the US and the lack of disclosed information that is already out there. A lot of provinces recommended calling their Healthline number for information; however, with such a fast-moving pandemic it was difficult to justify taking the time of an operator to merely gather information. Nevertheless, it is worth the struggle because of the benefits that this project will present.
Ms. McDonald:  Are you glad you've participated in this initiative? Why? 
Chloe: I am really glad that I am taking part in this project because currently, accessing testing sites can prove to be quite difficult for a lot of people and making it as easy and efficient as possible for everyone to get the help they need is crucial during this difficult time. It feels really good to know that we are working on something that will hopefully be a game-changer for lots of people.