Q. First of all, can you explain what freeride skiing is?
A. I usually start explaining the sport to people who are unfamiliar with freeride by saying that I jump off cliffs. It's short, quick— an attention grabber for sure. After that, if they're interested, I go into the details. Often, if you watch a ski movie, you are likely watching some form of Freeride as filming is a really big part of the sport. What I'm primarily involved in are the competitions. These competitions are held on unaltered terrain and offer a lot of opportunity for creativity as we choose our own way down the mountain, as opposed to being confined by gates or something else of the sort. We're judged on where we choose to go (and how difficult it is), and then on how well we execute these plans (through technique, fluidity, control, and style). Freeride is about using and interacting with the natural terrain of the mountain, so knowing the conditions, how snow works, and having a good eye plays an important part. We're not allowed to ski these faces before the competition and look at them for hours on end through binoculars— this means our first time going down the run will be during the competition!
Q. When did you start skiing and what was the pathway that took you to the Freeride World Tour 2022?
I started skiing when I was about 6 years old, and haven't really looked back since. I got into freeride specifically by accident. When I was 11, my friend brought me along to tryouts and, after learning that I had gotten into the club, I called my parents at lunch from my coach's phone. I told them I had 'made it into Freeride!' When they asked me what it was, I couldn't quite give them an answer. Though of course, I would quickly learn. I promptly began competing and got more and more into it. From Grade 9 onwards, my winters became almost entirely consumed with travel and competitions. I'm really thankful for all the support I received that allowed me to fully pursue two things that I love so much: skiing and school. After graduating, I took a gap year to compete in the Freeride World Qualifiers (FWQ— the adult circuit for freeride competitions) hoping to try my hand at qualifying for the world tour. I actually managed to make the tour for the 2021 season, but promptly broke my leg quite early into the competition season. Luckily for me, they really liked what I had shown before getting injured, and invited me back for the 2022 circuit.
Q. You travelled all over Europe in the spring and the competition only ended a few weeks ago in Switzerland. What was that experience like?
A. This winter was a crazy experience for sure. I've met people from all over the world, spent a lot of time navigating trains and buses, and reminded myself that I do actually know how to speak French. I ended the season feeling exhausted and rewarded… which is pretty good if you ask me!
Q. You achieved 3rd place overall – what an achievement. Olivia. What was your game plan at the start and were you pleased with the overall result?
A. I've had a really tough run over the past five years dealing with injuries, stemming from a bad ankle injury I got in Grade 11, and culminating in me breaking my leg last February. My game plan going into this season was to make it through the whole season, and not re-injure anything important. While I did grapple with balancing university and variable physical health this winter, I managed to make it all the way to finals— coming 3rd overall on top of that is something I'm very excited about. Going forward, I plan to set my sights a little higher. Health is definitely a priority, but I'm also going to set more specific goals for myself. I'm less interested in specific results, and more in pushing myself to physically and mentally do more than I have before. I want to know just how much I am capable of doing.
Q. What were your prized possessions whilst travelling during the spring?
A. I would say my prized possessions for traveling around this ski season were my funky hats and my sketchbook.  Hats of course are essential, given all the cold places I found myself in, and since I'm pretty much living out of a suitcase all winter, it's nice to still be able to throw a little bit of my personality and joy for fashion into the mix. Sketchbooks are also essential for me, a way to keep up with art even when I'm constantly on the move. Also, I always bring with me a tiny burgundy bear (creatively named burgundy bear) that I used to travel with when I was really young and has now become a tradition and good luck charm.
Q. What advice do you have for York House students looking to get involved in an extreme sport like freeride skiing?
A. I often receive a lot of advice like reach out to others in the industry and expose yourself to people who push you to improve. Set tangible goals. I feel like these are applicable across almost all the things that you work towards in life. 
But there's a piece of advice that I don't hear as much and really want to bring to the forefront. It may sound a little cheesy, but I think it's important to always do it for you. There are a lot of things that come up in extreme sports (especially as a girl I've noticed) that can make this vision a little foggy—sponsors, results, feeling out of place or overwhelmed. But as long as you are doing it for yourself, you're going to improve momentously and you're going to have fun doing it. I'm in an extreme sport because I love it and that's really all there is to it. It's a lot of work, and losing sight of the why and the joy can make it exhausting. This type of skiing is hard work, but there is so much fun and joy in it too. So stay safe, and remember why you're doing it in the first place.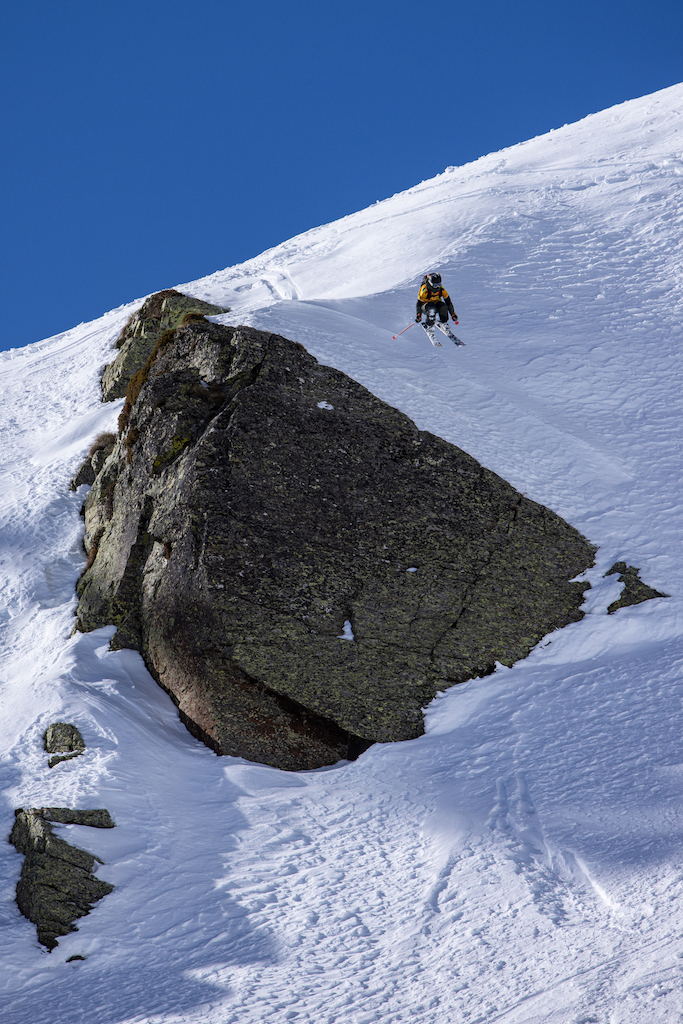 Q. What are your key takeaways from this experience?
A. I've learned a lot about my priorities over the past season— more about what they are, what I want them to be, and how I can go about actually prioritizing them. 
Another key takeaway is an overwhelming feeling of gratitude. So many people have helped me get to where I am and are still helping me along my way. Gratitude for everyone who has offered me support and confidence and given me a chance to prove myself, to all those who believed in me and stayed up late into the night (often until 4am!) to watch me compete—it's been especially important to me this season to really show this gratitude.
Q. You are currently studying at UBC. Did you have to take a year off your studies or how did you make that work?
A. I am indeed currently studying at UBC. It's been hectic, that's for sure. I'm hoping to complete a double honours major in English Language and International Relations, and many important classes for me really do seem to only be offered during the winter. Now, while I may say this as the reason why I'm doing both full-time school and a world tour, the truth is I absolutely love school and get some pretty serious FOMO while I'm off skiing. Something I'm sure many of you remember about me is that I really love learning, so I find it really hard to step away from school completely, especially for an entire semester. Next winter I intend to fully commit to skiing as it really is a full-time job and, I am currently very immersed in summer classes. I've had an extremely unorthodox university experience thus far, and doubt that will end anytime soon.
Q. What's next for you, Olivia? What are your future plans?
A. In the short term, I am going to give my all to Freeride for the 2023 season and see where that takes me. Within the sport, I still have a lot of goals I would like to achieve for myself and am really enjoying all the opportunities competitions have given me.
Looking further into the future, I want to always be able to ski and for skiing to always be something that I love to do. I've heard a lot of friends start to resent competitions and then the sport itself because the reality of it is that the external culture is very draining. Skiing has given me so much, and I want to maintain a positive relationship with the sport. For me, I don't think that means pursuing it as a profession, but still setting myself up for a life where I can enjoy all that the mountains have to offer (also, my knees certainly won't last forever, especially if I keep jumping off 30-foot cliffs). I hope to involve myself in sustainable development, and am very invested in the interdisciplinary approaches that are currently being investigated on that front, but we'll see!