As the school year begins, it feels like we are jumping on a moving treadmill because all things school start at full speed. Athletics is no different. Our Fall Athletics Season is a very busy one with the following sports and teams running in the Senior School:
Volleyball

: Senior Team (Grade 10-12); Junior Team (Grade 9-10); and our Grade 8 Team

Field Hockey

: Varsity Team (Grade 9-12); Senior Team (Grade 8-12) and very possibly a Junior Training Group (TBD)

Cross-Country Running Team

(Grade 8-12)

Swim Team

(Grade 8-12)
Why These Sports?
You may wonder why YHS offers these sports in the fall season. High school sport in BC is governed by BC School Sports (BCSS). BCSS sanctions various sports for high school competition and determines which sports take place in each of the three sports seasons during a school year (fall, winter, spring). YHS is simply not allowed to field certain competitive teams during the fall season of play. For example, we can not field a competitive basketball team (winter), nor a competitive ultimate team (spring) out of season.
VARSITY TEAM SEASON PREVIEW
Tigers Senior Volleyball Team starts the year ranked in the top three in BC for AA Volleyball. Official rankings come out later this week but my inside sources tell me that YHS starts the year ranked #2 in BC. The Tigers finished last season winning bronze medals at BCs with a young team. This season has the potential to be another very strong year for the Tigers. YHS Senior Volleyball's past three seasons have ended finishing 2nd, 1st, and 3rd in BC.
This past weekend, the Tigers went undefeated at an icebreaker tournament in Delta. YHS hosts the 2022 Western Canadian Independent Schools Volleyball Championships (WCISVC) in October.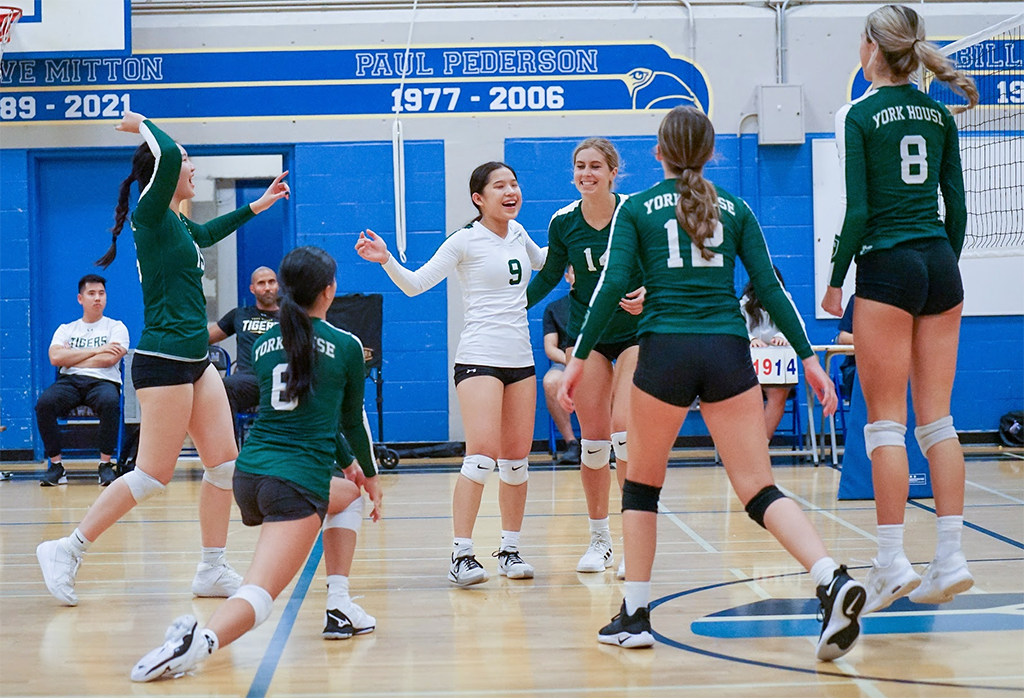 Our Tigers Varsity Field Hockey Team is the defending AA Provincial Champions. However, YHS also graduated several star Grade 12s last season so this year's team is young and will work hard to continue the tradition of competitive excellence in field hockey. 
Tigers Swim Team placed second at AA BC Championships last season and looks to again compete for a provincial title in November. Meanwhile, our Tigers Cross-Country Team hopes to compete hard at meets and qualify for the BC Championship meet in Victoria in November.
FOR PARENTS:  PREPARING FOR A SPORTS SEASON
As the season begins, it is important that we all keep perspective and understand the big picture of competitive sport. YHS Athletics philosophy believes that competitive sport is a valuable experience that prepares our student-athletes for the world beyond high school. Competitive sport helps student-athletes learn about commitment, hard work, goal setting, and teamwork. It teaches us how to celebrate success and deal with failure and moments of frustration. All of these experiences, even the difficult ones, help student-athletes grow.
Below are a few reflections from an excellent resource that I would like to share as we prepare for the season. When you have questions, please reach out to ask [email protected] 
Team Sports … Can you handle it? (Taken from: Proactive Coaching: The Parents Role in Athletics – booklet & DVD)

It is only natural for each parent to watch a game focused on the best interests of their child. Coaches have to make decisions in the best interests of the entire team. In highly competitive situations, often a coach's decision is not in the best interest of any one individual player on that team. This can lead to frustration and difficult situations. Can you handle it? Team sports are not for everyone.
Please read and consider the following scenarios.
For Parents…
If your child competes as a student-athlete, they will be faced with all of these scenarios:
They played well but the team lost

They played poorly and the team lost

They played well and the team won

They played poorly and the team won

They played sparingly and the team won

They played sparingly and the team lost

They will be disappointed in a coach's decision about playing time or strategy.

At the more senior level in the highest competitive environment, they may not have played while the team won or lost.
Be prepared and decide now how you want your student-athlete to respond and deal with each situation.
Plan to model that exact behaviour. Think about the outcome we all want and what lessons your student-athlete can learn from each scenario. The response to these situations will contribute to the desired outcome. It never hurts to even talk about them ahead of time. Event + Response = Outcome.