GRADE 8 TIGERS WIN LMISSGBA CHAMPIONSHIP
Our Grade 8 Tigers completed their undefeated league season on February 15, with a hard-fought 37-23 win over Notre Dame in the LMISSGBA final game. Notre Dame (ND) is a tough, athletic team who competed hard. The game was close for most of the first half with YHS holding an 18-13 lead. The Tigers took control in the second half outscoring ND 19-10 en route to a 37-23 win. YHS was led by Finley with 15 points and Avery with 11 points. York House qualifies for the 2018 Grade 8 BC Championships, March 1-3. The last time YHS won our LMISSGBA league title and attended the BC Championships was 2014, when our current Grade 12 class placed a YHS best ever 4th in BC.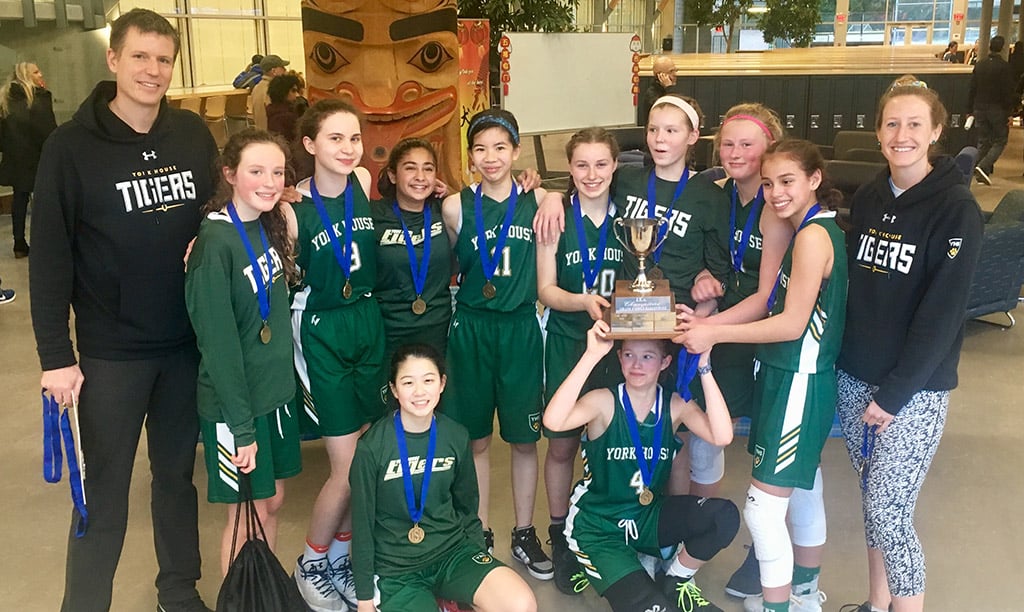 GRADE 8 TIGERS WIN ISA CHAMPIONSHIP
The Grade 8 Tigers followed up their league title by demolishing the competition at the ISAs on the weekend. YHS played a strong and aggressive Mulgrave Team in the final. The game was relatively close but the Tigers played a great, composed second half and put the Titans away with a convincing 56-22 win! These Tigers get to add a gold ISA medal to the bronze ISA medal they won at Junior ISAs.
SKI TEAM GETS READY FOR THE BCs
This is an off week for our skiers and snowboarders. A perfect break to get inspired by watching the Olympics as they prepare for the 2018 BC Alpine Championships, March 5-6-7 at Sun Peaks Resort.
SENIOR BASKETBALL SEASON ENDS AT LOWER MAINLANDS
The Senior Tigers season ended at the AA Lower Mainland Championships. The Tigers opened the tournament with a solid win over Collingwood. They then lost a hard fought game to the #1 seed Britannia. YHS then had to play Little Flower Academy (LFA) in a must-win game. Up 52-51 early in the 4th, the undersized Tigers couldn't stop LFA's 6'1 post and lost 69-60. A strong season overall for our girls but they came just a couple wins short of qualifying for the BCs. Special congrats to our graduating seniors, Kyra, Kristen, and Maggie.
TIGERS ATHLETICS SPRING SPORTS
The spring season is very busy at York House with many opportunities for students. Try-out dates and information have been distributed to students.
Soccer
Junior Team (Gr. 8-10)
Senior Team (Gr. 8-10)
Ultimate
Junior Teams (Gr. 8-10)
Senior Teams (Gr. 10-12)
Track & Field (Gr. 8-12)
Badminton (Gr. 8-12)