This school would not be the amazing place it is without the hard work and dedication of our outstanding faculty and staff. This year, we recognized a number of York House School staff who have been with us for 25 years and the many contributions they have made to our community: Anita Irani, Director of University Admissions; David Prissinotti, Athletics Director; and Jerome Yeung, Library Technician.
In the lead up to the awards, we reached out to staff and students and asked them to share their fondest memories of these remarkable individuals. Thank you to all who shared!
Anita Irani
Director of University Admissions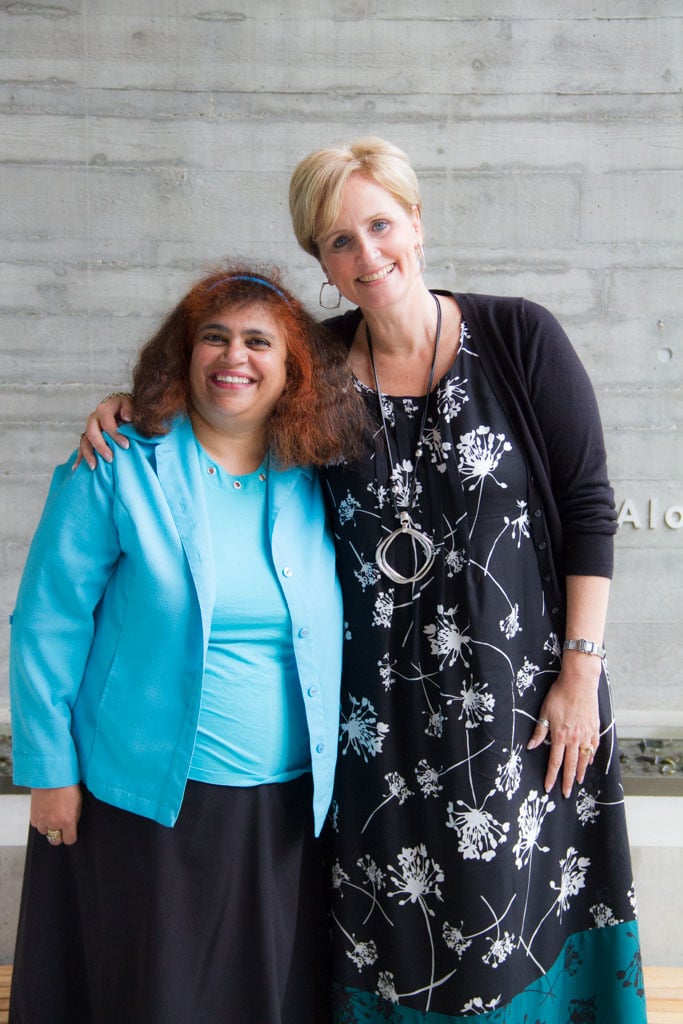 It is safe to say that Ms. Anita Irani is someone who wears many hats at York House School and that is exactly how her career at YHS started. She began in 1993 where she was responsible for everything from school supervision and switchboard coverage to technology support and network back-ups followed by a position as an administrative assistant in the counselling department.
It didn't take long before her natural ability to work with students and families was evident and in 1998, she became the school Registrar and in 1999 she became our Director of Admissions. As Director of University Admissions, a role she has held since 2002, Ms. Irani not only ensures that all of our students have everything they need to make successful scholarship and university applications, but she also is also our Advanced Placement Coordinator and Graduation and Awards Program Coordinator.
To students and colleagues alike, she is known for her kindness and generosity as well as her witty sense of humour. And when the stakes are high and the pressure is on – when students are preparing for exams and submitting their university applications – she knows exactly what to do to make sure our students have the support that they need. Her kindness and generosity (and undoubtedly her sense of humour) have helped to guide the career paths of so many of our alumnae, who she remains so proud of their many accomplishments beyond our doors.
We asked a few students from Ms. Irani's Teacher Advisor Group who are graduating this year to share their thoughts:
"Ms. Irani always sticks out to me as someone who is calm no matter what, especially when dealing with university applications and big questions about the future."  – Maya, Grade 12
"Ms. Irani is one of the most caring, kind-hearted, and hilarious people I have ever had the chance to know. I am so incredibly lucky that she is my TAG teacher because she is the reason why those 15 minutes are the highlight of my day. She has taught me so much as a person, and I've learned way more than just applying to universities from her. I hope she knows how much she means to all of us and how much we care about her and that we will never forget our Great Supreme Leader (don't worry, she'll get that joke)." – Miranda, Grade 12
"Ms. Irani is generous with her time, her thoughts, her empathy, and in her efforts – and I am sure that all of us in this theatre can attest to that. Without her patience, wisdom, and kindness – I don't know what the sixty-one of us graduating this year (the 24 graduating classes that preceded us) would do. Ms. Irani has done so much more than just touch our lives and futures, she has shaped them. And I can only hope that she knows how grateful we are for that." – Rosa, Grade 12
Thank you Ms. Irani for being a champion for the girls, for supporting your colleagues, and for truly enriching our school community for the past 25 years.
David Prissinotti
Athletics Director
It is hard to believe that our Athletics Director, Mr. David Prissinotti (who most students affectionately refer to as "Mr. P."), started at York House School 25-years ago. In 1993, he joined York House and just three years later, in 1996, he became the Athletics Director where he has demonstrated an unwavering commitment to the support of our students' pursuit of athletics excellence and sportsmanship.
He has achieved some tremendous results with our Yorkies on the court. As Head Coach and Varsity Basketball Coach from 1995-2005, he helped lead YHS to four AA Basketball Championships. In 2005, he was awarded High School Coach of the Year by Basketball BC and in 2010, he was awarded the HSBC Class Tom Tagami Coaching Excellence Award.
Although we all know Mr. P. as our sports ambassador, he is proud to say that he is also an academic with a passion for teaching and the work he does with his students in the classroom.
He has has taught Social Studies, Business Education, and Human Geography 12 was  also a teacher sponsor for Model United Nations over the years. Outside of the school, he has also taken on roles with the Independent School Association (ISA) and the Lower Mainland Independent Schools Athletic Association (LMISSAA) where he was involved with girl's basketball, soccer, volleyball, and field hockey leagues.
Whether in the role of coach, athletics director, TOC Coordinator, or teacher (or even just the one selling Tigers athletics gear in that small closet next to his office), his contribution to our community is recognized by students and colleagues alike.
When reaching out to our Athletics' Heads this year (Camryn, Kyra, Aley, Justine) they shared: "Mr. P's calming, motivational yet humble personality has allowed students to bridge strong, long lasting friendships; he is so easy to talk to and genuinely cares so much about his students. As proven by the countless alumnae that walk through the front doors and immediately head towards the fitness room. He is someone that you can constantly depend on, no matter what. Words can't describe the gratitude we have for you, but from the bottom of our hearts, we thank you, Mr. P, for your endless efforts in making York House School a better place."
Mr. P., your colleagues and students have all benefited from your kindness, loyalty, your supportive nature, and your willingness to be there at the drop of a hat. We all wish to thank you for your commitment to excellence in education and athletics at York House School.
Jerome Yeung
Library Technician
Jerome Yeung, our Library Technician, is someone who is well-known by staff and students alike for his thoughtfulness, positive attitude, calm demeanor, and gentle ways. What many people will not know that when Mr. Yueng was first hired, in addition to his responsibilities as a Library Technician, he was responsible for much of our technology in the school. In fact, during the early 90s, before the Nerds were hired at YHS (Rent-a-Nerd) and when YHS had only five computers (all PCs), he was our resident IT support. When anyone had an issue he was right there to help you solve the problem. He was extremely patient, meticulous, hardworking, and a truly passionate computer whiz.
As our Library Technician, Mr. Yeung has earned great respect from the students over the years in both the Junior and Senior Libraries. For 25 years, he has kept our libraries organized and our inventory records kept up-to-date and has been a constant for all students from the Junior School through to the Senior School.
Thank you Jerome for going above and beyond the call of duty during your time at York House School. We truly appreciate your 25 years of outstanding service and dedication.