Kara McDonald
Director of Learning
At York House School, we aim to enable students to understand and act on issues that matter to them and the world. To do that, we meet students where they are. We connect with them and listen to their kernels of ideas or wonderings. We guide students to identify an issue of interest, to find out more about it and to seek out diverse perspectives on the issue in order to take informed and ethical action. These dimensions are part of a learning framework that guides our design of learning experiences across the Little, Junior, and Senior Schools at YHS. Through experiences like these, students develop knowledge, life skills, and attitudes that help them thrive in, and shape, the world. 
Amy (Grade 12) shared with me her journey of taking an idea to action and how she engaged with students at YHS.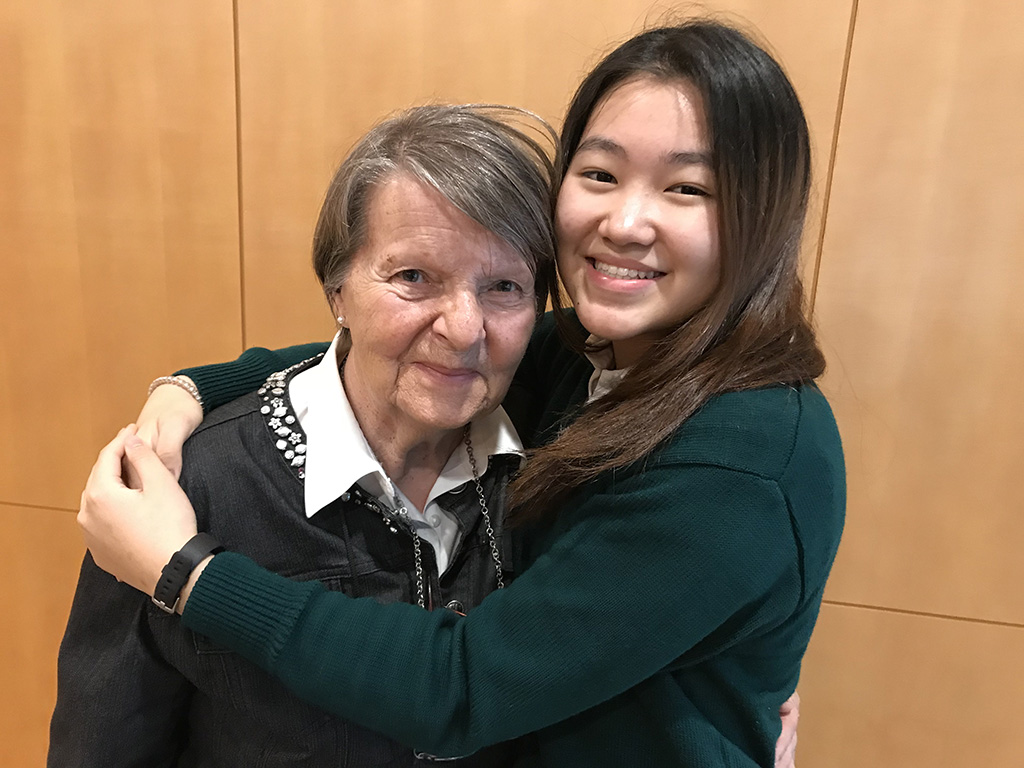 Ms. McDonald: Amy, tell us about the initiative you started, Seniors for Seniors.
Amy: "Seniors for Seniors" is a volunteer program that connects YHS Senior School students with elders in the community. For the last year, I've led two student volunteer teams to play board games with elders at two local seniors' residences. The program aims to encourage intergenerational connection.
Ms. McDonald: How did you get started with this project?
Amy: The truth is, this all started because I missed an opportunity to volunteer for another community organization. You reached out to me and we sat and talked about my interests. I was interested in connecting with elderly people, but it's hard to get out there and volunteer all by yourself.
You shared a flyer calling for volunteers to visit with seniors at a local seniors' residence and asked if I wanted to make it a schoolwide volunteer opportunity. You let me know that if I had trouble finding an outside volunteer opportunity then there must be other students who felt the same. You mentioned that you knew of teens from another school playing board games with seniors and asked if I might be interested to lead a student team to do the same. Acknowledging that I had something worth pursuing gave me the confidence I needed to move forward. 
Ms. McDonald: What inspired you to connect with seniors?
Amy: This is really personal for me. I was inspired by what I saw, experienced, and wondered about. My godfather lives in Hong Kong, and he's lonely. Additionally, my grandparents live in Shaanxi, China, and feel lonely in their own way too. Even at this late stage of their life, they have to take care of their grandchildren while their own children are off at work. They don't often have the opportunity to make interpersonal connections. I don't see them very often because they live so far away and always wished I could see them more. Living in Vancouver, I noticed that a lot of seniors live away from their families and the rest of the community. In North America and Asia, elderly people seem invisible and often lonely. This didn't feel right to me and as I got involved with this, it has become more clear to me why this matters to me.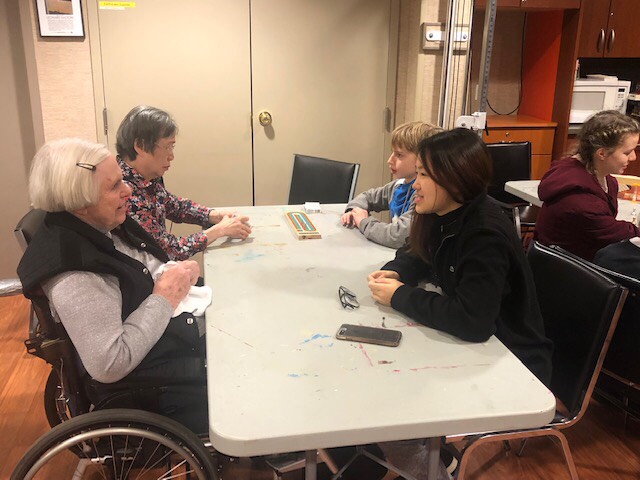 Ms. McDonald: So, why is intergenerational connection so important to you?
Amy: I want to build intergenerational connections between York House students and the elderly. Everyone needs personal connections. That is how we live a happy life. Seniors can be lonely and they have so much to share while teens need connection too. As humans, we naturally want to connect but often don't always know how to do that. 
Ms. McDonald: What steps did you take to develop your program?
Once I realized I had an idea worth pursuing, Dr. Lesk offered to be a teacher sponsor as she had participated in something like this before, so she was a great support. I emailed the seniors' residences, explored possibilities, and they said a games activity session was possible. I put in an announcement calling for student volunteers and at the YHS Volunteer Fest I had a booth to explain the idea to students and invite their participation. Dr. Lesk joined us every week at the seniors' residence and provided me with comfort and support throughout the year. She always seemed confident in the program and that things would run smoothly, which in turn made me believe in the program even more (despite definitely having my moments of doubt). I think overall, Dr. Lesk's confident and calm demeanour was integral to keeping me that way too and never giving up on what the program had to offer. 
What strengths have you discovered about yourself through this process?
I've discovered that I am a leader. I didn't realize that I had leadership skills until I had the opportunity to develop this idea and try things out. 
My heart feels so full and warm after each session. This feeling inspires me to continue to improve this program and prompts me to ask: Who else can I involve? Who else can I help and with what impact? The whole process has brought on a lot of self-reflection for me. It is one of the things that makes me proud to be me. I can see the impact I'm having on people. I've created not only volunteer opportunities but also connection opportunities for all age ranges within my school community and the elderly community in our city. I've developed communication skills and learned to be on top of my emails. I held the responsibility of communicating with the seniors' residence to arrange visits along with sending reminder emails to students before every session. Strong communication and a commitment to showing up for the seniors has given me confidence in my own program and in setting boundaries where needed.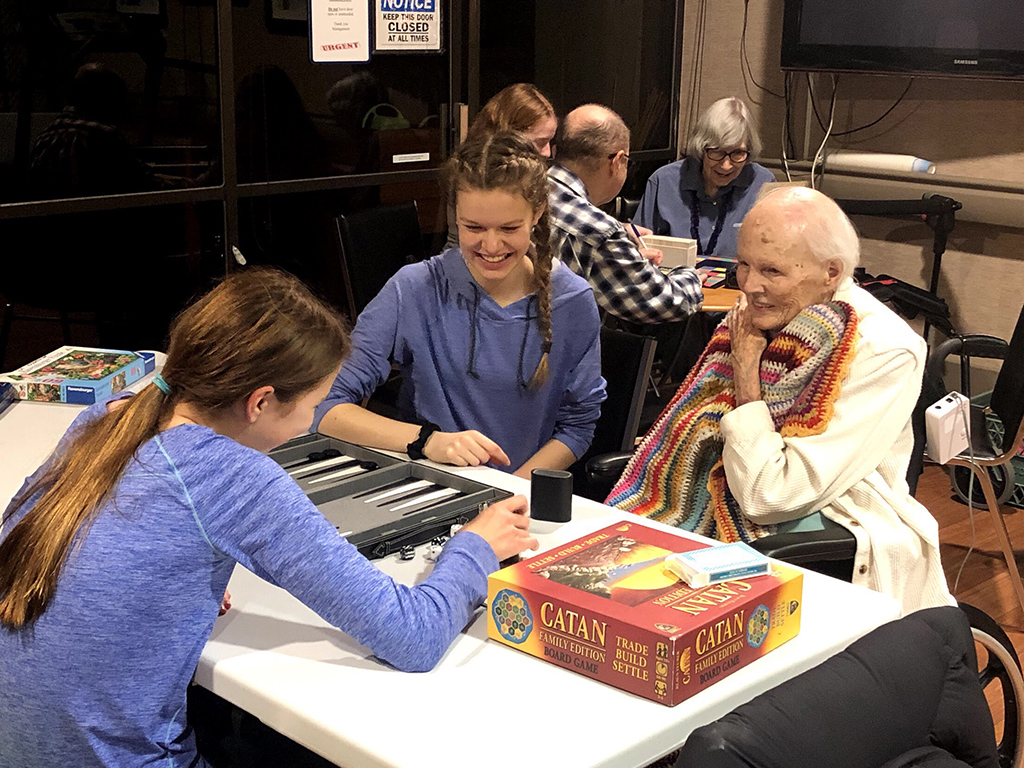 How can York House support other students taking an idea to action?
At YHS, if you have an idea, people support you. That's so important. In Grades 8-10, the Counselling Department and Peer Listening clubs helped me to learn about mental health and advocacy. In Grade 10, the Outdoor Education trip to Garibaldi took me way out of my comfort zone. I gained confidence through those experiences and then I was ready to take on a leadership role in Grade 11.
Students can be great models for students. I've discovered that my actions have inspired students to take up their own initiatives. Through me, students see that YHS really supports you with tackling an issue you care about and trying to make a difference. Other students have come and asked me how they can get started with their own initiatives. They have ideas and they need help to get started. 
Ms. McDonald: What have you and your peers learned from being present with seniors?
Amy: As a young person I've gained so much with every visit. We learn so much by hearing seniors share their life stories as they have so many insights. Being with them teaches us to be open-minded and compassionate towards all people. It teaches us that we have so much to learn from each other. 
When I first started connecting with seniors, I met people who could not talk. I wondered, how can I still connect with this person? With one resident, I started trying to play a board game with her, later realizing she was not able to play the game, so I needed to do something else. From the experience, I decided to make a change to the program. We would no longer solely play board games but colouring, reading, or simply just chatting was introduced as well. One day, I noticed that a resident couldn't speak or move so I told her stories of my day. She looked at my ring, I put my hand forward, and we ended up holding hands. As I told her stories, she squeezed my hand when something resonated. I realized, "I can feel connection now." That was a lovely moment. 
Being with seniors helps us as teenagers learn to connect with people from all walks of life. One of my classmates joined the program because she regretted not spending more time with her grandfather before he passed away. My grandparents are in China. Even though we can't connect with our own grandparents, we can do that with someone else's grandparents. 
Ms. McDonald: Any final thoughts?
Amy: This program is about making connections between students, YHS staff, and elders: intergenerational, intergrade, and student/staff connections. I try to mix up the grades when I make up teams to visit the seniors' residences. I think this makes stronger connections in our school community when students in Grades 8 or 9 feel seen by students in Grades 11 and 12.  The importance of this has become more and more clear to me as I've started the project. A few weeks ago, I asked for staff chaperones to support the program this year. It was heartwarming to see how many faculty and staff offered to help. Someone new to our community from the Finance department as well as staff from Counselling and Student Services signed up! What a great way to connect with people! Everybody needs to be seen and connected with. No matter who you are and where you live. 
Ms. McDonald: Thank you, Amy. You are an inspiration to our community.