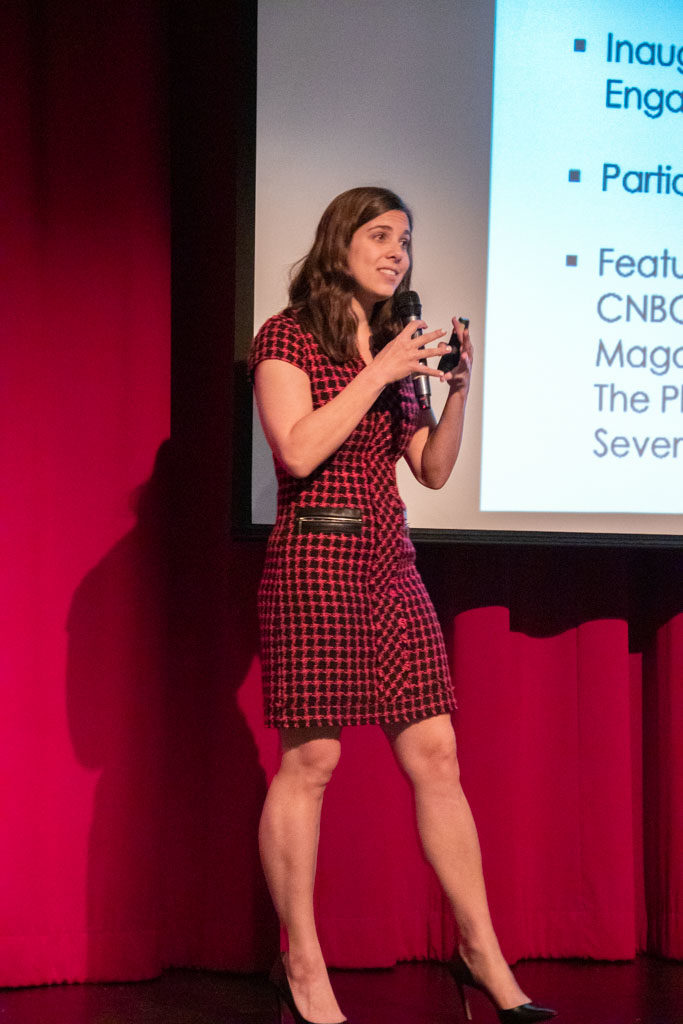 On October 3rd, York House hosted its first Tiger Talks of the year featuring Founder and CEO of GenHERation, Katlyn Grasso. That evening, she spoke to parents and alumnae in attendance about how she was able to harness her own entrepreneurial spirit, leadership, and how to move from ideas to action. Over the course of two days, Katlyn also spoke to students at special assemblies, met with faculty and staff over coffee, and led mini-entrepreneurial challenges with different classes in the Junior School and Senior School on topics including sustainability, gender equality, and social justice and also led workshops on how to develop a pitch. 
Following her visit to York House, we had the opportunity to ask Katlyn more questions about her experience here and any additional advice she would offer to our students.
You shared your story of becoming an entrepreneur with YHS students from Grades 4-12. What are three key tips for becoming an entrepreneur that you hope students take away from your story?
My three key tips for aspiring entrepreneurs are:
Believe in Yourself

: If you do not believe in yourself, no one else will.

Just Do It!

: If you have an idea, start thinking about the small steps you can take every day to bring your vision to life. It can be something as simple as conducting an interview with a potential customer or creating a website landing page to test the market.

Be Persistent

: The most successful entrepreneurs are the people who never give up. They learn from the challenges they face to develop new solutions and become better leaders. 
Why is it important for young people to develop an entrepreneurial mindset?
It is important for young people to develop an entrepreneurial mindset because it provides them with a cross-functional skill set they can apply to any career path. Entrepreneurs wear a lot of different hats and the most important lesson I learned is knowing which hat I need to wear when presented with a new situation to seamlessly transition between different priorities. 
What knowledge and skills can students gain by developing an entrepreneurial mindset?
By embracing an entrepreneurial mindset, students will become resilient leaders that can adapt to any challenge they may face. The uncertainty of working in entrepreneurial environments teaches one how to be flexible, agile, and strategic with their efforts, which are important skills students can utilize as they prepare for university and their professional pursuits. Building one's resilience is like building a muscle; the more you use it, the stronger it will become.
What are some of the key challenges you have faced in starting your own company and how did you overcome them?
There is no right way to build the best team. When I first started hiring my team members, I looked for candidates based on traditional criteria, including applicable majors, startup experience, and multiple rounds of interviews. I learned that this process is too prescriptive for a dynamic organization that is constantly changing to meet the needs of our members. I started focusing on looking for a specific type of person, an individual who is passionate, resilient, and solution-oriented, rather than a specific academic or professional background.
What do you think it is important for high school students to focus on to best prepare them for post-secondary pursuits and their future careers? Why?
Instead of asking students "What do you want to be when you grow up?" we should be asking them "What skills do you want to develop?" In a world where students are preparing for careers that do not yet exist, it is important to help them recognize how they can develop skills that can transcend a particular job or industry. This includes identifying high-level skills that they can start refining at a young age, such as problem-solving, critical thinking, and working in teams.
You had the opportunity to work with York House students across the grades on October 3 and 4. Is there anything that impressed or surprised you about York House students?
I loved working with the Yorkies! I was inspired by how curious, passionate, and collaborative, they are and how the educators nurture the students' specific interests. We worked with students across different grade levels and classes and I was impressed by how welcoming and inclusive the young women were to each other. 
You spoke to our parents about channeling perfectionism to passion. What are some of the best ways you would recommend to do that? How did you do that for yourself?
The best way to help students channel their perfectionism into passion is to identify the underlying short and long-term goals that are motivating students' behaviour. For example, a student may be focused on getting an A on a test (short-term goal) because she wants to get into a specific university that requires a high GPA (long-term goal). 
After making a list of their goals, I recommend that students brainstorm a list of 5-10 actions they can take to reach these goals with an attempt to make sure that they are not all correlated activities. By doing so, students will realize that there are many ways to reach a given goal that is not dependent on a single variable. Once a student comes to this realization with the help of her parents, every test does not seem like the determining factor of her future success.
You spoke of the mentors in your life. How do you suggest young women find a mentor and what are three tips for setting up a strong relationship with a mentor?
The first step to finding a mentor is to identify 2-3 skills you want to develop in the near future. Next, you should make a list of people who possess these skills and reach out to them to schedule a call or meeting to learn more about their work. It is important to remember that mentorship takes many different forms; you may talk with your mentor once a month or once a year. In order to establish a strong relationship with a mentor, you should identify the best way to communicate with your mentor (i.e. email, call, or meeting), determine a way to measure your personal growth, and send your mentor updates when you reach a milestone in your life.