York House was thrilled to welcome back three of its alumnae on November 22nd as part of the Senior School's Career-Life Connections program. Organized by CLC and Capstone Coordinator, Ms. Jaclyn Murray and assisted by the Alumnae Office, Amanda Weltman '06, Nathalie Poznanski '06, and Zoë Craig-Sparrow '15 took part in a career panel focused primarily on the environment, sustainability, and finding your true north.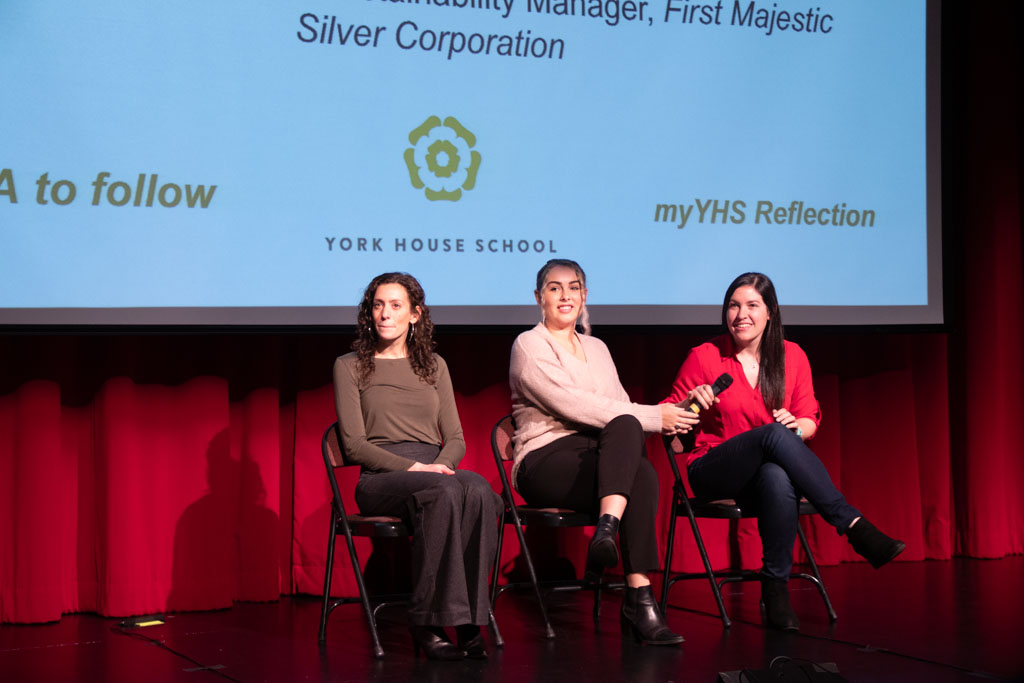 Amanda Weltman '06 works as a researcher for OceanWise based at the Vancouver Aquarium and she highlighted how important travelling and spending time abroad is. She learned how to scuba dive while in Australia and diving is now a big part of her workday as one of a team of researchers monitoring species, habitat restoration, and environmental management in Howe Sound. She enthralled the girls with videos of her underwater work. 
Nathalie Poznanski '06 works in the mining industry as a sustainability manager and she took us on a journey of South American mines and talked about the types of community engagement projects she is involved with. She gave us a detailed overview of how mining companies work with local communities to ensure sustainable practices are implemented to ensure future economic growth and development. It was an eye-opening presentation for our Yorkies.
Our third panelist, environmental activist, Zoë Craig-Sparrow '15 talked about her career path to date and how finding a mentor carved a career path she hadn't anticipated. She's now a co-director with Justice for Girls, a non-profit social justice anti-poverty organization as well as pursuing her Masters in Human Rights. Her key message to the girls was to try many things, trust people who know you, and be open to possibilities. She talked about how she didn't know what she wanted to do until she was doing it. 
We are so grateful to our alumnae who return to the school and give generously with their time and expertise. It is very appreciated.