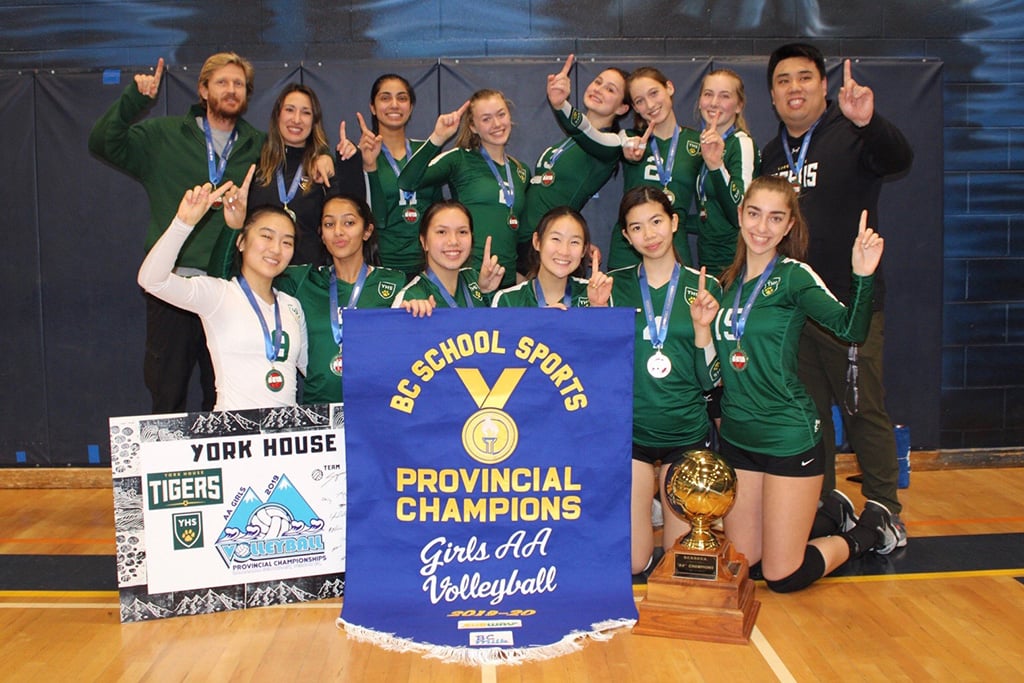 SENIOR TIGERS 'AA' VOLLEYBALL PROVINCIAL CHAMPIONS!
For the first time in York House history, our Tigers Senior Volleyball Team has won the 'AA' Provincial Championship! Congratulations to our Senior Tigers: Akash, Maggie, Natalie, Emily, Sophie, Claire, Claudia, Tahlia, Chloe, Maddie, Nolie, Taylor, and to coaches Kelvin Ma and Nicole Morton '14.
Over the past twenty years, volleyball has arguably been the most popular sport at YHS. Province wide girls volleyball has the highest rate of participation. Winning a provincial championship in volleyball is one of the hardest challenges that face YHS teams. Tigers came close in the fall of 2001, again in the fall of 2014 and last season, 2019, when YHS lost to Pacific Academy in the championship final.
This season was remarkable with a second-place finish in league play, a WCISVC championship, second-place finish at ISAs, and a Vancouver Sea to Sky Zone championship. There were just enough tough losses to keep this team focused on getting better and keeping their eyes on the ultimate prize in BC high school sport—the blue championship banner.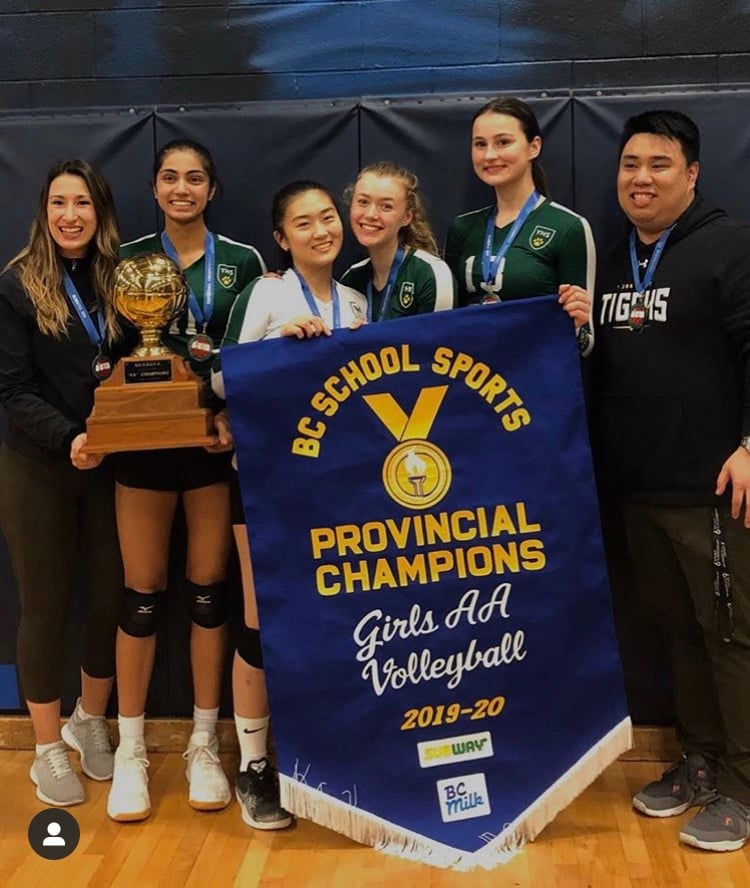 York House entered the BCs as the 4th seed in the field of 20 teams. After round-robin play, YHS defeated West Point Grey Academy to move into the top 8. In the quarter-final, YHS defeated the 3rd-seeded Vancouver Island Zone Champions, Pacific Christian from Victoria. In the semi-final, the Tigers beat the Okanagan Zone Champions and 2nd seeds George Elliott Secondary. The final was a rematch of last year's championship game. YHS and the #1-seeded South Fraser Zone Champions Pacific Academy battled through five tough sets and YHS came out on top 15-12. The level of volleyball in this final was remarkable. Both teams were playing at college level calibre and the crowd of 300 plus fans enjoyed every minute.
Sophie, Gr. 11, and Chloe, Gr. 10, were named Tournament All-stars. Maggie, Gr. 12, was named Best Libero and Akash, Gr. 12, was named Tournament Most Valuable Player. Winning the school's first championship is a monumental accomplishment. These girls leave a new legacy of excellence and confidence for future teams.
Many people were involved in this championship. YHS Junior School coaches along with Mr. Jackson, Ms. Dalziel, Mr. Bester, Ms. Flo Chan, Ms. Brianne Wager, Mr. Jackson Liu, Mr. Noble Kelly, and Mr. Mike Lodewyks all played a key role in the development of these girls. This season, the girls, along with coaches Nicole and Kelvin have taken YHS volleyball to a new level of success. With strong players in Grade 8-11 and a fall season that saw our YHS Grade 8 Team, Grade 9 Team, and Junior Team all achieve success, the future is bright.
THE MOST SUCCESSFUL FALL SEASON IN YHS HISTORY
If you have been unable to keep track of the incredible success of YHS Athletics this fall season, you are not the only one. My head is still spinning. As we close the book on the fall athletics season, there is much to be proud of. Many great efforts and battles won and lost. Many challenges embraced and many lessons learned. However, if we take a look at the final results, no season in the history of YHS athletics has ever been this successful. Having been Athletics Director since 1997 and knowing the history of the school, I can say this with both confidence and with respect for all those who came before.
Senior Volleyball 'AA' Provincial Champions*

Senior Volleyball Vancouver Sea to Sky Zone Champions*

Senior Volleyball WCISVC Champions**

Senior Volleyball 2nd in ISA Championships

Senior Volleyball 2nd in LMISSAA league

Junior Volleyball 2nd in LMISSAA league

Junior  Volleyball 2nd in ISA Championships

Grade 9 Volleyball Provincial Champions*

Grade 8 Volleyball ISA Champions**

Grade 8 Volleyball LMISSAA Champions*

Swim Team 'AA' Provincial Champions**

Swim Team Vancouver Sea to Sky Zone Champions*

Swim Team ISA Champions**

Varsity Field Hockey 3rd in Vancouver Sea to Sky Zone*

Varsity Field Hockey bronze medals at 'AA" BC Championships**

Senior Field Hockey Team LMISSAA Senior Division Champions**

Cross-Country Team members competing at BC Championships
* Best-Ever Finish
** Matching Best Ever Finish
David Prissinotti
Senior Athletics Director