Our Grade 8s and 9s have been working diligently on wrapping up their final ADST projects for the year. For this Term 3 project, Mr. Reimer asked the Grade 8s and 9s to design possible solutions for a problem or issue found in their community or in the wider Vancouver community. All the projects were COVID-19 related, and the process for every project usually followed the same steps:
THINK: This is the first step where students "ideate". The students brainstorm things they might design to meet a need for someone around them. This involved research and/or interviewing people (asking questions about the problem or situation in order to understand it better). They chose a user to build for; often a family member but some picked a larger group in the community.
MAKE: They had to learn a new skill or develop further a skill they already had in order to create a prototype for their design. 
IMPROVE: If they could, this is where they present their solution and have their user test their prototype and then make changes to improve their prototype based on the feedback. 
FINAL DESIGN: Present their final design or solution.
Booklet of Fun Project (Grade 9):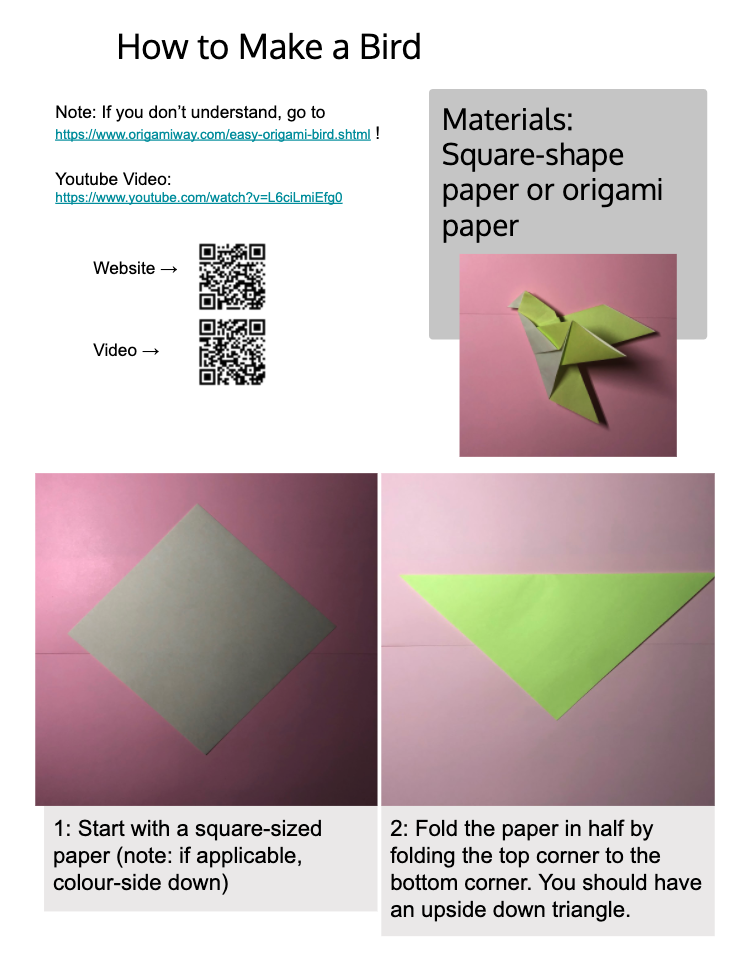 One group of Grade 9s worked on a project for STEAM Coordinator Jen Sharpe. Ms. Sharpe was hoping students could design activity booklets for children that don't have access to technology and other supplies at home. Mishal, Angela, and Jenna created a workbook for children ages 5-10 with different activities to keep them occupied while they are at home. 
This group first brainstormed a list of what is usually found in a children's activity book. They also interviewed their younger siblings to ask them what they would like to see in a fun activity book. They then created a booklet using Adobe Illustrator that included colouring pages, word searches, a maze, origami, and a cutout cube cat that one of the students designed themselves. 
They tested the booklet with their younger siblings and they received feedback from Ms. Sharpe: make it easier to understand for younger children, and make it more colourful and more interactive by adding QR codes that could be scanned to show videos of the origami. The challenges this group experienced was making a book with limited materials and learning how to manage a project remotely. The booklet they designed was printed and donated to homes through the Backpack Buddies program.
Disposable Receptacle for Hospital Blessings (Grade 9):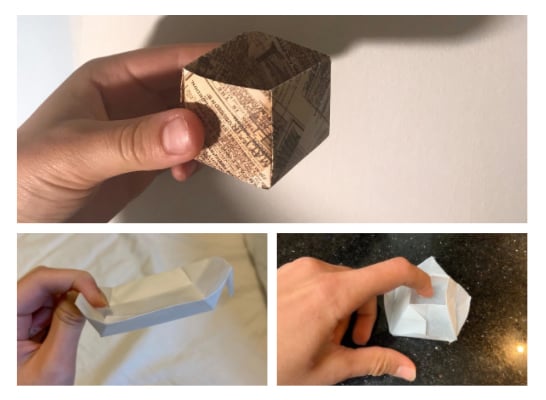 The other Grade 9 group worked with Beth Burton, the Spiritual Lead of Mission Services at Providence Health Care, to make receptacles for priests who needed a new way to bring oil into hospital rooms for blessings. Their normal method used formal non-disposable receptacles, and they now needed something disposable, but reusable during COVID-19, but still had a sense of ceremony or formality to it.
Isabella, Ariel, and Layla spent time ideating, prototyping, and testing to try to find a solution. They considered multiple ideas including compostable cups, thimbles, eye droppers, and cotton balls. They decided to stay away from using a laser cutter or 3D printed as it was not environmentally friendly. They decided to focus on making origami bowls out of paper since it fulfilled the criteria of being recyclable, disposable, and easy to use. Their design had compostable parchment paper on the inside (which they tested with oil at home to make sure it would hold for a long period of time), and origami paper on the outside. 
In the end, this group did not find a solution that could be produced quickly enough, but they still enjoyed the process of investigating a problem and trying to find a solution.
GRADE 8 ADST PROJECTS
Each Grade 8 student worked on their own COVID-19 related project. One of the key criteria was they had to learn a new skill while working on the project. The students describe their process below.
Sophia S. – Stress Balls for Healthcare Workers: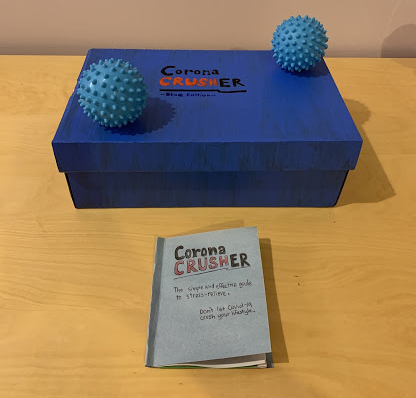 Who is the user? Describe who they are and what their need is/needs are.
The user for this project is my mother as she works hard on the frontlines which can build a lot of anxiety. I find all the healthcare workers so inspiring; they do so much work, which can cause anxiety to build up and I wanted to do something to help relieve that. I created a kit to relieve anxiety, that is specifically targeted to healthcare workers. My mom inspired me to come up with the idea. The kit (box) comes with stress balls and a notebook with breathing exercises. Stress Balls are a great way to relieve anxiety. I am planning to get feedback from my mom's colleagues.
How does your project meet their need(s)?
My project meets the needs of healthcare workers as the stress ball kit focuses on their mental health when using the stress balls and reading the enclosed booklet. Being able to practice mindfulness is one of the fastest ways to release anxiety, and my project's goal is exactly that. 
What new skill(s) did you need to learn as part of your project?
I learned multiple skills when I created my project. First, I learned how to 3D-Design on TinkerCad (3D designing software for kids) to represent my ideal look for my project. Second, I learned the skill to make complex items using the materials I had at my house. Third, I learned how to use critical thinking to quickly adapt the look of my project to make it more efficient to create.
What was tricky about your project? Describe why it was tricky.
The use of software for my design was difficult for me because the first software I used, Fusion 360, was not allowing me to properly work the account. Another issue I had was displaying all my items together as they were finished at different times. 
Pari – App Prototype for Children: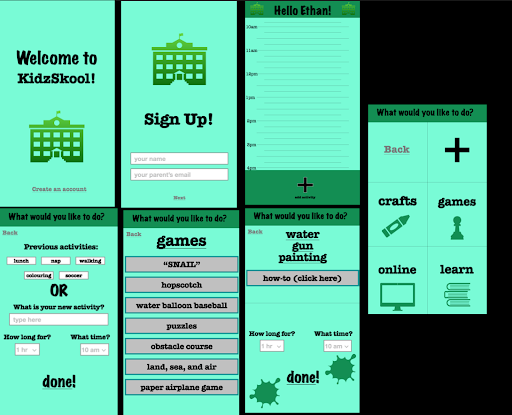 Who is the user? Describe who they are and what their need is/needs are.
The users of my project are younger children, specifically those that are in preschool to Grade 1. Many of these students don't have access to online school, and they don't have as much to do, since their parents are working and can't play with them or teach them 24/7. 
I came up with the idea with my mom who is a family physician and sees young children in her practice every day. We also have a family friend with a daughter in kindergarten. I decided to create an app prototype that was suitable for her and for other preschoolers who are at home. 
Through my research I discovered that younger children need a schedule and activities to keep them occupied. My app has a schedule and activities built in, including a learning section, and a crafts and games section. Following feedback from the kindergarten student's parents, I took away the more complex ideas to make it simpler and easier to use for a younger audience. 
How does your project meet their need(s)?
This project meets their needs because it gives them a schedule that they can use on a daily basis, and it is completely customizable. It also has activities that you can add to the schedule, along with a step-by-step guide on how to do those activities. The app is supposed to be very simple for younger children to use, and parents can also use it to create a schedule for their child.
What new skill(s) did you need to learn as part of your project?
A new skill I learned in this project was how to prototype an app using Keynote. To learn Keynote I followed three main tutorials, and I also had a separate slideshow which I mainly used for testing my ideas. 
What was tricky about your project? Describe why it was tricky.
The trickiest part of my project was finding software to construct the app. I probably spent about 3-4 hours researching and testing software, but all seven of them that I tried either kept glitching and didn't work, or they required you to pay a fee if you wanted to make an app that was actually interactive. I eventually settled on Keynote to make a prototype, which worked well.
Bianca – Protective Mask with Shield: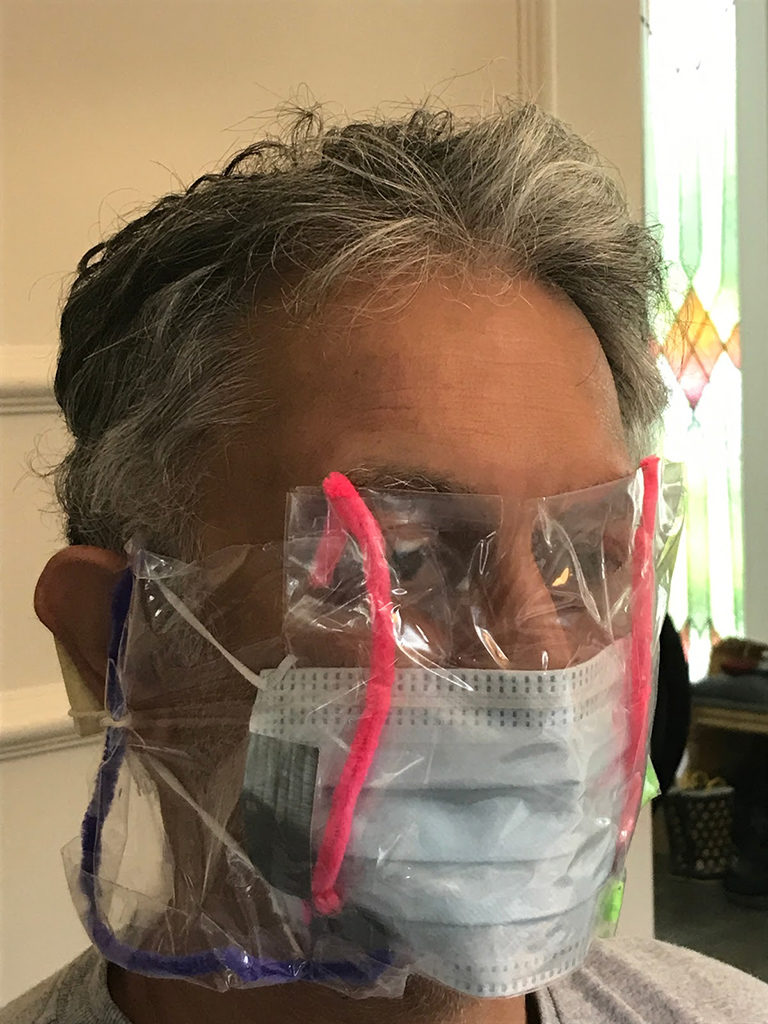 Who is the user? Describe who they are and what their need is/needs are.
The users I am targeting in this project are people that are often in contact with other people due to the nature of their jobs, such as frontline healthcare workers, who need comfortable and portable yet protective masks that they can safely wear for a long period of time. 
How does your project meet their need(s)?
I decided to create something comfortable and reusable: a 3-in-1 mask that contained design elements from other masks that I felt I could improve upon. My mask has a water-resistant wipeable plastic shield attached that can be used more than once. Through my research I discovered that masks tend to be uncomfortable. Straps are cutting into ears on N95 masks, so I decided to add ear padding to resolve that issue. I also heard that university/college students were making big shields using a 3D printer. I wanted to make a thin shield that was lightweight and portable. Mr. Reimer also showed me an article that said masks that had shields didn't meet size regulations (coverage didn't extend far enough), so instead of just a front panel, I decided to have two side panels that curve when you tie the masks, giving you full coverage.
For my prototype, I used a regular mask (in the final product this would be a N95 mask). I also used materials from around my house, such as plastic bags to act as sheets of plastic. To act as wiring, I used pipe cleaners in an old craft kit to make the plastic stand up. For ear pads, I cut up makeup pads. I tested my prototype with my dad who is a dentist. He gave me feedback saying he was hot when he was wearing it, so I decided to make the shield extendable to help regulate airflow. 
What new skill(s) did you need to learn as part of your project?
I learned how to use the Adobe Illustrator software to create a sketch of my mask. It took a few days to understand the program, but now that I can, I can also apply this knowledge to other projects that use digital design programs.
What was tricky about your project? Describe why it was tricky.
Using Adobe Illustrator was definitely the hardest part of my project as there are so many buttons and dials and hidden panels that you need to navigate around to produce something as simple as a drawing of a mask.
Jennifer – A mask for my grandma (with pocket):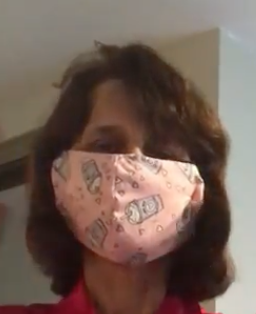 Who is the user? Describe who they are and what their need is/needs are.
The user for my facemask is my grandma. I felt my grandma was the best person to choose, as she is the most vulnerable person in my family to COVID-19. My grandma's specific needs are that she must wear a facemask to help protect her while she is going to public places to purchase essential goods during the COVID-19 pandemic. I also feel that wearing a mask will not only protect her, but will also protect others.
How does your project meet their need(s)?
My grandma is very active and enjoys going for walks around her neighbourhood, and wearing a facemask can help her stay safe and healthy. The facemask that I made can replace her old one, and she prefers wearing reusable masks as it reduces waste. I made her a mask using a black t-shirt. It is soft, comfortable, breathable, and machine washable. Through brainstorming, I came with a special feature which is a small pocket to hold tissues that is attached to the lining. My grandma loves this feature because she can easily access a tissue for her runny nose due to her allergies. 
What new skill(s) did you need to learn as part of your project?
I found out how to make a pattern online by watching a YouTube video. My grandma has sensitive skin, so I chose soft hypoallergenic fabrics to avoid skin irritation. The lining of the facemask is made out of organic cotton t-shirt material, which is very breathable. The small packet I made was loose. To secure it properly to the lining I learned how to do an overstitch. 
What was tricky about your project? Describe why it was tricky.
The texture of the t-shirt fabric made it tricky for me to pin, cut, and sew. Also, attaching the elastics was also challenging due to its thickness. Making adjustments and designing a special feature was difficult and required my critical thinking skills, patience, and time. Also, my original design was too big, so I had to make the mask smaller to make it fit better on my grandma's face.