SENIOR VOLLEYBALL WINS BRONZE AT BC CHAMPIONSHIPS:
Congratulations to our Senior Volleyball Team who won a bronze medal at the BC Championships this past weekend at MEI in Abbotsford.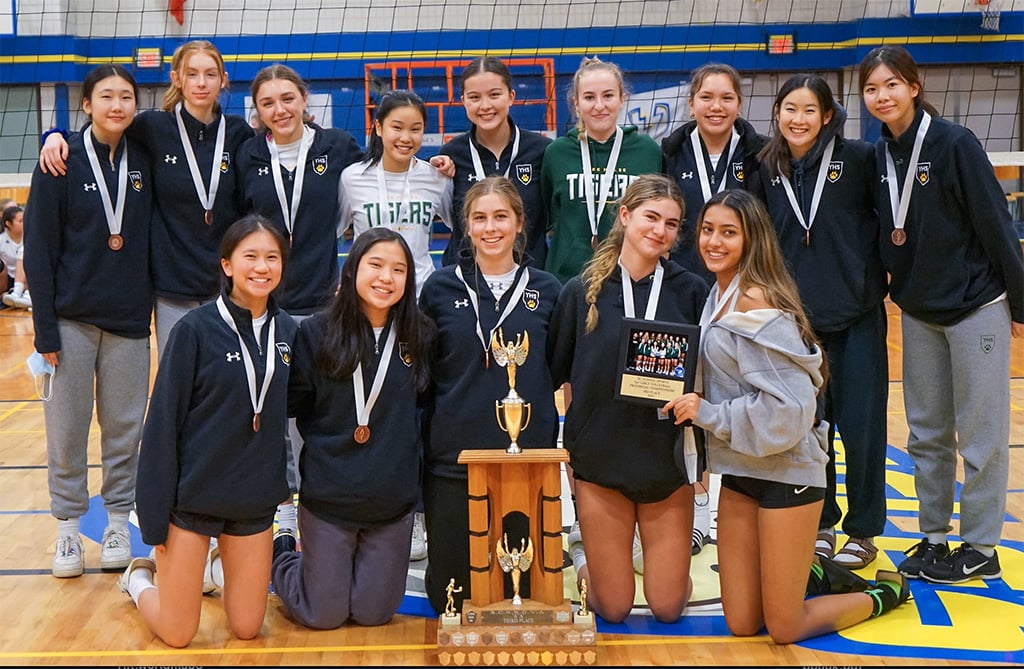 The Tigers only playoff loss was to eventual champion, Notre Dame. They started the tournament with round robin-play where they placed first in their pool. In the quarter-finals they defeated Mulgrave, then lost their semi-final to Notre Dame and then, defeated Brentwood College to take home the bronze. A terrific season comes to a close. Congrats to all players and to our coaches. 
Special congratulations and thank you to our Grade 12s, Maddie, Taylor, and Nolie who now add a bronze medal to their gold medals from 2019, and to Chloe who wraps up her fourth year as a Senior Tiger. Chloe won a silver at BCs as a grade 9, gold as a grade 10, and bronze as a grade 12. She graduates as the most accomplished Senior Volleyball player I have seen in my years at YHS. She is one of BC's best setter and perhaps the best to wear a Tigers uniform. It has been a pleasure to watch her play.
Congrats to Avery, named to the Tournament 2nd All-Star Team

Congrats to Chloe, named to the Tournament 1st All-Star Team
Thank you to all our students and staff for supporting this team all season long. A special thank you to this volleyball parent group for their tremendous support all season long. Our Senior Volleyball parents have formed a family of support around this team; providing live streaming, taking photos, bringing food and snacks to the team, and always being supportive fans. There is little doubt that this unconditional support helps our team be successful.
This marks the third consecutive season where our YHS Tigers have medalled at the provincial championships; silver in 2018-19, gold in 2019-20 and now bronze in 2021-22.
When a team enjoys success, it is important to reflect on the entire journey. For many of these players, this journey includes years of work, commitment and several coaches along the way. This team and our program would not be winning consecutive medals at BC Championships if it wasn't for our Junior School program. In grade 8, Mr. Bester plays such an important role in laying the competitive foundation and inspiring so many of our Senior School volleyball players. Jackson Liu, Brianne Wager, Mike Lodewykes, Kelvin Ma, Nicole Morton '14, and various club coaches in our community have contributed to this success. Finally, our current Senior Team Coaches, Mr. Carter Walls and Mr. Jackson Liu, thank you!
SENIOR BASKETBALL WINS ISA CHAMPIONSHIP:
Congratulations to our Senior Basketball Team who won the ISA Championship this past weekend at Mulgrave School in West Vancouver. The Tigers defeated Shawnigan Lake School, Collingwood, and Southridge to claim our second consecutive Senior Basketball ISA title. Player of the game awards went to Kasey, Avery, and Mila, while Avery was named Tournament Most Valuable Player. The Tigers enter the winter break as the #3 ranked team in 'AA' in BC.