This year's International Women's Day, themed #BeBoldforChange, highlighted that it is more important than ever that we celebrate and acknowledge the contributions of women around the world in making society a better place for all. At York House, we strive to empower our Yorkies to become confident, happy, and resilient young women. As a result, our girls discover who they are and have the courage to take risks and stand up for their beliefs. I am so proud of our Yorkies; they are confident, passionate, and empathetic students who embrace "Not for Ourselves Alone" by contributing back to the school and beyond. Thank you to our staff and students who came together on March 3 to "walk in her shoes" for Care Canada and show their solidarity for all of the women around the world who struggle to meet their most basic needs.
This term, we have had the benefit of the generosity of so many accomplished women who have each, in their own way, embraced their ability to drive change.
Dr. JoAnn Deak helped us kick off 2017 with important conversations around the strategies we can use to help girls thrive and help them to build their connectedness, confidence, and competence. Our staff had the opportunity to hear JoAnn share her research on the difference in male and female brain development. Her conversations with fathers followed our first "Breakfast with Dads" gave them an important opportunity to understand the critical importance of their role in their daughter's development. In her conversations with students, JoAnn stressed the importance of sleep and nutrition, taking risks and making mistakes, and developing grit, resilience, confidence, and competence. If you were unable to join us at Tiger Talks, we have captured some highlights from these conversations.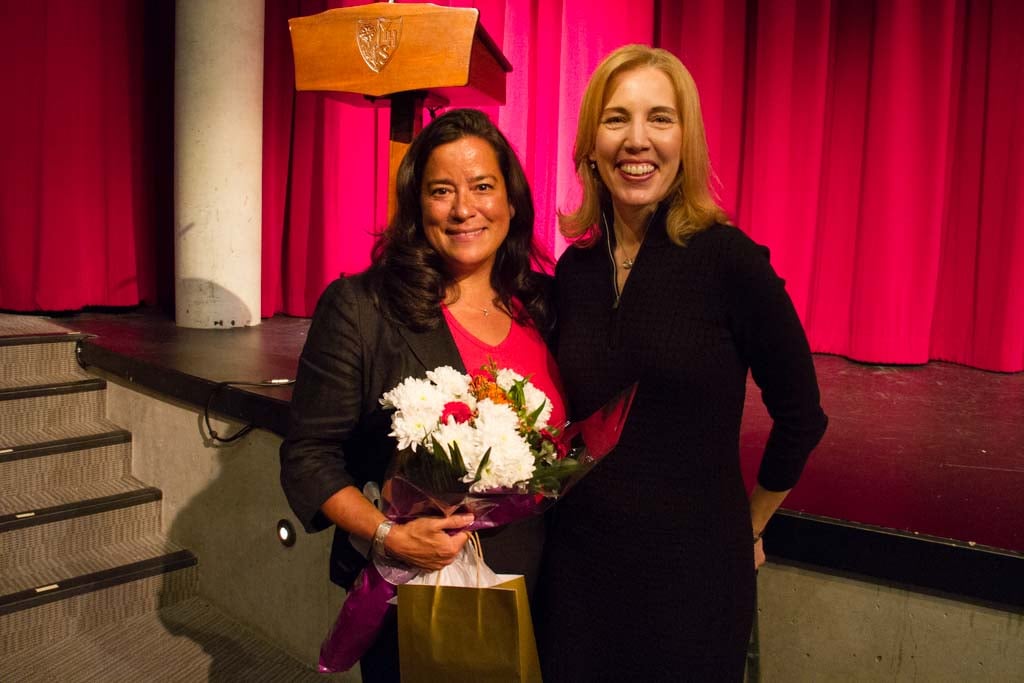 On January 18, we were fortunate to have the Honourable Jody Wilson-Raybould speak to our Grade 5-7 students. She spoke to the evolution of her political career as an Indigenous woman; first as a Regional Chief for the Assembly of First Nations and now as a Liberal MP for Vancouver Granville, Attorney General of Canada, and the first Indigenous person to be sworn in as the Minister of Justice. A number of the girls asked some very insightful questions. Speaking of her many accomplishments, she emphasized that, in spite of the challenges that women still face in politics, we have an important responsibility to change the conversation around the table. In addition to the positive influence of her mother and grandmother, she also spoke about how her Grade 1 and Grade 12 teachers inspired and guided her.
Alumna Dr. Robyn Woodward '72 spoke at Senior School assembly on Valentine's Day. Her remarkable career trajectory provides a fitting example to the girls about the importance of curiosity, lifelong learning, taking risks, exploring volunteer opportunities, internships, and following one's passion. Now as an Adjunct Professor in the Archaeology Department at Simon Fraser University, Dr. Woodward is a speaker for National Geographic cruises as an expert in nautical archaeology. You can learn more about Robin's journey here in a recent interview with her.
On February 28, as part of Black History Month, Canadian athlete, educator and political candidate, Olympian Valerie Jerome spoke to our Senior School students about the challenges that her family faced being black in Canada (first in Winnipeg where she was born and then in North Vancouver). In spite of her family's many athletic accomplishments (at the age of 15, Jerome set Canadian track records, winning a bronze medal at the 1959 Pan American Games; her brother, was legendary Canadian track and field runner Olympian Harry Jerome and her grandfather, John Armstrong Howard, was Canada's first Black Olympian to run in the 100m and 200m at the 1912 Stockholm Olympics), her family consistently faced racial prejudice in their own community. Her message was clear; breaking down barriers only comes from love and understanding for one another. This message was one that we shared throughout the Junior School and Senior School the week before as we celebrated a week of "Love & Kindness" and on Pink Shirt Day on February 22nd.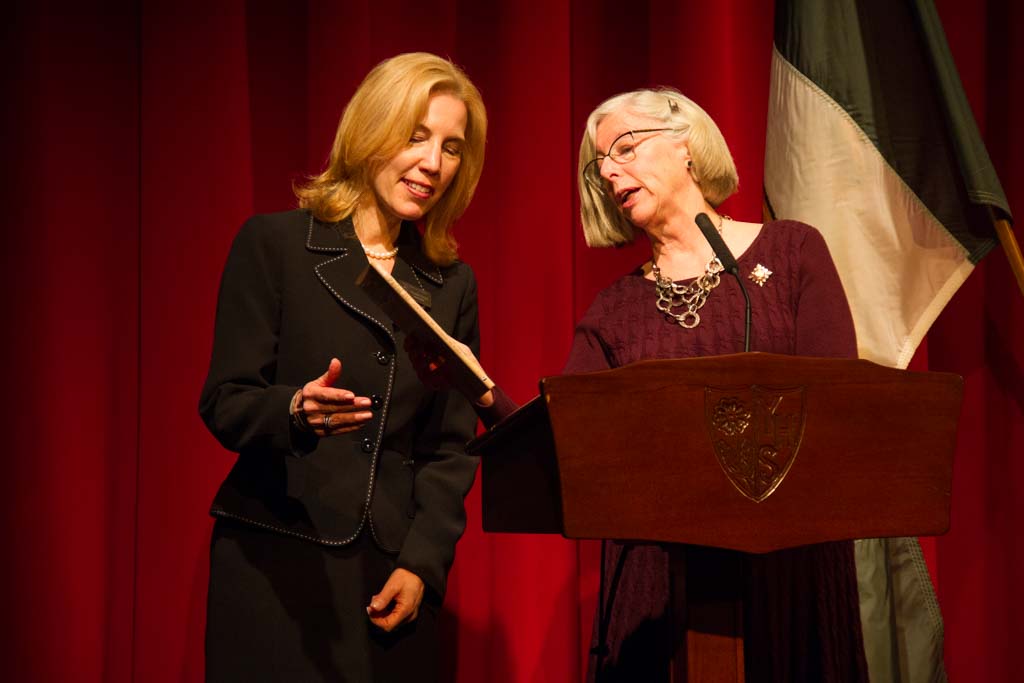 Most recently, on Monday, March 6, we were pleased to welcome the Lieutenant Governor of British Columbia, the Honourable Judith Guichon, to meet with our Grade 5, 6, and 7 students as well as our Grade 11 Social Studies students. She spoke of the role of the Lieutenant Governor in the province and shared details of her career prior to this role as a cattle rancher in the interior of BC. She shared a message of the importance of having a voice and ensuring that you hold your elected officials accountable.
Yorkies have been busy this term, involved in school life, whether in their studies or following their passions on and off the field, and I wish to congratulate them all for their accomplishments. This term we were witness to so many of our girls' remarkable talents. From the girls who participated in the Vancouver Model United Nations conference to those finalists in our annual Cat's Meow recitation competition and our Junior School and Senior School athletes, our girls consistently demonstrate great poise, conviction, and determination in all that they do. I also want to recognize Grade 11 students, Leah and Saskia, for organizing our first ever YHS Talks and Taylor, Clara, Talia, Erin, and Alex, who bravely shared their personal stories (we have a short clip here from Erin's talk).
This year's dramatic production, "Done to Death", was witty, clever, and thoroughly entertaining! I would also like to acknowledge all of the work and effort that it takes behind the scenes to create such a well-done production. I was most impressed that it was student-led. The students were so grateful for this opportunity and acknowledged how important it was for them that their Drama teacher, Shannon Harrigan, had the confidence in them to do this work. Thank you to Shannon and to all of the staff and students who helped to make this production so successful, whether it was making a cameo appearance onstage or supervising the front-of-house operations.
With so much that has been accomplished in only a few short months, I know that students, staff, and parents alike are looking forward to a well-deserved break over the next couple of weeks. I wish you all a wonderful spring break and safe travel to those of you who are travelling.
Warm regards,
Chantal Gionet
Head of School