This year, we recognized a number of York House School staff who have been with us for 25 years and over and the many contributions they have made to our community. In the Senior School, we acknowledged Lynne Massel, Nita Rodrigues, Sylvia Hanson, and Alek Bester at our final Senior School Assembly on Tuesday, June 6. On Monday, June 19, we formally recognized June Nolan and Christine Addison at the final Junior School Assembly. In the lead up to the awards, we reached out to staff, students, and alumnae asking them to share their fondest memories of these remarkable individuals. Thank you to all who shared!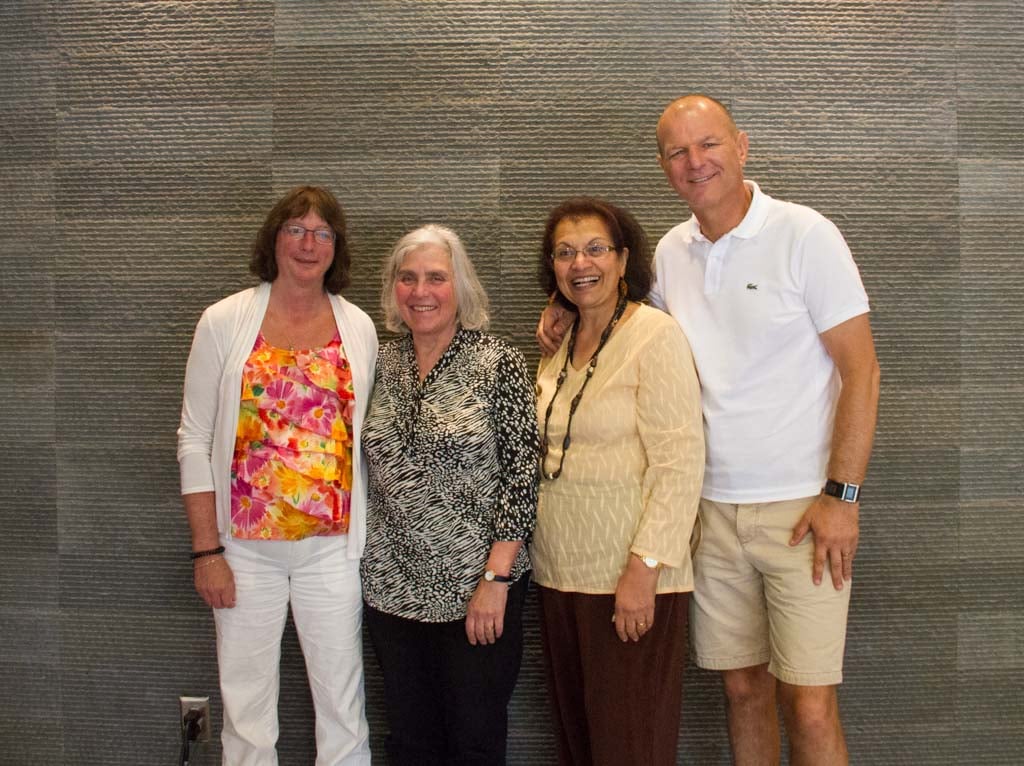 LYNNE MASSEL – 36 years of service
When Ms. Massel first started with York House School she was in charge of all of the Houses. Someone whose passion for her subject is widely recognized, Ms. Massel taught our first AP course at YHS – AP Calculus. Throughout her career, Ms. Massel has received numerous accolades for her contributions to teaching including: In 1993, she was nominated by a group of students for the Prime Minister's Award for Teaching Excellence; in 1996, she was recognized by students at the University of Chicago as an influential teacher; and in 1998, she was commended by the UBC Department of Chemistry once again for being an influential teacher.
Thank you, Ms. Massel, for sharing your commitment to lifelong learning and your passion for mathematics with our students and for your many contributions to York House School.
SYLVIA HANSON – 34 years of service
Every day, Sylvia sits at the epicentre of the Senior School where she sees everyone who comes and goes from the school. It is safe to say that Sylvia has seen more students, more parents, more alumnae, and more staff than any one person on any given day. She is always good humoured when students or parents call the school, she finds students and brings them lunches and treats dropped off by their family, and she knows exactly where to find students when they are not in class! Sylvia knows everyone by name, and she has a wealth of knowledge about the life and history of the school. When students return to visit YHS, they are always sure to stop by to see Sylvia!
Thank you, Sylvia, for all that you do each and every day to make our school truly feel like home to the students and alumnae who walk through our doors.
JUNE NOLAN – 33 years of service
Mrs. Nolan received her teacher training at Durham University in England and it was said that "she took to the classroom like a duck to water." During her time teaching here at York House, Mrs. Nolan's warm personality, positive attitude, and creativity have inspired our students and made learning fun!
Artist extraordinaire, Mrs. Nolan came to York House with a background in musical and dramatic stage productions. Every year she shares this talent with her students, and when you ask the older students what they remember the most from being in her class, the answer is often the same: "the play!"
Mrs. Nolan also led the Art Club for many years and many of our older students now proclaim that their love of art came from their work with Mrs. Nolan. Some of our older students remember "tests" as well as having to learn their times tables over Christmas Holidays. All have said how "nice" Mrs. Nolan was.
Mrs. Nolan is not only a fantastic teacher but a great colleague. Our teachers have shared how much they appreciate her optimistic outlook and great sense of humour. Thank you, Mrs. Nolan, for all that you have contributed to York House School!
CHRISTINE ADDISON – 31 years of service
Mrs. Addison began teaching at York House in 1986 as a Grade 6 classroom teacher, and it is safe to say that, when it comes to 11 and 12-year-old girls, she is an expert. We have been very fortunate to have had her working and sharing her expertise at York House School over so many years.
Held in high esteem by teachers, students, and parents, Mrs. Addison is known for always bringing out the best in her students and has been a great mentor to many young teachers. During her 31 years at York House, Mrs. Addison has also contributed to the life of the school in so many ways. In her early years at York House, she organized House leaders, House activities and meetings, Grade 6 camp, and Grade 6 graduation in the Junior School.
Mrs. Christine Addison's students say that she is a sincere teacher who really cares about them. A number of years ago her students used the word "real" to describe her, perhaps, because she danced all night at the Grade 6 dinner dance that year.
She has also enjoyed running the Netball Team and helped with Volleyball coaching. Over the past 10 years, she has led the Junior School Chess Club, which has thrived in the Junior School and has become one of our hallmark club activities. Chess Master extraordinaire – Mrs. Addison has dedicated much time after school and on weekends to support our young chess players grow a love for the game.
We wish Mrs. Addison all the very best as she retires from York House at the end of the school year.
NITA RODRIGUES – 27 years of service
In her 27 years at York House School, Mrs.Rodrigues has supported three different Heads of School, the Board, the Foundation, and her daughter, Sadira, is a proud Yorkie. Her wealth of knowledge about the school is truly astounding and she can always be counted on to share a good laugh or a story. If you want to remember someone's name who attended YHS or taught at YHS ask Mrs. Rodrigues, if you want to know why something has been done a certain way for years – ask Mrs. Rodrigues, and if you want help tracking someone down – ask Mrs. Rodrigues. Beyond everything else, her unwavering dedication to YHS means that she can always be counted on to help when needed.
Thank you, Mrs. Nita Rodrigues, for your countless contributions to our community.
ALEK BESTER – 25 years of service
You may not know this about "Mr. B", as he is affectionately known by many students, but he was the first male Physical Education teacher at York House School. Many remember him by another nickname – "Papa Goose" – and as a kind and wise teacher, who is always generous with his time and willing to listen. He has encouraged girls over the years to stay focused, believe in themselves, and remember that they are "smart cookies".
Past students have shared how proud he has been to share his Polish heritage, whether it was through Polish treats or a little dance. Many have come to learn of Mr. B's passion for learning as well as his love of the outdoors, his newest hobby – photography, and York House School.
Whether it is to his students, colleagues, or his family, Mr. B. stresses the importance of "gratitude". Now it is our time to express our gratitude to Mr. Bester for all that he has brought to the school these past 25 years.