Best Ever Finish for YHS Field Hockey: Varsity Field Hockey Places 3rd at AA Provincial Championships, Defeating LFA for Bronze
YHS lost to Collingwood in the championship semi-final game (who went on to defeat Crofton in the Championship Final). The Tigers then went on to play Little Flower Academy (LFA) for a third place finish in BC. YHS jumped out to a 2-0 lead with goals from Gr. 12s Meg and Alexi. LFA made it 2-1 at the half. YHS dominated the second half with contributions from everyone. Alex, Gr. 12, scored two goals making it 4-1, followed by another goal from Lauren. Gr. 9, and yet another by Alyssa, Gr. 10. There were so many strong performances and contributions — everyone deserves so much credit. This is a great team who played excellent hockey and were a pleasure to watch. Congratulations on a terrific season. Be sure to congratulate the players and coaches, Mr.  Bissett, Ms. Atkinson, and Mr. Cropley.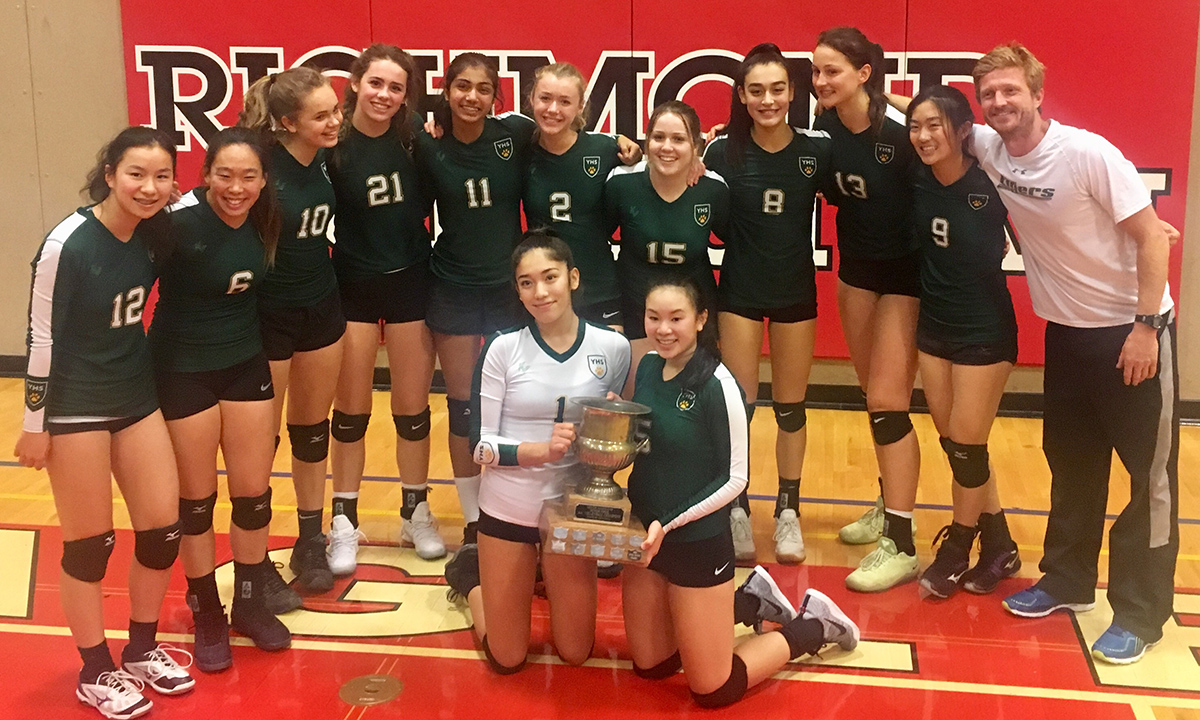 Senior Volleyball AA Lower Mainland Champions!
On Friday, November 17, the Tigers defeated St. Thomas Aquinas to reach the final four. They then defeated West Point Grey in the semi-final to earn the right to play St. Thomas More (STM) in the championship final. STM is ranked #3 in BC and have beaten us a few times this year. The Tigers lost game one 25-23, came back to win game two 25-29 and the third set was close throughout. Tied 9-9, 11-11, 13-13, YHS came out with a 16-14 win. YHS Tigers are the 2017 AA Lower Mainland Champions and will compete at the AA BC Championships from Nov 30 to Dec 1-2 in Vanderhoof, BC.
I can honestly say that, in 20 years of watching, this is the highest quality of high school volleyball I have ever seen and the best I have ever seen a YHS Team play. Defense was amazing by both teams. Our Tigers defense was unbelievable — almost every point had amazing plays and countless long rallies that had the crowd in awe. Congrats to the girls and their coaches, Mr. Lodewyks, and Mr. Kelly.
Tigers Swim Team 2nd AA BC Championships
Swim BCs wrapped up at Watermania and our small but awesome Tigers Swim Team had terrific results. York House placed second overall in the girls division among all schools, losing out on the provincial championship to West Point Grey who simply has a larger team. The top teams in BC were St. George's, WPGA, Penticton High, and York House. Congratulations to the girls and to our coaches, Emily Matthews, Christine Lee, Laura Sze, and Danielle Tognetti on a great season. Thank you to everyone for their support and to Ms. Gionet for coming to cheer on the team today.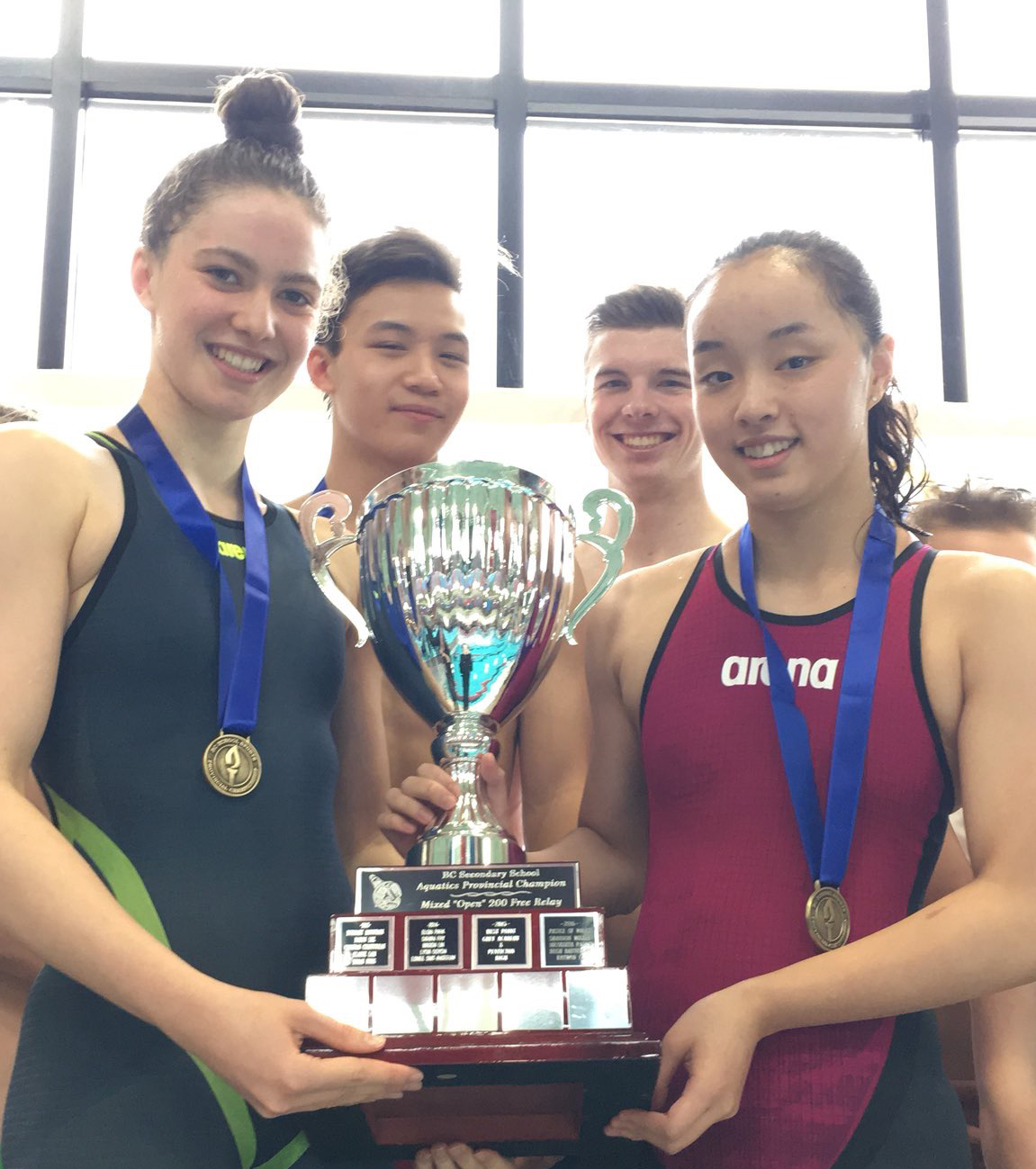 CONGRATULATIONS TIGERS!
11 swimmers

14 events qualified from zones and all 14 qualified for the finals on Saturday at BCs

13 top 8 finishes ( 9 of those top 5 finishes)

6 medals (1 gold, 4 silver, 1 bronze)

Excellent individual swims by Alex, Gr. 10 (50 free, Silver; 100 free, 4th), and Jacqueline, Gr. 12 (50 breast, 6th)

Gold medal for Janice, Gr. 8, Alex, Gr. 10, and St. George's boys Joe and Mike (not only did they win gold but they broke a Provincial Record – 1:43.75, breaking the old record of 1:45)

Silver: 4×50 IM B (Emily, Gr. 11; Jacqueline, Gr. 12; Sophia, Gr. 10; Amanda, Gr. 11)

Silver: 50 Free Open (Alex, Gr. 10)

Silver: 4×50 Free B (Jacqueline, Gr. 12; Emily, Gr. 11; Sophia, Gr. 10; Amanda, Gr. 11)

Silver: 4×100 Free B (Jacqueline, Gr. 12, Emily, Gr. 11; Kaitlin Yung, Amanda, Gr. 11)

Bronze: 4×100 Free Open (Alex, Gr. 10; Devon Smith, Vickie Zhao, Janice, Gr. 8)
Grade 8 Volleyball Team Places 2nd
Congratulations to our Grade 8 Volleyball Team and their coaches, Mr. Bester and Ms. Baldissera who won their quarter-final and semi-final matches in our league playoffs but lost a tough match to Notre Dame in the league final placing second. A second place finish in our highly competitive Lower Mainland Independent League is a terrific accomplishment.
David Prissinotti
Senior Athletics Director