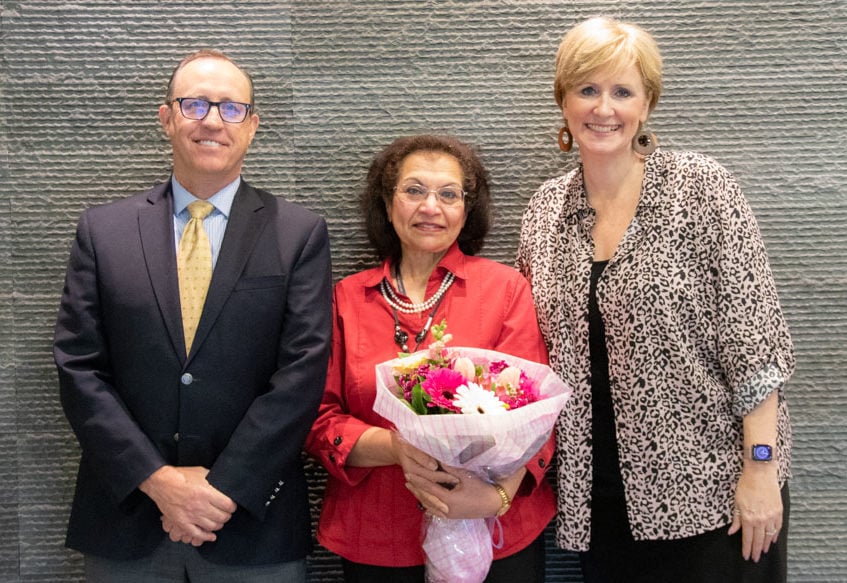 In her 30 years at York House School, Mrs.Nita Rodrigues has supported five different Heads of School, the Board, the Foundation, and her daughter, Sadira, is a proud Yorkie. Staff, students, alumnae, and parents recognize Nita's sense of compassion, her warm and sometimes cheeky sense of humour, and her dedication to YHS. After 30 years, her wealth of York House knowledge is only surpassed by her love for the school and she can always be counted on to share a good laugh or a funny story. 
If you can't  remember someone's name who attended or taught at YHS – ask Mrs. Rodrigues; 

If you want to know why something has been done a certain way for years – ask Mrs. Rodrigues

If you want to know about a Board policy or the most recent amendment to a board policy – ask Mrs. Rodrigues; 

If you want help tracking someone down – ask Mrs. Rodrigues. 
Beyond everything else, her unwavering dedication to YHS means that she can always be counted on to help when needed. Last year, she became an advisor to her first Teacher Advisor Group (TAG) and she has truly appreciated getting to know this group of Grade 12 students on a daily basis. She really values the relationships she has built not only with her TAG but with all the Yorkies she has come to know and love over the years. 
We thank Mrs. Nita Rodrigues for her countless contributions to our community!