Daily news from trip leader Mme LeMay
Our Grade 8s travelled to Quebec City from February 8-14th to immerse themselves in French language and culture, experience the famous Winter Carnival, and enjoy several winter activities.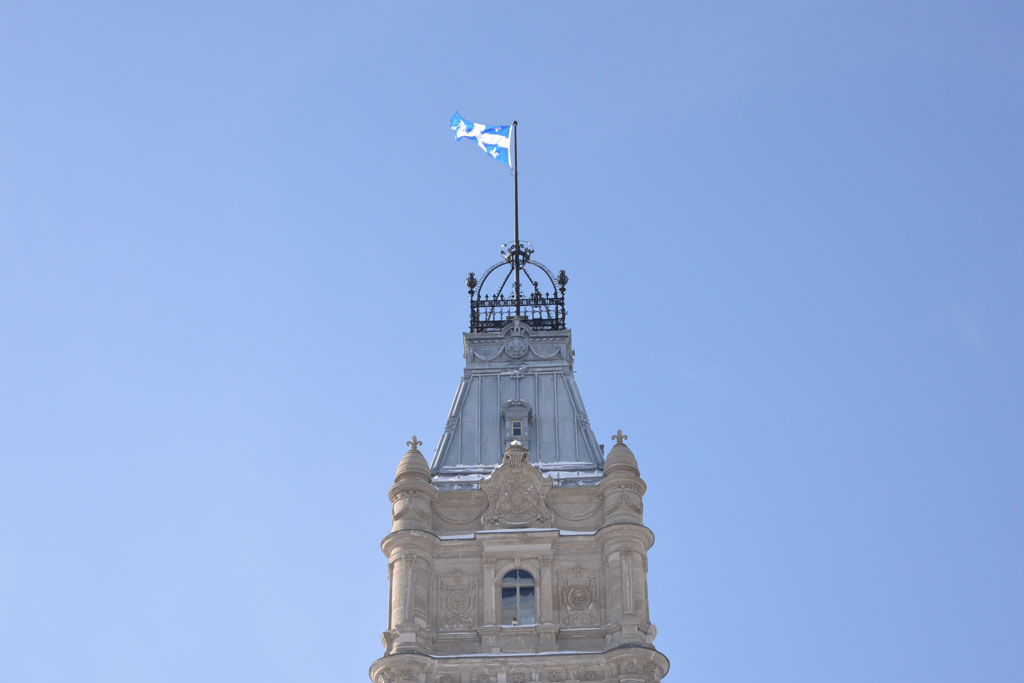 DAY 1
We arrived safe and sound at our comfortable hotel downtown, after a seamless day of travelling from a cloudy Vancouver to a very snowy and chilly Quebec City (- 20 degrees!). On our way to dinner, the girls were already marveling at the beauty of the architecture surrounding them. It already sounds like we will be having an amazing trip!
The girls went to bed well-fed after a lovely dinner at Café de Paris in the old town.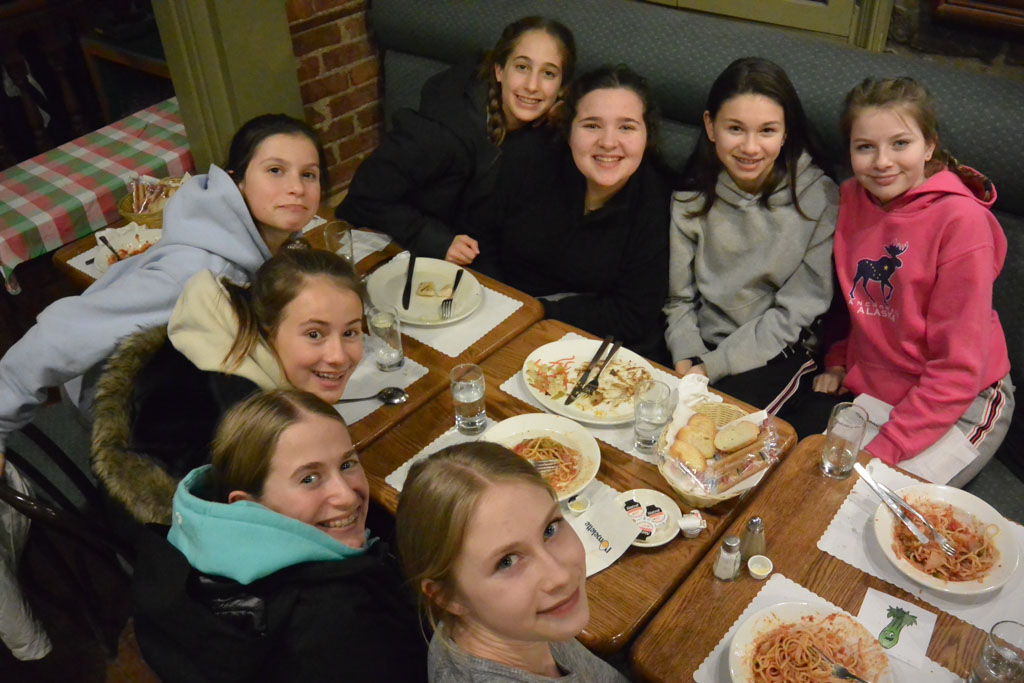 DAY 2
After a hearty breakfast, the girls were ready to visit le Vieux Québec (Old Quebec) by foot on a guided tour. After a leisurely stroll through the beautiful streets, we enjoyed a guided tour of one of the most photographed hotels in the world: Château Frontenac.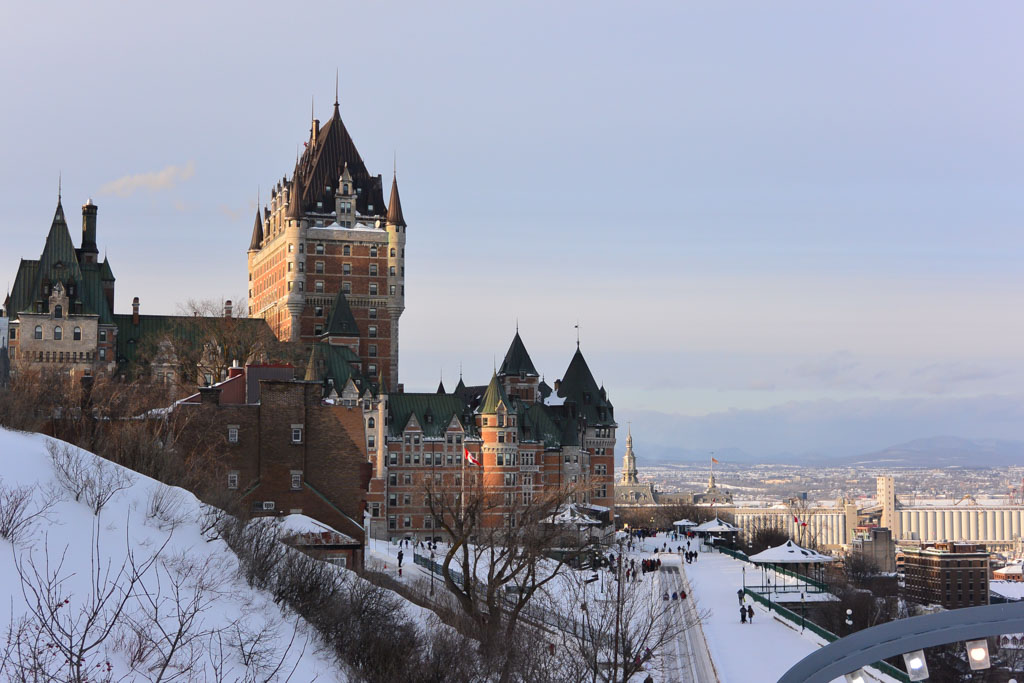 After being inside for a while, we could not wait to go tobogganing on the Glissades de la Terrace Dufferin, which have been a wonderful Winter playground since 1884!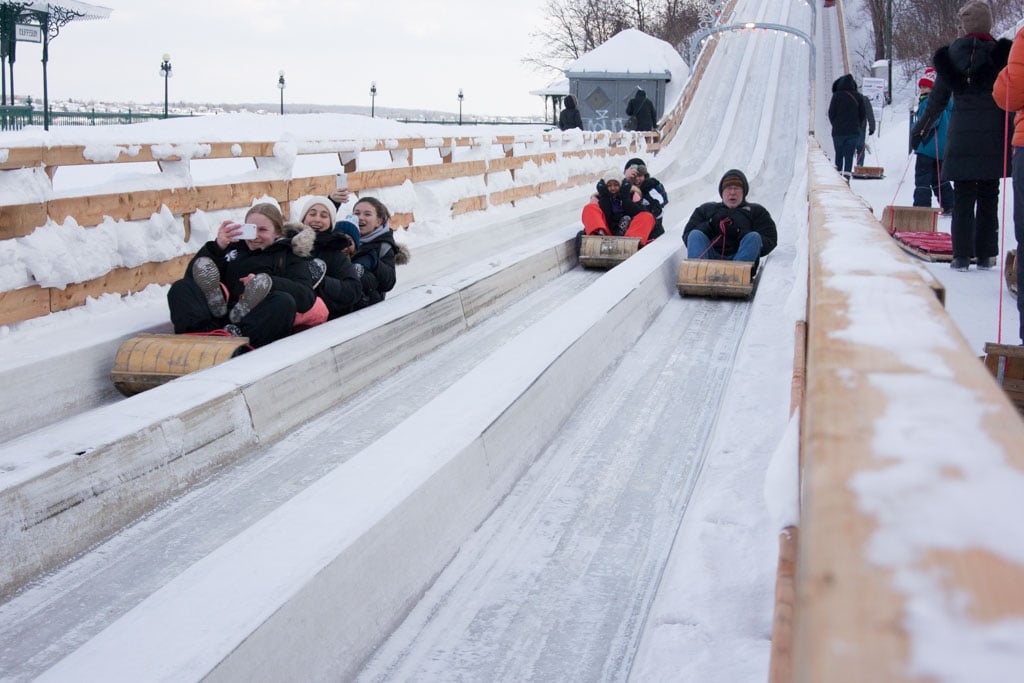 Dinner tonight was enjoyed at Cuisine Là Là, one of the best meals I have personally ever had: rainbow trout served on arugula and spinach purée and seasonal vegetables sautéd in maple syrup. Desert: pudding chômeur, a traditional Quebec recipe my grandmother used to make. Delicious!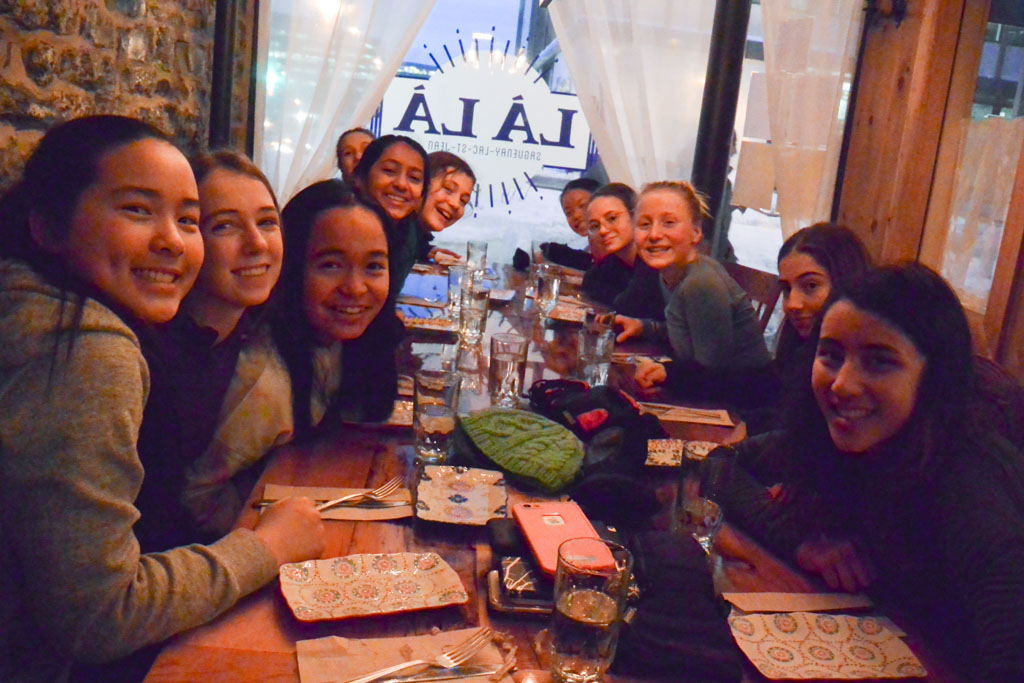 The evening was spent on a Ghost Tour during which the girls discovered some of Quebec's most beautiful historical spots while being entertained by ghost stories: a perfect way to finish our stay in Quebec City.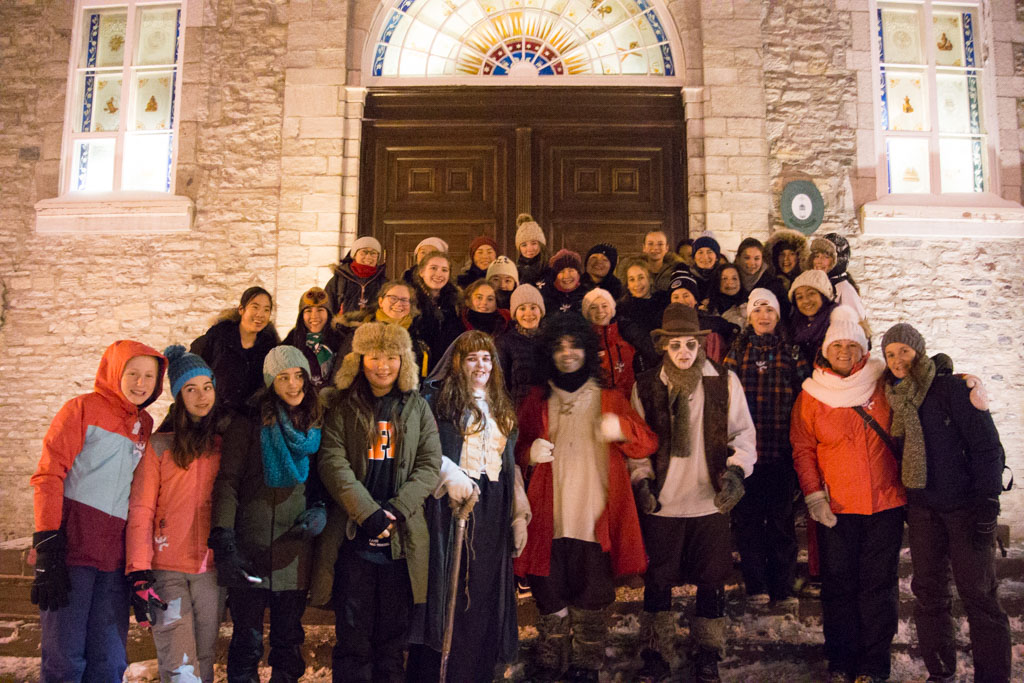 We're all back, safe and sound, at the hotel, happy to get out of all our heavy winter clothing and get into our cozy warm beds. After the travel day, and a jam-packed day outdoors in the cold, I'm sure everyone will sleep well tonight.
DAY 3
If we didn't tire the girls out today, then I don't know what it takes!
We started the day in Observatoire de la Capitale where we could enjoy a 360-degree view of Quebec City and learn about many historical, economic, and cultural facts that have faceted the city since its foundation in 1608. After our first culture fix of the day, we took a long walk in the sun and headed down to the lower part of Old Quebec: Le Quartier du Petit Champlain. The girls explored the streets where live theatre and music were being performed, and most importantly, where they were able to eat their first maple toffee on ice: la tire d'érable!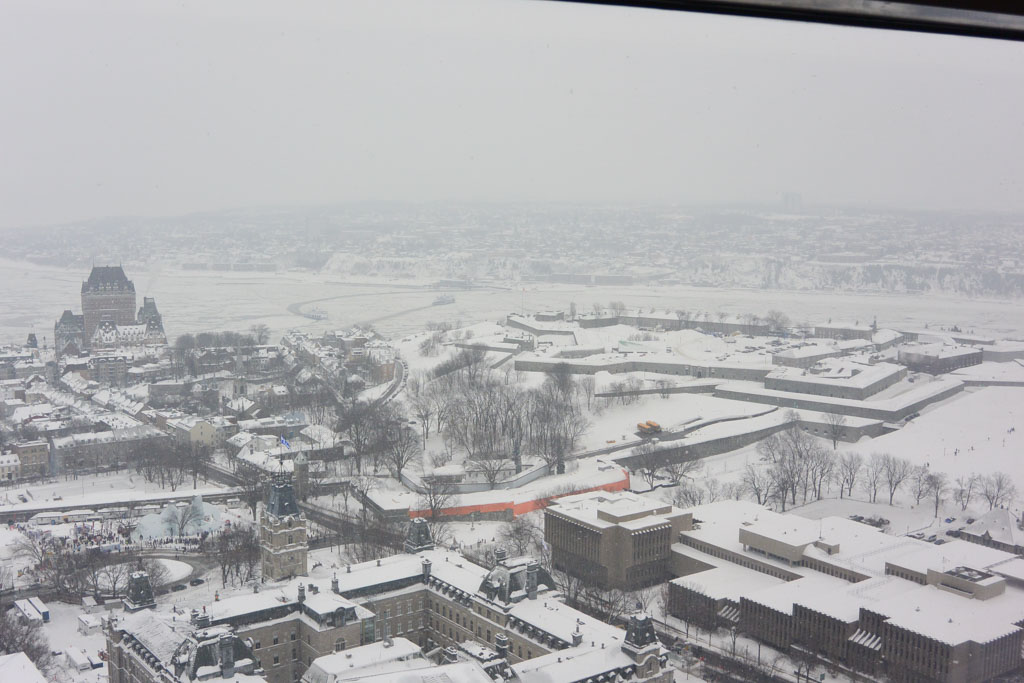 Then, we stopped by the great Musée de la Civilisation where we looked at various exhibitions.
After a delicious lunch in a local restaurant, we took the ferry across to Lévis on the other side of the ice-laden Saint-Laurent for some spectacular views of the upper and lower cities. Super cold but so worth it!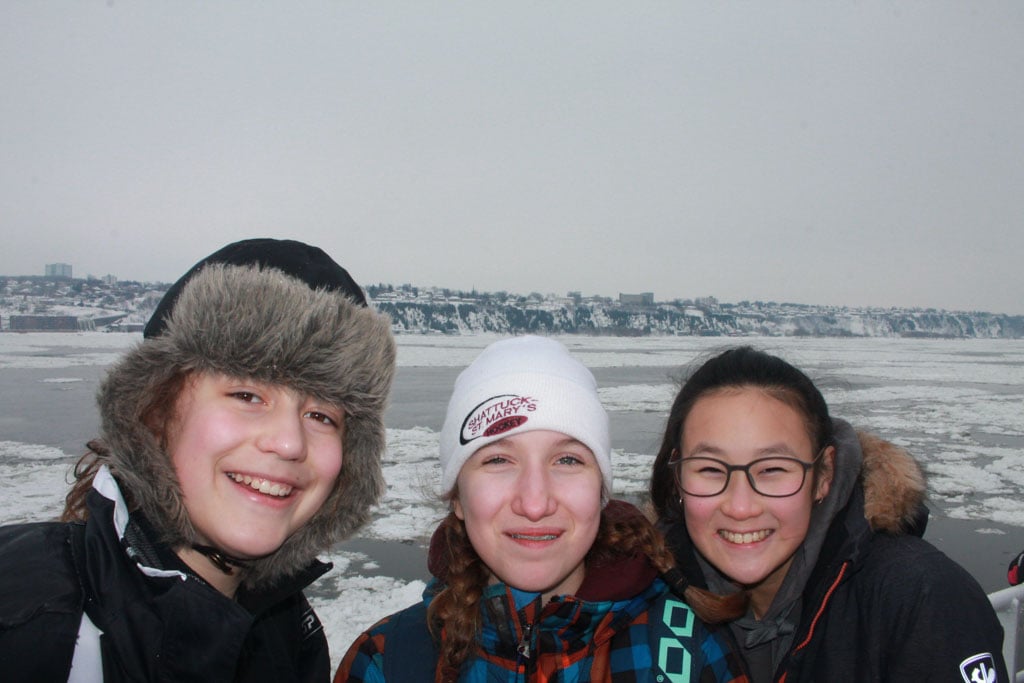 After dinner, it was time for the famous Carnival Night Parade, where we danced along to French-Canadian music and got to salute Bonhomme.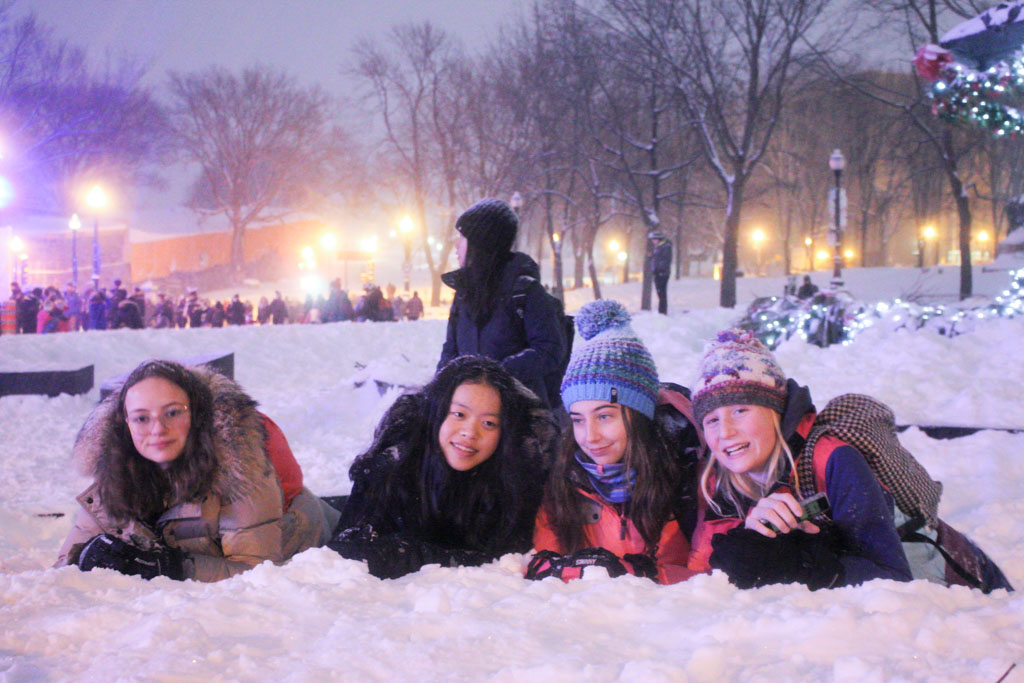 The girls went to bed very tired but happy and feeling invigorated by all the excitement!
DAY 4
We began our day by heading to the Plains of Abraham Museum to partake in "The Military". Under the command of generals Wolfe and Montcalm, the girls had the chance to re-enact the 1759 battle that took place between the British and the French on the Plains of Abraham. Great fun and what a perfect way to learn about history!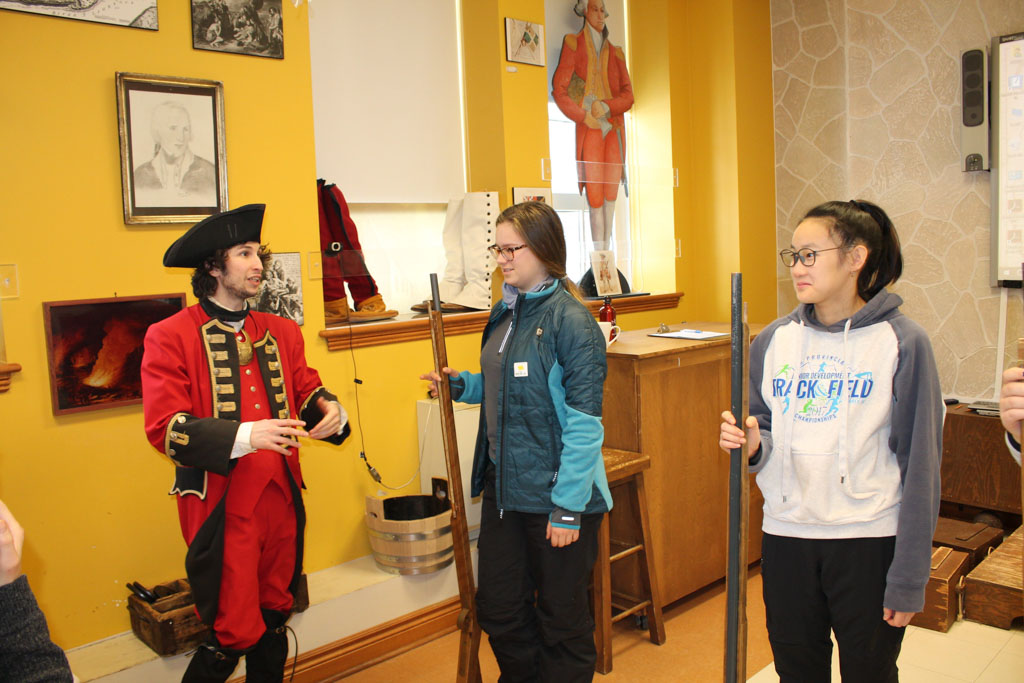 From there, we moved to the Morin Center, a former prison, which is now a cultural center designed to educate people about the historic contributions of the Anglophones in Quebec City.
After our daily culture fix and a great lunch, we headed for the outskirts of Quebec City to Village Vacances Valcartier where we slid down hills in rubber tubes all afternoon. Then came the touring the Hôtel de Glace… how impressive!!!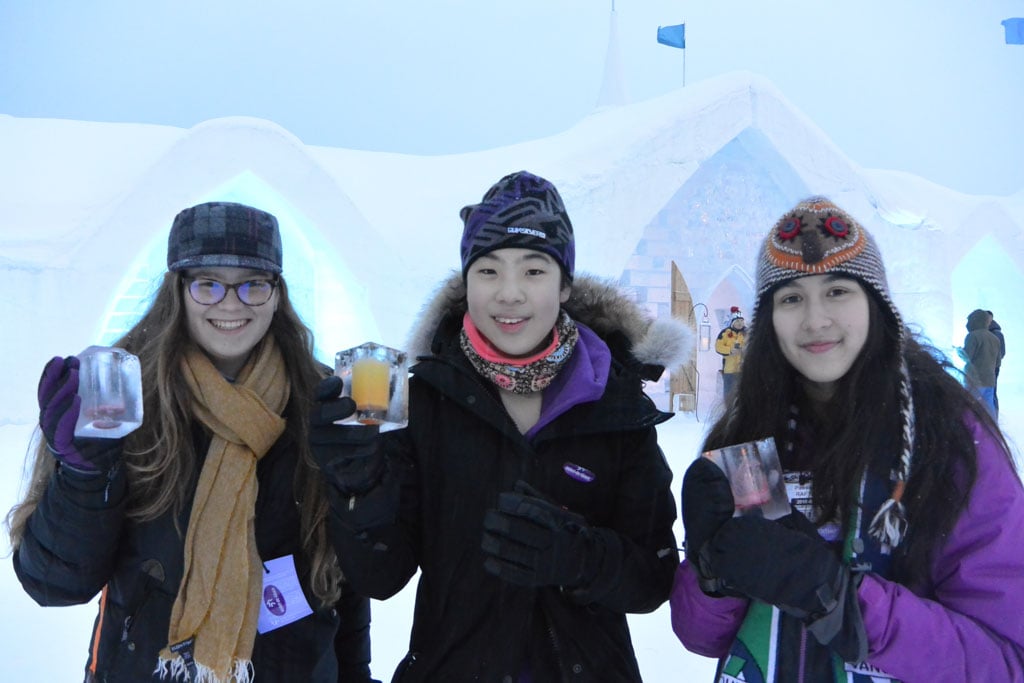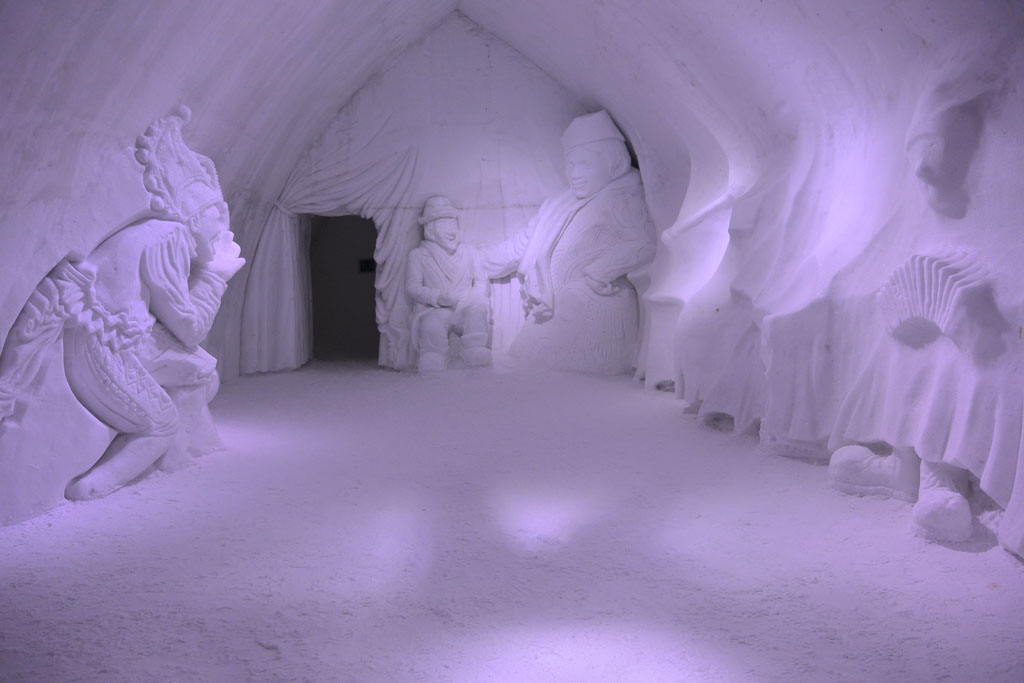 The snow was really coming down hard. It was absolutely gorgeous!
For dinner, we drove to a Cabane à Sucre where we learned about how maple syrup is made, and enjoyed an evening feasting on local specialties while being entertained by a fiddle player who had the girls playing the spoons. To finish off a perfect day, we all went outside for fresh maple syrup taffy rolled in the snow.
DAY 5
As usual, we had a delicious breakfast at the hotel before embarking on one of the most exciting activities of the trip: L'école de cirque de Québec (Quebec's circus school).
For three consecutive hours, the students were immersed in modern circus techniques. Under the supervision of qualified circus artists and instructors, they tried a wide variety of circus equipment and activities. So much fun! And so physically NOT exhausting ENOUGH for the girls! They are so great!
After lunch, we discovered the stunning Montmorency Falls and played in the heaps of snow that had fallen the night before.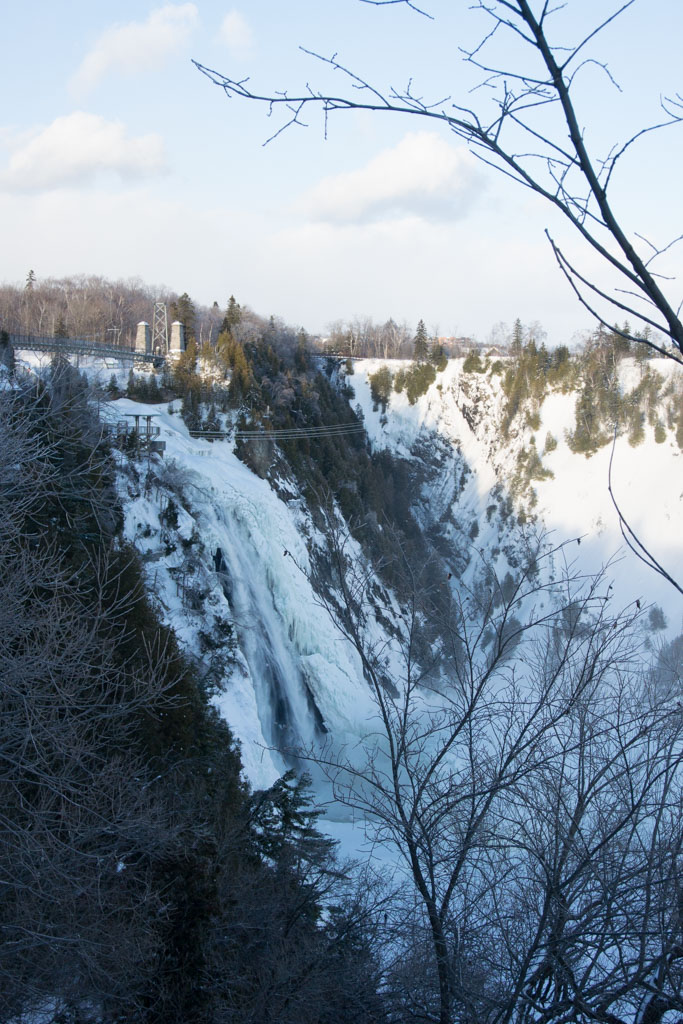 After all that fun, we moved on to our next activity, the Copper Museum, where the girls learned how to work with the malleable metal and had the chance to make their own piece of art.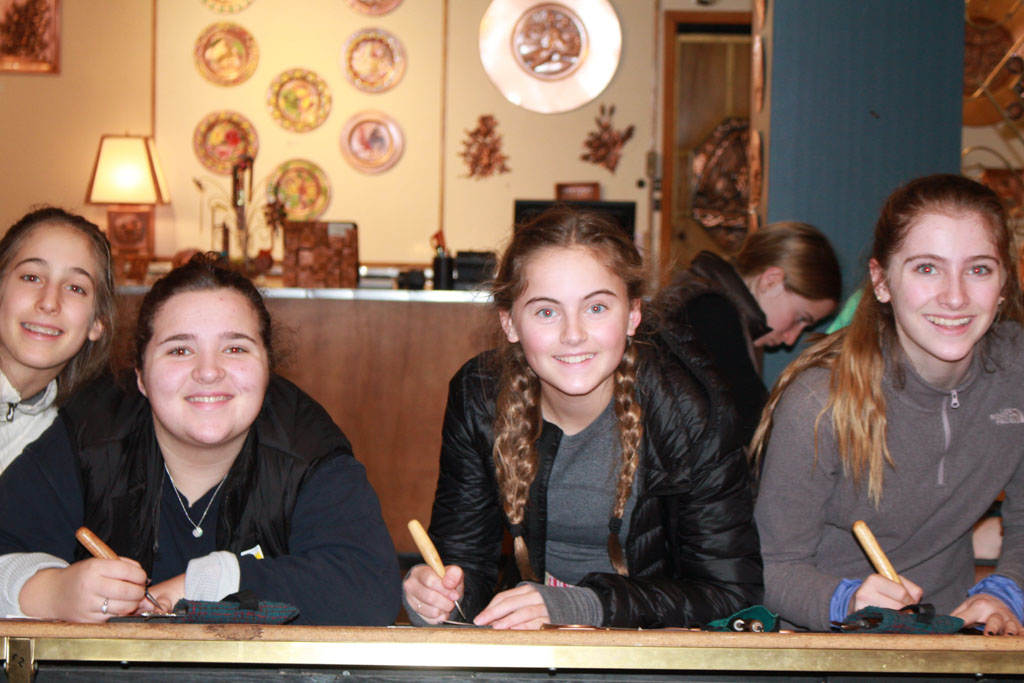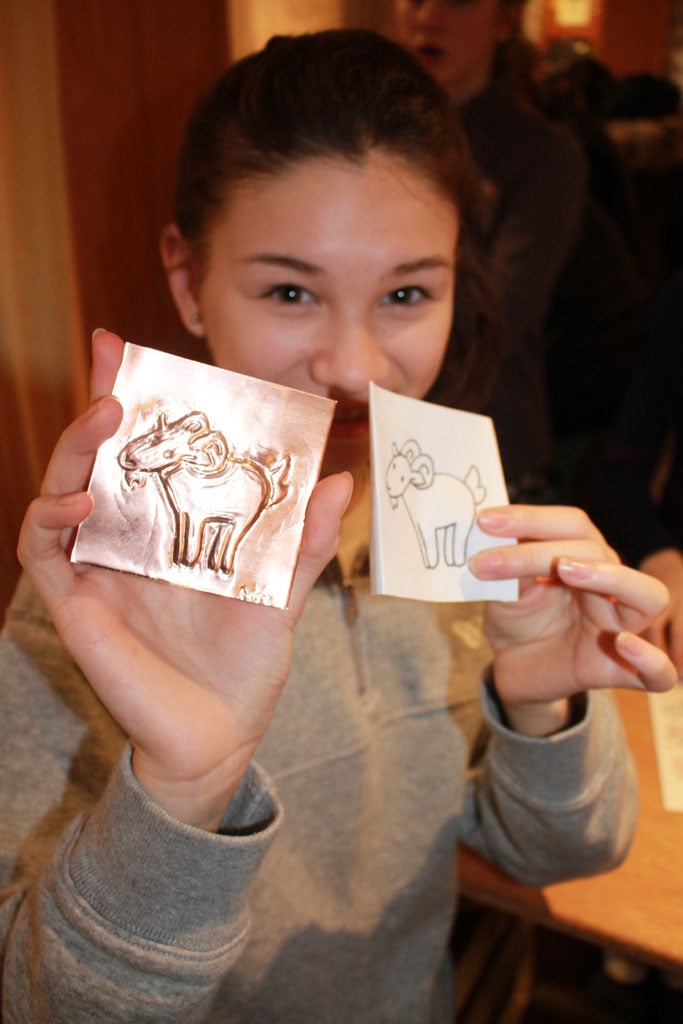 DAY 6
Our last day in Quebec City started by visiting a local school in the Limoilou district of the city called L'école de la Cité. Our girls were paired up with other students of the same age, and they quickly began introducing themselves in the "other" official language. Québec students showed our girls around their school, played different games such as a bilingual version of scatégories where they had to find words in both languages. We ended our time together by sharing a pizza lunch together and saying a warm "au revoir". It was wonderful to see the children laughing and communicating in both English and French.
Now…off to the big adventure: dogsledding, which we did in the sun! The girls loved it from start to finish, especially the puppy huskies!

After dinner, we carried on to an evening of improv theater and had some good laughs: a great way to end another fantastic day in the capital of la belle province!
DAY 7
Departure day. The sun was out for us and the temperature was around 2 degrees Celsius!
After checking out of the hotel (with compliments from the hotel staff – especially the cleaning ladies – on how kind and respectful our group was), we headed to Epicerie Moisan, the oldest general/grocery store in North America (1871) where students could find a wide range of products from all over the world.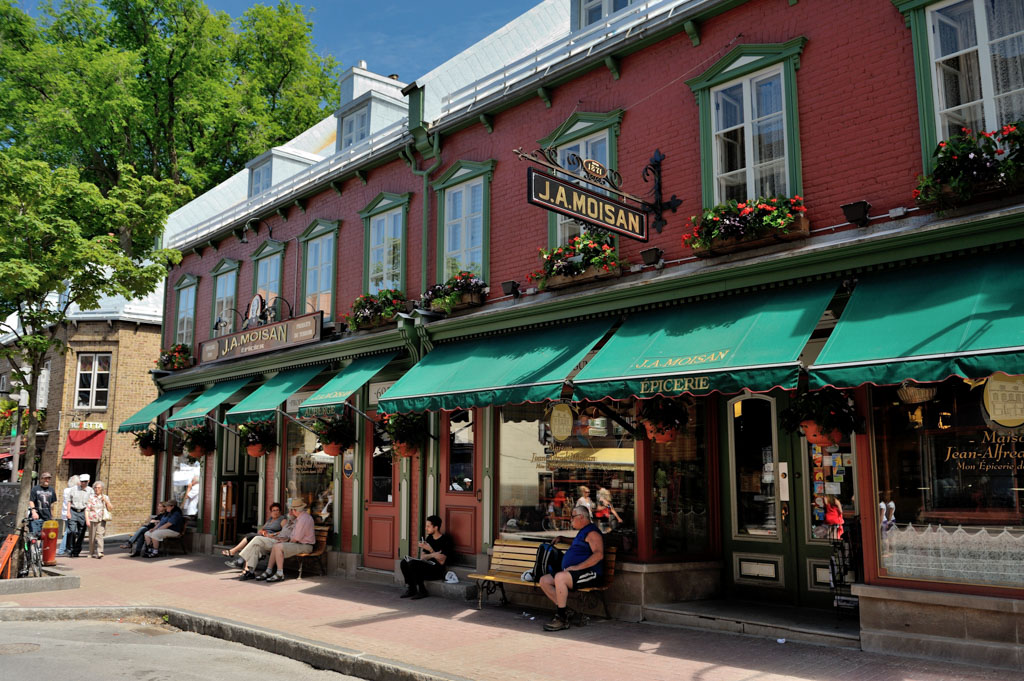 Our second "food must" of the day was at Chocolats Erico where we were able to taste various chocolates and look at the Museum information.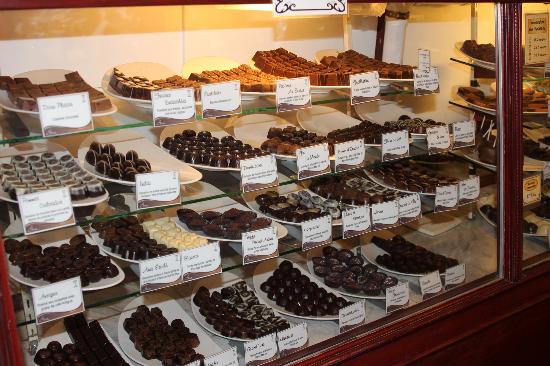 The girls were on their own to have lunch and shop on in the various boutiques.
Early afternoon was spent ice skating on the outdoor Patinoire de la Place d'Youville; two hours of pure fun and a big bowl of fresh air before our trip back to Vancouver.
Then… time to say au revoir to our fabulous guide Maryse!
What a perfect trip this was!
Thank you to the chaperones (Mme Robin, Mme Ichter, M Lum), Grade 8 teachers and parents who have made this trip possible. Et merci les filles pour ces bons moments passés ensemble!
Mme LeMay